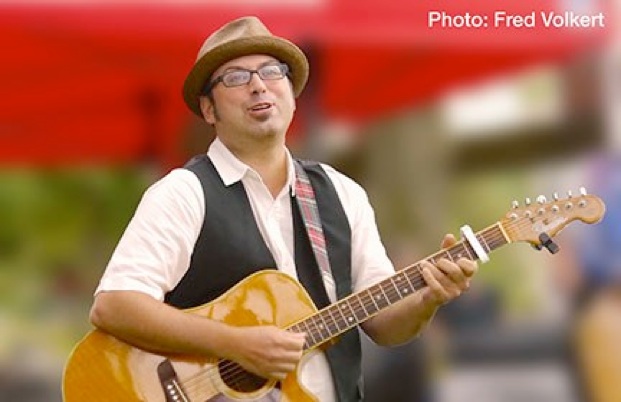 I get giddy when Scott Wolfson kicks off an up-tempo number. He seems to burst with an uncontainable joy, strutting in place, as if marching to the beat of his own drummer. However, his "own drummer," isn't merely in his head, but sitting behind him. Drummer Chis Kelly, an accomplished studio musician, is a member of his band, Scott Wolfson and Other Heroes. The upbeat number in question might be "You Can't Break Me Again," a wry, acerbic spit-in-your-eye response to rejection:
Go ahead, kick me when I'm down / I was born broken / You can't break me again
. Then again, it might be "
Nothin' To It
," another call for tenacity in the face of adversity. One particular favorite line,
Life is a four-letter word / a strange little bird that flies / because it can't swim
, infers that you had better fly, because if you don't, you'll drown. This illustrates one particular reason this author is so taken with Scott's talent —  his shrewd use of metaphor. Additionally, his melodies unerringly trigger a rush of euphoria. The kicker? His arrangements. The resultant driving energy of Scott Wolfson and Other Heroes makes live performances a must-see among string band acts on the folk circuit. The keyboards prance, the mandolin shimmers, the bass romps, the lead guitar soars, and, magnetically, other musician friends are frequently drawn in, clapping or harmonizing. It's a no-brainer, can't lose, all-around win-win situation. You've gotta love 'em.
Starters

Scott grew up in Cincinnati, Ohio. Both his parents were into the arts and encouraged him in any artistic endeavor. He came to New York to attend New York University, majoring in theater and music, and never left. After graduating, he worked in theater, then left and added graphics to his repertoire. Later employment led to a deeper grounding in graphics, web and presentation design. This still provides an income beyond music.

Scott was in many bands over the years. I became acquainted with him when he and Mark Allen Berube (our September 2005 cover feature artist) appeared at The Fast Folk Cafe with a four-piece band,


The Right Bastards. Scott's old friend and current Other Heroes keyboardist, Skyler Bode, also was a member. Their hard-driving sound featured biting satirical co-writes by Mark and Scott and had elements of what we hear with the Other Heroes. At one point, Scott reinvented himself as a solo artist and attended Jack Hardy's Monday night songwriter's co-op sessions while volunteering and performing at The Fast Folk Cafe.
Fast Forward

In 2010, Scott had been on hiatus from music for about six years, concentrating on his graphics/business career, when a friend asked him to help create a band for someone. He agreed, but the band never jelled. However, one of the prospective band mates was bassist Kirk Siee.


Kirk and Scott bonded over their shared musical tastes and connection to Jack Hardy. They might have done something together right away, but Kirk was accompanying Jack on tour in Europe — which would turn out to be the last of Jack's life. After returning from Europe in early 2011, Jack died that March from previously undiagnosed terminal lung cancer.
Singer/songwriter and friend Carolann Solebello, formerly of Red Molly, had become involved with the (now defunct) Christopher Street Coffeehouse at St. John's Church in the West Village and coaxed Scott to play there. When a memorial service was organized at the coffeehouse with all of Jack's musician friends coming together to play his songs, Scott was asked to participate. Kirk, playing with many musicians that night, joined Scott on one of Jack's songs.

That summer, Scott joined Kirk at the Falcon Ridge Folk Festival, hanging out at Jack's old Pirate Camp. They started playing together on Scott's songs and decided afterward to form a group. Skyler Bode immediately came on board.


Guitarist Matt Laurita met Scott through mutual friends and quickly proved to be the perfect lead guitarist.

The following year at Falcon Ridge, when rain kept the band hunkered down at Pirate Camp, Mya Byrne sat in on mandolin and became the next member.

Scott met Chris Kelly at a Bitter End benefit show where he played bass. He was surprised at a later Other Heroes gig to see Chris playing drums with another band. The Other Heroes had found their drummer.
This is Scott's first band that is totally dedicated to expressing his musical vision. He knows he's been fortunate to gather a group of talented friends. Scott gives each person room to stretch individually on songs. There is a constant flow of other musicians eager to sit in with the group, so he must be doing something right. Scott Wolfson and Other Heroes continues to expand their performance range. Acoustic Live  reviewed its album Life On Fire in our December 2013 issue. The members make enough on gigs to cover expenses which allows them to indulge in another endearing trait — doing benefits for causes they believe in. If there's one cause I believe in, it's trumpeting the making of  a joyous sound. Here's one I hope readers will support as well. See them, buy their music and help these heroes defeat the evil axis of corporate elevator music.

Website: scottwolfson.com