Tom Paxton  

As Luck - and talent - Would Have It

by Richard Cuccaro

It's difficult to imagine a more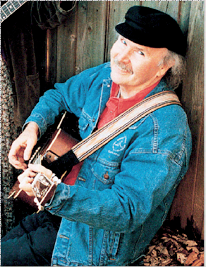 perfect folk singer than Tom Paxton.
I've had my favorites among the more contemporary performing songwriters -- Greg Brown comes most readily to mind -- but, for sheer longevity and ability to cover the big three in subject matter -- social commentary, satire, and personal relationships  -- there just isn't anyone in his league. If there were a college for folk singers, Tom Paxton would be its Dean.

If you were to dream about an American everyman… someone with the ability to verbalize every quality needed to uphold the ideals of democracy, then demonstrate it to the masses, this would be your guy.

We'd normally cover the artist's life story in an interview, but Tom has put it all down in print. Between the covers of his songbook, Tom Paxton, The Honor of Your Company, is a treasure trove of stories and photographs from his childhood and his career. We can't possibly include the myriad of experiences he relates or capture the range of wry humor, but will hit some of the high points.

Beginnings

Tom was born on Halloween in 1937 in Chicago. The only symbolism we can find in that might lie in his first big adventure. When most of us were young, many of us had dreams of being firemen, soldiers and… cowboys. Tom went us one further. He got to act the part for real.

Tom's father was a chemist who owned a factory that made hydraulic brake fluid. When his dad's health began to fail, for his convalescence, the family moved to Wickenberg, Arizona, a locus for dude ranches. Every day after school and all day on weekends, he got to ride horses. He got good enough to win a blue ribbon at a rodeo. One night a rancher paid a visit and sang a cowboy song "Tying a Knot in the Devil's Tail." It was "one more step"  in his growing love for folk music.

He liked all kinds of music, but folk music became his favorite early on. He first heard "Shenandoah" from the Fred Waring singers  Even in that "dressed-up" version, it drove straight to his core.

The family moved back to Chicago and then to Bristow, Oklahoma. Shortly before he turned 15, his father died from a stroke. Tom still recalls the shock, fear and anger.  Not long afterward, he got his first stringed instrument, a ukulele. About a year later, someone sat on it and, as he writes, it was "Aloha, the ukulele." Soon after, an aunt in Chicago gave him his first guitar, dug out of the back of a closet.

Burl Ives provided the first stop on the way to learning how to play. Tom practiced from his recordings. "Streets of Laredo" and "I Ride an Old Paint" were among the first songs he learned that way. He later bought the paperback Burl Ives songbook (which he still has today). Years later, he writes, with typically arch humor, that, down the road, he got to tell Burl, in person, "I just want to thank you for ruining my life." He got no sympathy, he says.

Through high school, in an area where country music was king, it seemed that he was the only person who liked folk music. It wasn't until he got to the University of Oklahoma, that he discovered other classmates who shared his musical tastes. He and his friends would borrow albums by Josh White, Theodore Bikel and Oscar Brand and share the job of transcribing the lyrics. In 1956, he got a second-hand Gibson guitar for Christmas and it accelerated his growth as a guitarist. It was also therapeutic. He didn't realize it then, but he struggled with an undiagnosed depression. He'd sit on the bed in his room, strumming and singing, "I know where I'm going / And I know who's going with me…" He says that nothing could've been further from the truth, but it made him feel better.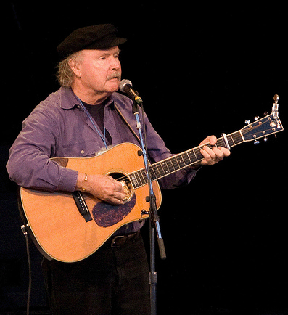 Turning Point

Soon afterward, at a party, he heard the Kingston Trio playing on the radio. He was soon part of one of many Kingston trio clones, a group called The Travelers. This may have been just a fun hobby at the time. When he heard Pete Seeger and The Weavers, however, it became an obsession. It became something he had to do. (He later used the same "thank you for ruining my life" remark with them and got the requisite laugh and once again, no

sympathy.)

Around this time, he wrote his first song, an imitation Elizabethan murder ballad called "Robert." He writes that it was "godawful," and cites that believing that friends and family are reliable critics is a "delusion." He kept writing songs because, as he said, "It was something I could do."

Tom's main area of study was theater. In the summer of 1959, he acted in a play in Cripple Creek, Colorado, then played with a fellow actor/Traveler band member Johnny Horton (not the famous songwriter) in a bar after each evening's performance. The comparison allowed him to see that playing music was a much better choice.

Tom's experiences as a theater major probably  helped with his ability to create dialog and infuse his songs with drama His intense research of folk recordings certainly helped sharpen his social

observational skills.

Uncle Sam, unwitting collaborator

After a brief, unsuccessful stint in graduate school, Tom followed an impulse he now derides and joined the Army. While stationed at Fort Dix, New Jersey, he whiled away the boring hours in a clerk typist class writing his first commercially viable song, "The Marvelous Toy." While stationed at Fort Dix, he began visiting the clubs and cafes in Greenwich Village on weekends, crashing at the apartment of a former classmate. He got to hear acts like Ed McCurdy (an early hero), The Clancy Brothers and Tommy Makem, Josh White and Len Chandler. Inspired, he continued to write songs.

After his discharge from the Army, he was sitting in the Gaslight Cafe and was prodded to audition for an opening in the Chad Mitchell Trio. He won the slot, but it lasted only a week when his voice didn't blend well with the other two. However, he'd played "Marvelous Toy" for them and they recorded it. Milt Okun their manager, had heard it and loved it also. He became Tom's biggest

supporter and later, his song publishing partner.

Tom had begun working on and off at The Gaslight after his discharge, beginning a 9-month run on the 4th of July weekend in 1962. This was a wonderful training experience. Along with 7 or 8 other performers, he played three songs in numerous sets each evening. He learned how to begin and end a set and what to do in between, over and over.

Wild Flying Dove

In January of 1963, he got what he calls, "the biggest break of my life." It was while he was playing at the Gaslight that he met Midge Cummings, the woman who would become his wife. She'd accompanied another songwriter headed there after a chance meeting on the street. He fell in love almost immediately. The photographs in the book show why. As intelligent as she is beautiful, a more elegant woman would be hard to find. He proposed two weeks later and they were married the following August. Midge then began accompanying him on his travels around the country, and later worldwide. The stories of their travels together are a joy to read. "My Lady's a Wild Flying Dove," one of Tom's best known songs was written for her. He's written a lot more since.

Ramblin' Boy

Tom and Midge found a small unfurnished apartment in the Village in early 1964. With no record contract and not much money, initially the apartment was threadbare, with almost no furniture. Tom OK'd the use of his song "My Dog's Bigger Than Your Dog," for a dog food commercial. Although he took some teasing for "selling out," he managed to furnish the apartment with the money. Those who teased him got an invitation to come over and sit on the new chairs. Later, after some much-deserved success, they'd find a house in East Hampton, Long Island where they'd live for 27 years, except for three years (1970-1973) spent living in England and touring Europe.

In spite of Tom's prodigious songwriting ability, he watched others get record contracts while he went without. After four years, his manager, the legendary Harold Leventhal, convinced Electra's Jac Holzman to listen to Tom. Tom finally got his first major-label recording contract. The first album, Ramblin' Boy, contains one of Tom's most covered songs, "The Last Thing On My Mind," and a slew of others that found their way into many a folkie's song-bag.

Our observation of Tom's "dean" of songwriters status is, of course, not without precedent. From Wikipedia, we learn: Of the songwriters on the Greenwich Village scene of the 1960s, Dave Van Ronk said, "Dylan is usually cited as the founder of the new song movement, and he certainly became its most visible standard-bearer, but the person who started the whole thing was Tom Paxton ... he tested his songs in the crucible of live performance, he found that his own stuff was

getting more attention than when he was singing traditional songs or stuff by other people... he set himself a training regimen of deliberately writing one song every day. Dylan had not yet showed up when this was happening, and by the time Bobby came on the scene, with at most two or three songs he had written, Tom was already singing at least 50 percent his own material."

Newport & Beyond

In 1963, just before Tom married Midge, he got his first invitation to sing at the Newport Folk Festival. This, he felt was every folksinger's validation. It was a thrill, even though that first time he was only slated to perform at two afternoon workshops.  He got to mingle with legendary

performers like Doc Watson, Jean Ritchie and Pete Seeger. The workshops were hosted by Pete, who joined Tom on "Ramblin' Boy," a real thrill for Tom. One of the biggest thrills that year was the re-emergence of Mississippi John Hurt. The old bluesman was only three years from the end of his life, but was able to soak up the adoration of players and audiences in that time. John played the Gaslight a number of times and Tom and others, lucky to be on the same bill, got to listen and absorb through many sets.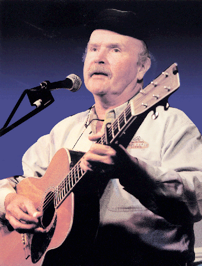 Later, Tom wrote "Did You Hear John Hurt?" in tribute to him.
In 1965, Tom and Midge made their first trip to the British Isles. The folk clubs there were really clubs with memberships, not just commercial establishments that, in New York, might be nearly empty on a Monday. Night after night, even Mondays, when Tom played, the club members packed the rooms (sometimes upstairs at a pub).  His album, Ramblin' Boy had preceded him there and people knew the songs. A folk revival was in full swing and their enthusiasm created a buzz.

After the British tour, with stops in Paris and Cannes, Tom and Midge returned to New York. Their first daughter Jennifer was born shortly afterward. Their second daughter, Kate, three years later. "Jennifer's Rabbit" was the first song Tom wrote for his children. Tom made sure to avoid trouble by writing "Katy" as soon as possible. They would inspire many more. Tom's ability to write songs for children is a strong part of his repertoire and catalog.

Tom continued playing the Gaslight and his fan base continued to grow. Along with others making it in folk, the college circuit opened up a new and better source of income than clubs. While Dylan, Judy Collins and Peter, Paul and Mary might

command field houses, Tom would appreciatively play the campus theaters and student unions. Judy had included Tom's songs on her records and it gave his career a boost

Inspiration to Wannabes

During the 60's when I was making my first attempt to join the legions of amateurs trying to play folk music, like many others, I made "The Last Thing On My Mind" a part of my repertoire. Its lure was irresistible. What other songwriter could write: "It's a lesson too late for the learnin' made of sand, made of sand…In a wink of an eye my soul is turnin'… in your hand, in your hand…" It's fingerstyle patterns were perfect for a beginner learning new licks. A peek at old footage on YouTube of Tom in the U.K. singing that song reveals a supremely earnest young man bringing a style of folk poetry to a populace well-prepared to receive it. Tom's crisp delivery and innovative wordplay seem almost British or Irish. It's no wonder he was so well-received in the U.K.

Other songs and lyrics that still jump up and say, "Hey, remember me?" are  "Lord, give me a job of work to do…" "Daily News, daily blues… Buy your ticket any time you choose… Seven little pennies in the newsboy's hand and you ride right along to Never-never land." "I'm goin' to the zoo, zoo, zoo, how about you, you, you…"

"Bottle of wine, fruit of the vine, when you gonna let me get sober," was a favorite of anyone who embraced the notion that they could entertain people by playing a guitar and singing. This song's guitar style emerged directly from his exposure to Mississippi John Hurt.

"Can't Help But wonder Where I'm Bound" was another song that many of us used to develop our fingerpicking. Of course, it would also speak reams to any college kid who wanted to wrap its meaning around his own scared, searching existence. And I sure did.

The film segments on YouTube of Tom sitting at a table with Pete Seeger, chatting about his impetus for writing a song, then singing it, are treasures. Pete, the standard-bearer of the first American folk wave welcomes Tom, the most literate of the newer generation. Seeing Pete join Tom on "Ramblin'  Boy," playing banjo and harmonizing in his high tenor, is a gift to all those who couldn't be there at Tom's first Newport Festival.

From Serious to Sidesplitting

Tom had a way to take a polarizing subject like the Vietnam War and present it in an "everyman" fashion. The tragedy of "Jimmy Newman,"  for anyone ready to listen, reached across the gulf between the "longhairs" and their parents. As an injured soldier waits to ship out for home, he continues to entreat his unmoving friend lying in the next bed to, "Get up, Jimmy Newman… you've only to open your eyes," we know his friend is dead.

"Talking Vietnam Pot Luck Blues" is a sidesplitter with a serious undertone. It begins with a hypothetical soldier's naivete about pot being smoked in the military. His ignorance is met, first by an ultra-hip Captain's, "Wassa matter witchoo, baybee?" and "Waddya think you been sittin on? All those little plants… Thousands of 'em." The soldier later, in his own "beautiful haze" encounters a Vietcong guerrilla, a "little cat in black P.J.'s" who also says  "Wassa matter witchoo, baybee?" and says, "You're smokin' trash." He offers to share some from "Uncle Ho's Victory Garden." The fictional sharing of pot between the opposing platoons harkens back to an unofficial truce that actually happened on Christmas of 1914 in World War I. The WW I soldiers shouted greetings to each other and exchanged small gifts.  The false report to headquarters in the last line, "We have met the enemy and he has been smashed!" also recalls that the opposing soldiers in WW I recognized their foe's humanity in spite of objections from their superiors. While it's doubtful that much shared humanity was recognized by either side in 'Nam, the common lot of all soldiers is certainly there in Tom's song.

One of his songs that I will always find haunting is "Crazy John," written for John Lennon. The verse, "When people get lost… they start building a cross" is eerily prescient. From the moment I heard the song, like many others who felt in synch with  Lennon, I felt exactly as it's lyrics state: "Crazy John, I want to be crazy too." As usual, Tom said (and sang) it better than any of us could.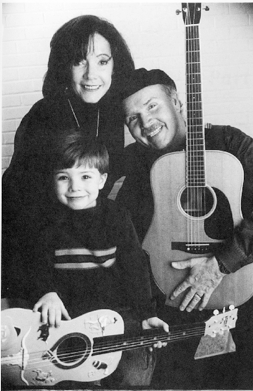 A scan of Midge, Tom, and grandson Christopher,

from the songbook, The Honor of Your Company.

More Recent Topical Songs

There is never a shortage of hypocrites and phonies in the public sector. For those who attempt to run their con game on the American populace, Tom Paxton watches, ready to pounce and skewer the miscreants.

Selected "short shelf-life" songs dealing with some of the loonies in the news have been made

available for free listening and download on Tom's website.

These include some songs that first saw the light of day during the 60's and 70's and came in handy during our current run of madness.

In 1965, Tom wrote "Lyndon Johnson Told the Nation:"

Lyndon Johnson told the nation, have no fear of escalation, I am trying everyone to please. Though it isn't really war, I am sending 50,000 more, to help save Vietnam from Vietnamese.

With nary a stretch in 2007 in a "masterful updating" (Sing Out) this became:

George W. told the nation, "This is not an escalation; This is just a surge toward victory.

Just to win my little war, I'm sending 20,000 more, To help me save Iraq from Iraqis.

The 1979 Chrysler bailout provoked "I am Changing My Name to Chrysler," and these lyrics:

"I am Changing my name to Chrysler, I am leaving for that great receiving line. And when they hand a million grand out, I'll be standing with my hand out. Yes, sir. I'll get mine.

In 2008, this became:

I am changing my name to Fannie Mae; I am

changing it to AIG.

On this bail-out I am betting; Just a piece of what they're getting,

Would be perfectly acceptable to me.

I'll be waiting when they hand out Seven hundred million grand out––

That's when I'll get mine.

I love the one for Sarah Palin:

She was for the Bridge To Nowhere, then she wasn't;

There are those who think truth matters, but she doesn't.

Seeing Russia from her back porch means she knows foreign relations,

And it's only left-wing media who ask for explanations.

Eastern liberals ask questions so obtuse;

They don't have the sense to field-dress a moose.

But, if you're buying Sarah Palin, let me tell ya,

That I have a Bridge To Nowhere I can sell ya.

There's one departure from satire, for the firemen who gave their lives on 9/11. Stealing into the mind of a tower survivor, Tom sings in "The Bravest:"

Now every time I try to sleep, I'm haunted by the sound

Of firemen pounding up the stairs, While we were running down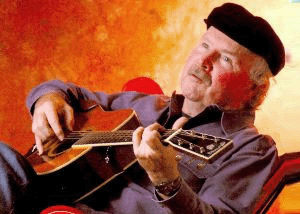 Today

Wikipedia lists Tom's discogaphy at a hefty 58 albums. Tom has kept his touring at around 40 shows per year, so it's a good idea to catch him any chance you have. He lives in Alexandria Virginia and does concerts for children and songwriting workshops.

He ends the narrative in his songbook with these words: "So I teach, I write and record, I travel and perform -- all with my partner, Midge, without whom none of this would be still be happening. I am one lucky man."  We're all lucky to have Tom around. Keep writin' 'em Tom… We'll be

listening.

For those in the NY Metro area, don't miss his show at The Sanctuary in Chatham, NJ. We'll be there!

Website: tompaxton.com

Upcoming shows include:

September:

12 - Berkeley, CA - Freight & Salvage - 8 PM

13 - Santa Monica, CA - McCabes

25 - 7:30pm Fairfield, CT - Fairfield Theatre-Stage One

26 - 8pm Chatham, NJ - Sanctuary Concerts