Anthony DaCosta

Sixteen Candles White Hot Burning

By Richard Cuccaro

    The line it is drawn, the curse it is cast

    The slow one now will later be fast

    As the present now will later be past

    The order is rapidly fadin'

    And the first one now Will later be last

    For the times they are a-changin'.

— Bob Dylan  "The Times They are a Changin'"

In 1961, a prodigy came east, from Hibbing, Minnesota, and shook the establishment to its knees.

Now, it's the west's turn to take notice. From the suburbs of the Hudson Valley — a place called Pleasantville -- a sixteen year-old has rolled out. And his wheels are on fire.

    Can you hear the people talking in the streets?

    They are in the streets and they're moving …

    Like an uprising, like a fire

    The spirits are calling out each of our names …

    We're a strong, lasting evolution

    We're a brand new revolution

— Anthony da Costa  "Brand New Revolution"

It's a bit soon to make comparisons to the most important singer/songwriter of our time. However, it's not too soon to start paying attention to a very gifted performer. Anthony da Costa, among his many talents, has one primary ambition: to make music. If he sees someone else making it, he wants to join them. To jam, play lead guitar, play rhythm guitar, mandolin or harmonica. A Bob Dylan devotee early on, he does not seek to imitate the master. He just breathes in life's questions and exhales a musical answer. That the answer happens to be folk music is a gift to the folk community. There is much to say, and we need all the voices we can get. When a voice starts this early, with this much force and intelligence, we can breathe a sigh of hope. In the face of American Idol and all the commercialism that is foisted upon us, here is something that has sprung from the masses. Here is someone who lives inside of his musical creations, who then steps forward and presents them, as a friend, sharing a gift from the muse.

To witness a performance by Anthony da Costa is akin to being invited into a friend's living room. He'll pull out a guitar, then casually say, "I wrote this song because I was thinking of…" then proceed to share a work of art.

Perhaps there'll be a few other invited musicians with whom he'll trade songs and licks. Nothing earth-shattering, no big deal, just two hours (two hours!) of relaxed banter and straight-on music.

At some point, in the near future, it will no longer be amazing that he's so relaxed on stage, but at this point it's still disconcerting. Especially if you've tried it yourself and have known what stage fright feels like. While there

are certainly many young, outstanding performers who can be considered prodigies, this author has not come across anyone with the combination of intelligence, mature attitude and raw talent that Anthony possesses.

His being selected as the youngest winner ever at the 2007 Kerrville Folk Festival's New Folk songwriting competition and to showcase this year as one of the 25 chosen Emerging Artists at Falcon Ridge would suggest that others are in the same position. A 45-minute phone interview with Anthony immersed the author in a torrent of events and activities from the time he was nine years old to the present. The evolution of his embryonic career unfolds like a bud into a flower in a speeded-up film

An Early Education

While it's true that dipping into his father's record collection and finding Bob Dylan's Greatest Hits changed his life, Anthony's musical education began long before that. He remembers that the family lived in Valhalla when he was

very small and they used to drive around in an old blue Honda. His father would pop in tapes of Chuck Berry, Jerry Lee Lewis and early Beatles. "That's probably the earliest exposure I got to rock music," he stated.

"I really didn't delve into his record collection until I was thirteen years old." His mother, Lili, tried to get him interested in playing the piano when he was three, but he resisted and it didn't take. "Being young is about playing around and testing the waters," he says. "But, I'm really thankful to my mom for instilling in me a passion for music and theater."

A Harbinger

The earliest sign that he had an inclination to be a performer happened on a trip to Disney World. He'd shown an interest in all the music played there, from jazz and rock to Mariachi, but it was at the hotel that a microcosm

of the future took place. A performer in the lobby was singing Elvis songs and other pop covers. Anthony walked up to where the performance was being staged and began playing along. His father, Dennis, camera always ready,

even then, has a videotape of two-year-old Anthony holding his Fisher-Price toy guitar in the correct position, strumming in time to the song, pausing when the singer did, then continuing, without a trace of self-consciousness.

At the time, Dennis thought it was "surreal," the way Anthony was so comfortable. He considers this to be Anthony's first "jam," since jamming with other performers is, at present, what he loves to do most.

The Play's the Thing

At ten years old, Anthony auditioned for a school play, The Music Man in the fifth grade and landed one of the lead roles (Winthrop). He did really well, according to Dennis, assuming the role right down to the lisp so central

to the character's nature. Encouraged by his parents, he began appearing in plays steadily and has continued to be active, both in school and community theater productions. This includes both acting and playing music in "pit"

orchestras. In the eighth grade, he was the lead in Joseph and the Amazing Technicolor Dreamcoat. In his freshman year, he was nominated for a "Helen Hayes Award" for playing "The Wiz" in The Wiz, opposite his sister, Kristen (also very talented, beginning studies at NYU this fall), who played "Dorothy." Acting has undoubtedly contributed a great deal to his stage presence.

In addition to acting and singing in chorus, Anthony had begun playing in the school orchestra. He learned trombone in the fourth grade. The music teacher told him he'd be good at it because he "had long arms."

He realized later that it was a ruse; that she simply needed another trombone player. (Later, he began playing cello. He plays cello in the orchestra today.)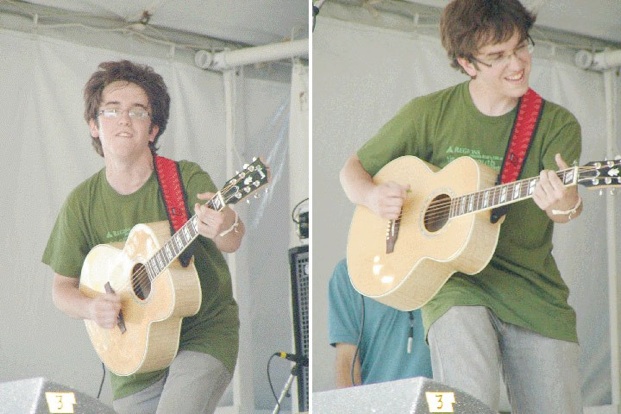 Onstage during the Emerging Artists showcase at the 2007 Falcon Ridge Folk Festival
The Guitar Ascendant

At nine, although he was engrossed in sports, he was also listening to pop music. The Red Hot Chili Peppers had a strong appeal to Anthony and his friends. They were one of the galvanizing forces to spur him toward playing

guitar. The first song he ever learned was their "Californication." [He pronounced it "Cal-if-for-nee-yah-cay-shun," perhaps missing the "fornication" reference -- a rare youthful "miss" in a very adult perspective and conversational style] He located his father's untouched Yamaha classical guitar in the attic and had it re-strung and fixed at a music store, then began taking guitar lessons. His teacher quickly caught on that Anthony would not respond to traditional sight reading and used chords to teach him one new Beatles song each week. Anthony later found a DVD in the school library of their appearance on the Ed Sullivan show. Outside of listening to tapes in the old Honda, this would be his first exposure to their performing style.

Still in 5th grade, using his guitar chops, Anthony began playing in talent shows at school. He'd usually play and sing a Beatles cover. The guitar lessons continued through to the 7th grade. At the music store, his guitar teacher left and Anthony decided it was time for him to leave as well. At this point, in the 7th grade, Anthony was approached by two other students who wanted to form a band. He was the only serious guitarist in their circle

of friends. They formed a rock band and cleverly called it "Us and Him." It seems that the group had developed a local following, but the drummer felt left out, sitting in back, behind the guitar and bass, so the name was a way

to deflect some attention back to "him." They played mainly Rolling Stones, Red Hot Chili Peppers, Beatles and Jimi Hendrix covers, performing at talent shows, youth centers, battles of the bands and a Middle School Fun

Night where they opened up for the all-girl pre-fabricated Disney pop group "Huckapoo." Us and Him lasted for a couple of years before they mutually lost interest. Anthony had begun writing songs on his own, gravitating toward solo work.

At this point, Anthony's fortune drew upon his father's expertise to a greater extent. Dennis, a former Fordham student, with a degree in Communications, had been an on-air host at WFUV and has an extensive career in Public

Relations. He has been active on the local Pleasantville cable station for ten years, producing three shows per week  — ranging from talk shows, moderating candidates debates, doing call-ins, but mostly hosting music programs. Dennis hosts a show called "The Good to the Last Drop Coffee House." Anthony made numerous appearances on that local cable TV channel and for a time hosted his own music show, playing covers and some originals. He still appears on the "Coffee House."

The First Open Mic and the Gillen Connection

When he was thirteen, Anthony decided to attend an open mic at a local "Circle of Friends" church coffee house in Pleasantville. He'd gotten his first taste of Dylan from the Greatest Hits album in his father's record collection.

He'd also watched a DVD of Martin Scorsese's tribute to The Band The Last Waltz in which Neil Young sang "Helpless," and promptly learned the song. He went onstage and sang "The Times They Are A'Changin'" and "Helpless." He reflects, "They were both in G -- I could use my G harmonica -- I only had one harmonica…" [the harmonica collection and the rest of his gear have grown exponentially]. That night proved to be another turning point. Anthony saw another open mic participant, "this guy with really weird glasses and a shaved head and at least 50 stickers on his guitar." This was Fred Gillen, leader of the Hope Machine, a Woody Guthrie tribute band. Anthony really liked Fred's music and began "trading e-mails," thus initiating a series of on-line conversations about Bob Dylan, the music business, getting started and songwriting. Fred became a mentor. Anthony recalls, "I had just written a song about the Iraq war. It was the first time I had done something like that. Fred told me it was a good way to be getting out my feelings and it was a lot more constructive than other things I could be doing. He introduced me to a lot of things, but the most significant thing was introducing me to Woody Guthrie." Fred, a repository of all things Guthrie taught Anthony the full Woody anthology, before Anthony ever heard any of Woody's recordings. He started attending Hope Machine shows.

In April of 2005, Fred invited Anthony up to join in singing the finale of a Hope Machine show, "This Land is Your Land," with Nora Guthrie in attendance. This remains one of Anthony's fondest remembrances.

One month later, in May, Anthony played his first solo gig at Coffee Labs in Tarrytown, NY. Fred left his own gig elsewhere a little early to come and play a few songs with Anthony. Anthony played "all covers with the exception

of three original songs." The set was comprised of Dylan, Neil Young, The Band, and Simon & Garfunkel covers.

Without telling him, he'd also learned a song of Fred's "The Last of the Mohicans" from Fred's CD Grace, which is still one of Anthony's all-time favorite CDs. ("That record helped me to write a lot more," he says). Fred was

happily surprised. This was the first of what has become a typical Anthony gig -- two hours straight with no break in the middle. He says, "I'll probably have to start taking breaks eventually." Anthony's been playing the Tarrytown Coffee Labs venue for over two years now.

Recordings

Anthony had been playing one or two gigs per month and was advised that he needed to have something for folks to buy. He went to a friend's basement studio in October of 2005 and recorded five songs live .The EP was called

Already There. This was followed by Gary and Anthony -- a nine-song CD co-written with his friend Gary Bierman recorded between November 2005 and April 2006. Next, Eclectic Basement Abnormalities came into existence

after a May 2006 outdoor gig was cancelled and Anthony and his band returned to his own basement studio and recorded six songs live. The name simply followed the chord arrangement (E-B-A) of the first song, but the group

decided to create a silly name around it. This was followed by his first full-length (14 songs + 1 bonus track) solo CD, Rearrange (2006) and then, Quality Time (2007). The latter was produced by Fred Gillen at his home studio, Woody's House.

While the recording quality of the early CDs is very lo-fi, the melodies are consistently engrossing and the lyrics, even the relationship-oriented ones stand up to much of the indie pop music played today. One might think it almost impossible for a fourteen or fifteen-year old to write a credible song about loving or needing someone, but there they are, pressed in polycarbonate plastic.

Thanks to his father's aforementioned ever-present video camera, there are plenty of Anthony's appearances on display on YouTube. They can be accessed easily through his own Myspace site. The most recent work is very compelling. Performances of current songs that haven't been recorded yet can be viewed. They include the humorous "Poor, Poor Pluto," that deals with its demotion from planet status. It includes the politically astute lines:

    The president just found out you used to be a planet

    not just some dog he took a picture with at Disneyland

Audiences are generally delirious with laughter and agreement in their derision. His song "Dolly and Porter," about Dolly Parton and Porter Wagoner, explores the relationship between a man and woman and laments its loss. It also alludes to his yearning for a partner of his own that he can create with and perform next to:

    There ain't nothin' in this world that'll always stay the same

    And when things fall apart, we'll have each other to blame

    Sometimes I dream of singin' with my love right by my side,

    like Dolly Parton and Porter Wagoner…

    They both  wrote songs and they both had fans

    Some say Porter used her, some say she had other plans

    No one really cared when they stepped up to the mic

    'cause just for a few moments we knew what heaven sounded like

    Their duets were serene and beautiful and free

    together they were magic like a moon over the sea…

His father's intense interest in country music quite possibly had a great deal to do Anthony's writing "Dolly and Porter."

His brilliantly conceived and performed message to his parents, "I'm Your Son" contains a perspective well beyond his years. It's so filled with great lyrics that the author's usual temptation to quote the entire song is in full bloom, but here are just a few gems:

    I'll probably do what is wrong before I do what you think is right…

    I'll probably be tempted a few times or more

    though you try with all your might

    Though you say to be home by 11pm, I'll be back in the morning light

    You won't stop me from havin' my fun

    I'm your son, I'm your son, I'm your son…

    Oh the day is young, expectations are high

    And like a bird out on a perch, one day they'll expect me to fly

    But for now I need to be that wandering soul,

    looking up on at the sky…

    So now, I'm practically a man / At least I think I am sometimes /

    And someday soon I'll be leavin' home for the car horns,

    the bells and the chimes

    And I'll play my guitar on the side of some road

    and keep writing silly rhymes

    Until time tells me I'm done, I'm your son, I'm your son, I'm your son

What sets these songs apart is not only the artistic clarity and focus, but the way they're put across, sung with skill and emotion.

Right Now

The past year has seen momentous developments for Anthony. In addition to the aforementioned Kerrville and Falcon Ridge recognition, he was also a finalist in the 2007 Mountain Stage NewSong Northeast Regional contest. He appeared at both the Northeast Regional and National Folk Alliance conferences and was noticed by industry professionals. This led to further

appearances at Tin Pan South Songwriters Festival in Nashville. where he sang in a round robin with Jonathan Edwards, Jim Photoglo and Wendy Waldman. Anthony met with a BMI representative in Nashville during his Tin Pan South trip (and later for a BMI rep in New York). He was at BMI Nashville for a few hours, where he met and played for a couple of producers and publishers. He signed with them to track usage of his songs and to play in future showcases.

A recent mentor has been David Massengill. They met at the Folk Alliance Conference and played together in the hotel lobby for two hours. Anthony soaked up new songs and licks. He learned some of David's songs and has even added some of his own style to David's "Rider on an Orphan Train" that David now uses.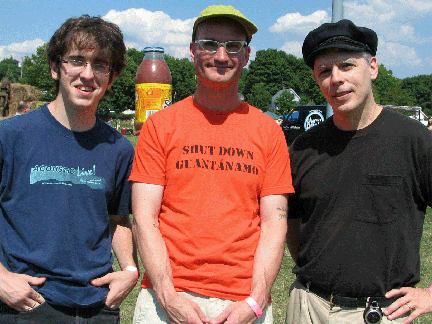 Anthony, at left, paused for a photograph at the 2007 Pleasantville Music Festival with two of his mentors, Fred Gillen (center) and David Massengill (Right).

Anthony has performed for the last two years with Acoustic Live at its showcases at the Northeast Regional Folk Alliance and at Falcon Ridge Folk Festival. We've seen his energy and interaction with other musicians. He works seamlessly with Red Molly and Hope Machine. He also collaborated with multi-talented Greg Klyma at Falcon Ridge at both the Emerging Artist

showcase and ours. As well, he joined with the duo Beaucoup Blue for a jam on the midway at Falcon Ridge. He can go for hours in jams that last all night. We certainly can't keep up!

His father, Dennis continues to be his most ardent supporter driving him to "90%" of his gigs, according to Anthony, video recording his performances and handling his PR notices. Believing in his son's eventual progress into a full-blown professional career, he calls himself simply "a facilitator."

As Anthony enters his junior year in high school, he asserts that he still wants to maintain a balance (and a 90+ average!) between school and performing. We can only hope that his enthusiasm never wanes and that the creative spark continues to bring him joy.

We believe that the future will bring infusions of rock, funk, pop and soul. Through it all, we hope he retains his rootsy connections; that he continues to sing from that special place inside of the music. We will continue to be among his supporters. For those who'd like to join us in witnessing this very special journey, look for him at a gig near you and get information at his website: