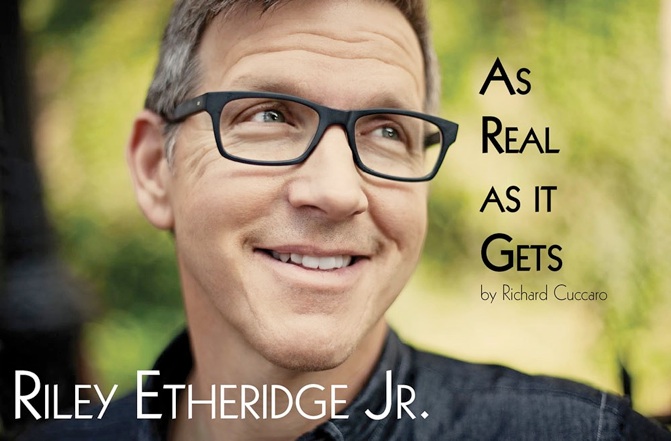 Wait for it … another embarrassing full disclosure is on its way. When I first heard the name "Riley Etheridge Jr.," I fell into a skeptical mindset, regarding its over-the-top rootsy nature. I never actually had these thoughts, but I'm sure my subconscious dialog went something like this: "Riley? How rootsy can you get? Etheridge? Did he borrow that from Melissa? Jr.? More rootsy posturing?" What was I expecting, maybe some kind of pop rendition of roots/folk? Oops. My bad. After seeing him at Rockwood Music Hall in the recent September edition of WFUV DJ John Platt's On Your Radar showcase, all cynicism was swept away. Sorry, Riley. I get these crazy notions from time to time. I should have known better since John Platt only rarely selects an artist who I am less than enthralled with. Riley Etheridge Jr. is as genuine as it gets.

Riley was born and raised in South Carolina. His father, Riley Etheridge Sr., was a musician so the musicianship was somewhere in the genes. Riley Jr. spent 20 years with various bands in Baton Rouge, La. That's as good a place as any to steep in some musical heritage and hone one's skills. He relocated to New York City in 2008, so that means we have more chances to see him perform live.

The On Your Radar show began with songs from his latest album, Secrets, Hope & Waiting (2016). The album gently explores the idea of truth viewed from multiple points of view. The mandolin of Kenji Shinagawa and violin of Melissa Tong provided a variety of emotional nuances. Riley sings with a slight rasp, giving each song a lived-in quality. All three support players sang harmony in various places. There was a diversity in the musical approach. At times, the Baton Rouge background shone through, lending a Cajun flavor to a number. There was some flat-out blues rocking aided by his friend, Fabian Mansson, sitting in on blues harp. John Platt requested "Everything You Wanted," his favorite from the album and a pick for one of his top 10 songs of the year. Riley accommodated the request and after he also played "Save Me From Myself," I found myself torn between the two as my own favorite. The latter resonated on a personal level for me (especially as I get older), with the fiddle and mandolin enhancing its sorrowful tone. The former had a sophistication as it expressed rueful regret for a relationship gone sour. After a few listens, I went with John's choice. The slow, stately cadence and atmospheric production create a devastating sense of loss.


Riley's six albums show a wide range of styles and influences. His debut album, Things I Used to Know (2009), is reflective. "He Said, She Said" is a masterful exploration of romantic dissolution. "King City" is a momentary detour into country rock. Both make superb use of electric slide guitar. The title track of Powder Keg (2011), a powerful blues number, pins me to the wall. The title track of the EP Better Days (2012) is a soul-infused, self-deprecating look in the mirror. On The Arrogance of Youth (2012), "Lunchbox Queen" would have gotten me out of my seat and doing a fast Lindy during my adolescence (actually, on through my 40s). Critical acclaim for The Straight and Narrow Way (2014) cited its blend of Steve Earle-level songwriting with the country, rhythm and blues, and soul of Lyle Lovett and his Large Band. I particularly love the jangly rocker "Song for Amy" that opens the album and the killer blues, "Down to My Last Twenty Dollars," that closes it out.

His songs run the gamut from true-to-life depictions of falling and rising again to get things right, to accepting failure and learning to live with it, to "let's just get out there and tear up some road and have some fun."

Riley Etheridge Jr. … as real as it gets. See him often and buy his CDs. You won't regret it.

Website: http://www.rileyetheridge.com