Buskin & Batteau  

Joyous Reprise

by Richard Cuccaro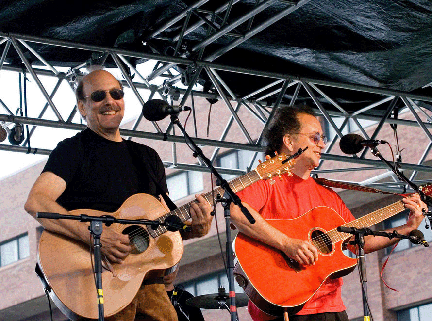 I love those videos in which a sky full of clouds above a picturesque landscape is shown in fast-forward. The clouds rush overhead and the light changes. Something about it pushes my nose up to the window of life. The beauty of nature and the earth. The passage of time. I'm reminded to appreciate every moment, despite disappointments and frustrations.

I get that same feeling listening to Buskin and Batteau sing the title track of their 2009 release, Red Shoes and Golden Hearts. The aching refrain exhorts us to consider the golden ones around us who embrace life and "put on the red shoes and dance…"

There are many such moments in their repertoire. The entwining of David's keyboard and Robin's electric violin; their vocal harmonies; their duo guitar work; backed up on most occasions by Marshall Rosenberg's exquisite percussion. Interludes of jaw-dropping beauty collide with hilarity. Their appreciation of life includes sarcastic observation as well as profound insight.

David and Robin have conducted the introductions: "Exceptional intelligence… meet classical training. Classical training… meet rock 'n roll. Rock 'n roll… meet folk music. Now everybody get together and play nice." And they do.

David and Robin were part of a Sunday evening group concert in Connecticut in mid-September  They would be at rehearsals during the afternoon, but would talk during "down time." We set up a phone interview to find out what their life paths would reveal… Succinctly, it's been one hell of a ride. See details below:

The Buskin beginnning

David Buskin began taking piano lessons at around 5 or 6 years old. He liked his teacher and didn't mind the lessons, except for one thing. The music studio had a common wall with the back of a school playground. Taking lessons while kids outside were playing ball left him "really torn," he says. Since the lesson was only one day a week, that made it OK . What kept him going was that he discovered that he could play songs from the radio, an activity the teacher "highly disapproved of." "She called it 'junk,'" he recalls, "but I didn't care. Once I learned, at 7 or 8 years old, that I could  figure out the chords of the songs, then I was hooked. I wasn't getting a lot of it right, but it was good enough for me." I told him that I wished that I could've done that, and he immediately tried to assure me that I still could. "You can take it as far as you're capable of, if you're willing to spend the time. The nice part of it is, he continued, "is that any time you learn anything new it gives you that same kick. If you learn to do one thing that you couldn't do yesterday, it feels great."

"I was in all kinds of glee clubs and stuff, but what really started me rolling was this friend of mine, Doug Grossman, wanted to start a band.  So we started a rock 'n roll band, and boy, was that fun." He was around 15 years old. It had one drawback. "Like a lot of other musicians, I never really learned to dance until I was much older, because I was always playing in the band." He really loved playing rock 'n roll. "It was such great music. Chuck Berry, Ray Charles, Buddy Holly, the Everly Brothers, Doo Wop stuff. I went to the Murray the K Rock 'n Roll shows at the old Brooklyn Paramount. That's when I learned that many of the same girl singers were in more than one of the famous groups -- The Bluebelles and the Crystals…" I mentioned how one of the groups -- Danny and the Juniors ("At the Hop") did such simplistic stuff that they must've bored the audience to tears. "What did they do for a whole set?" I wondered aloud. He responded, "They probably did 14 versions of the same song with the same chords and the same rhythm and different words." Backpedalling, I said, "It probably didn't matter back then." David agreed, saying, "It was just the idea and the pompadours."

Then There was Jazz

Recalling more influences, he said, "A lot of influences converged at the same time. I discovered jazz. An older friend who was a jazz nut took me to see everybody. I saw all the luminaries of that period, including Billie Holiday." At the same time, the Long Player format or "LP" with a full "album" of songs took prominence over the smaller 45rpm singles everybody used to collect in the 50's. "The LP was marketed by Columbia. I joined the Columbia Record Club and heard a lot of great music that way."

Females and the Folk Nanosecond

And then I got into folk music in high school, basically because a lot of girls were into it. I noticed that if I bought a turtleneck and and learned how to play the guitar and went down to Greenwich Village on the weekends, there would be a lot of young women down there.       

From April 1963 to September 1964, a network TV show called Hootenanny featured pop-oriented folk music. David characterizes it as "the nanosecond in recorded time that folk music was a viably commercial enterprise." The show used college students for its studio audiences. They were allowed to sit through afternoon rehearsals as well as the shows. After high school, David attended Brown University, and while there, he was in one of those of student audiences. The acts for that show included, The Clancy Brothers, Judy Collins (looked like she was about 20), Ian and Sylvia, Theodore Bikel, Erik Darling & The Rooftop Singers and Allen & Grier (John Grier "Jake" Holmes). "By the end of the night," he said, "I thought to myself 'that's what I want to do.'" [David and Jake Holmes would later collaborate as commercial jingle writers and have at present written a musical play together.]

Later on, a different coincidental event occurred where David went to a concert to see Blood, Sweat and Tears, The Allman Brothers and Appaloosa, a band that Robin was in. Marshall Rosenberg, their percussionist, was also in that same audience (none of the three had met each other). After they teamed up, they wrote "The Heart of the Audience," a song about that concert.

After David got out of college, he was drafted and ended up in Army entertainment doing shows for the troops from the fall of 1966 to the fall of 1968. After he got out of the military, he had written a song called "When I Need You Most of All, and approached Lou Levy, the father of a friend who was highly connected in the music business. He said he had a song that would be perfect for Peter, Paul and Mary. Levy replied, "They've just broken up… pick one!" David picked Mary, and Levy arranged for them to meet. He played the song for her and she loved it. She used five of his songs on her solo album. David then accompanied her on tour in her band for 5 or 6 years. He especially remembers an amazing tour of Japan as being a highlight of that time. Later, he met Peter Yarrow and "Paul" Noel Stookey, got to know them well and wrote songs for them also. By this time he'd done a couple of solo albums and was a part of the folk scene.

In the late 70's he joined the band Pierce Arrow. He says, "The band sucked, but I got to meet Robin." Percussionist Marshall Rosenberg was also in Pierce Arrow, so this is where the core of their current act met. David and Robin started performing together at the end of 1978. They realized how much fun they could have working together. Circumstances led to the group's dissolution through the 90's, but they stayed in touch and recently started working together again full-time.

Robin Batteau makes his driving debut

When he was around 8 years old, around 1956, Robin was on a trip with his family driving through the Adirondacks. His father thought it would be fun to let Robin sit and his lap and steer. The Everly Brothers' "Bye, Bye, Love" came on the radio and Robin got so excited that he started turning the wheel side to side, almost taking the family over a cliff. That song had pretty much the same effect on this author. It's a good thing I wasn't behind a steering wheel.

The following , at 9 years old, Robin started taking violin lessons. His older brother played and he wanted to be like him. He took lessons for 10 years. His grade school was Shady Hill School in Cambridge, Massachusetts. He played in the orchestra both in grade school and in high school. He remembers his father taking him to Club 47 (now Passim) to see Joan Baez. Robin says that she looked to be around 16 years old.

The next  huge jump occurred when he went away to Kinhaven music camp in Vermont. "Music was part of the weather. It was everywhere and you breathed it," he says. It was here that a series of auspicious connections started and continued through his life.

One of other kids in camp, Harold Krents, who was blind, taught himself to play guitar. As an adult, Harold was the subject of "Butterflies Are Free." first a book, then a Broadway play and then a movie. He also wrote his autobiography, To Race the Wind, which was made into a CBS-TV movie in 1980. During his career as a lawyer, Krents worked hard to expand legal protection for the handicapped. Sadly, he died in 1987, at the age of 42, of a brain tumor.

In camp, when Harold played guitar, Robin noticed that a group of girls formed around him. Robin learned how to play and the following year achieved the same results. David and Robin had a connection of sorts long before they met. Folk music became paramount. In Cambridge, back then, Tom Rush and Joan Baez pretty much "owned" Club 47. They were bigger than Bob Dylan and they were his musical heroes.

Folk and Classical Pathways

Robin's high school was the prep school at Andover, MA. At Andover, Robin started a folk music club. He'd get together with friends and they'd play songs and work out parts. Sort of a campfire -- get together and play for an hour, every couple of weeks. However, he was still immersed in classical music, spending more time playing the violin, learning concertos, playing with the orchestra. There were also informal get-togethers. Once, a friend from camp called to invite him to play at a chamber music party at her house in Stamford, Connecticut. An "old fat guy" who lived next door came over with his clarinet case and opened it and asked if he could sit in. They were "nice" kids and said "OK." He played the Mozart Clarinet Quintet and was very good, but would end phrases in an unclassical way, playing the last note a little too forcefully. Later, Robin said to the hostess, "That old guy's pretty good, but he plays kind of funny." She said, "Oh, that was Benny Goodman." Robin replied, "Oh, that's OK, then."

Portentous Encounter

George W. Bush was was a fellow student at Andover, one year ahead of Robin. One day Robin saw him hazing a new kid, humiliating him. Robin told George to knock it off because everyone swore after suffering through that humiliation their first year that they wouldn't engage in this practice. George stopped and, to Robin, seemed, grateful for the wake-up call. We wondered aloud "what if" a counterpart had been able to do something similar before he initiated the Iraq War. Robin recalled, "He was like a lot of other kids at Andover, who were children of very successful people, who could never live up to the expectations of their fathers. They would never know achievement at that level and thus never have the love and respect of their fathers because they could never be as great. They knew it and were bitter about it. With more empathy than I could ever muster, he said. "The last 8 years have been a tragedy for everyone, including George."

A strange confluence occurred later in the year. Robin went to the school cafeteria where he encountered George, who gave a proprietary greeting, just as the jukebox started playing "Please, Please Me," by the Beatles. Although he loved rock 'n roll, folk music had been his main interest. Robin says, "My backbone lit up, and I thought, 'This is my music.' That moment of odd juxtaposition became Robin's rock 'n roll epiphany. "I became a rock 'n roller, right there."

College Life

Robin went to Harvard. There he joined the Harvard Radcliffe Orchestra. In the 60's Harvard was a men-only school and its sister school for women was Radcliffe. The orchestra was faculty-organized and contained a number of prestigious "fun" players. One was a friend from Andover, a top-notch clarinet player, "Dee Dee" Pei, Dee Dee's father was famous architect, I.M Pei. Another was John Adams -- an even better clarinetist -- who would become a Putlizer Prize-winning minimalist composer.

Once, Dee Dee called to ask, "Do you want to get together and sight-read some classical music? [the classical version of a folk jam] I've got a family friend coming over who wants to 'play with some guys.'" They played the Mozart D Major String Quartet and the friend played "better than everyone put together." About what you might expect from this particular friend… Yo Yo Ma.

Appaloosa

Robin left Harvard after his junior year, because his father died and the family was broke. Robin figured,in a naive 60's way, that he'd form a band, get a record contract and support the family. Amazingly, that's what happened. The band was Appaloosa. They got a record deal with Columbia. The record was produced by Al Kooper. They were asked to perform at Woodstock, but, due to an overly crowded roster, they were dropped via a last minute phone call. Robin heatedly told the festival rep, "Well, nobody's gonna come to your stupid festival anyway!" He said to me wryly, "I put them in their place, right there."

After the band made two albums, Robin's mother found a well-paying job doing translations for the Boston court system and Robin was able to go back to school.

Back at Harvard, he said, "I took a wonderful writing course with Kurt Vonnegut." He remembers Kurt as a wise, generous man who, the more successful he got, the more he tried to give back to others. Kurt once offered financial help (eventually unneeded) to Robin's younger brother who was having financial difficulties.

Appaloosa's last gig was at The Fillmore East. They were the middle act between Blood, Sweat & Tears and The Allman Brothers, so The Allman Brothers at that point was the warm-up act for Appaloosa. This was the concert that David and Marshall attended before they met Robin. All three would encounter each other in Pierce Arrow five Years later.

Pierce Arrow

After Appaloosa disbanded, Robin moved back east and did some solo work. Then two friends started a group and invited Robin to join them. Marshall joined the band, got David into the band as well and it became the start of Pierce Arrow. They were signed to Columbia and made a record.

Pierce Arrow toured and opened for many big acts -- The Kinks and The Doobie Brothers among them. They hit some snags along the way, especially when their nouveau folk/rock style clashed with the mind-set of the audience for the main act. At a 4th of July show opening for Aerosmith, the audience began throwing firecrackers at them. Steven Tyler rushed onstage and told the audience to stop it because "Hey! These guys are alive!" [and wanted to stay that way] After they were greeted with obscenities opening for Jerry Garcia, for the following gig they decided to play all their songs quickly in succession to prevent the boo-birds from gaining a foothold. This went well until Robin broke a string on his telecaster. This caused a lull, allowing the objectioners to shout "You suck! Get off!" One particular fan in the back was especially abusive and, finally Robin lost it. He strode to the mic and said "Fuck us? No! Fuck you! Get your ass up here and I'll beat the shit out of you!" The rest of the crowd waited a few beats and then yelled, "Yeah! Shut up! We love these guys!"

Things went well from there until one of the band members dove into a pool during an after-gig party and hit his head, breaking his neck. The paramedics got to him in time and, months later, he eventually recovered. However, the break in momentum destroyed the band's relationship with the record company causing record promotion and band morale to go downhill.

By then, David and Robin discovered that they were having more fun playing Everly Brothers songs backstage than they were doing the act onstage. A friend of David's asked him to play a concert at a grade school. David asked his friend if Robin could do half the set and then they'd do a couple of songs together. This proved to be a lot of fun, so they started gigging together.

The Duo Evolves

The steps that occurred in the formation of David and Robin plus Marshall Rosenberg into a full act is a testament to the generosity and flexibility of Tom Rush.

David got a call from Marshall, who was playing percussion with Tom. Marshall said that Tom needed a keyboard player and did he want to join them? David accepted and started gigging with Tom. Then David and Marshall persuaded Tom to try adding Robin on violin. Tom agreed to give it a shot. Of course Robin was a wonderful addition. After a few shows, David and Robin asked Tom if they could play a couple of their own songs. Tom said, "Sure," and gave them a slot in the middle of his set. That worked so well, that Tom said, "Why don't the three of you play as my opening act and then play as my band?" It was enormous fun and became the set-up for  all of Tom's shows. It lasted for about three years. David and Robin then broke off on their own as Buskin and Batteau. They became a major attraction on the folk scene.

Losing Heart

Things were rolling along well into the late 80's. Robin and David were also getting work as commercial jingle writers. This paid extremely well and, begun as a sideline, had started to become their main endeavor. David had written the jingle for NBC for which he won a Clio Award in 1983. He also co-wrote "All Aboard America" for Amtrak and did jingles for numerous other clients.

The beginning of the end for Buskin & Batteau started when they were booked as the closing act at the first-ever Friday night show at the Newport Folk Festival. Warnings of a huge hurricane, perhaps the biggest ever, scared everyone away, and they wound up with no audience.

After that, the jingle writing took on even more prominence. It took on the quality of a nine-to-five; showing up at the studio every day, putting in their hours; going home. At first they worked for competing studios. Then, an arrangement was made for them to work under the same umbrella, for the same firm. This proved unsuccessful, and when Robin got hit with two frivolous lawsuits challenging his authorship for the award-winning jingle "The Heartbeat of America" (for Chevrolet) and for "Your True Voice" (for AT&T), he lost heart. Although he won both lawsuits, he felt doubly violated. Robin put his music career on hold, entering a "semi-retirement." For the next 13 years, he and David would get together once or twice a year to play at charity events, but that was the extent of Robin's participation.

Robin did get involved with Paul Newman's Hole in the Wall Gang Camp, which supports children with with incurable cancer and blood diseases. He did a CD with the kids forming a chorus. He describes it as "Neo-folk, written with tears running down my face, for Paul Newman's Hole in the Wall Gang Camp, sung with the help of Judy Collins and Rachele Cappelli and a choir of campers." It's available for download from CD Baby and all proceeds go to the Camp.

David moved on, forming the comedic group Modern Man with George Wurzbach and Rob Carlson. When scheduling problems arose last year, David decided to give Robin a call. They were both entering a period in life where the gaps in their responsibilities seemed to offer another chance to work together. David's daughter had just started college and Robin's son was approaching college-age also.

In typical Buskin fashion, he said, "Hey! This is the Last Waltz calling! If we're gonna work together again, now is the time!" Robin agreed. The new record is a testament to how right he was. 

Today

Now they've both realized that the most important thing is the love of making music together. There's not going to be a great fortune in playing folk music [Old saying: "There are tens of dollars to be made in folk music… per year."]. As David put it, musing on the venues they'll be playing, "It's just gonna be just another church basement with brownies." Calculating the addition of

trancendent music, it's going to be a lot more than that, David.

Web site: www.buskinandbatteau.com

Upcoming Shows:

Oct 4   2pm University Cafe, Stony Brook, NY  $20 Adv / $25 Door

11      Private Event, Olney, MD

15      7:30pm BlackRock Center for the Arts, Germantown, MD 

          $20 Adv / $25 Door

Nov 7   7:30pm Fox Run Concerts,  Sudbury, MA  $20

12      NERFA  Kerhonkson, NY Formal Showcase

21       8pm Stone Temple Coffeehouse  Quincy, MA   $20

Dec 5    8pm Hurdy Gurdy Folk Club  Fairlawn, NJ  $20/$17

12       8pm People's Voice Cafe New York City, NY Phil Ochs Song Night