Ollabelle  

Music that Takes Flight

by Richard Cuccaro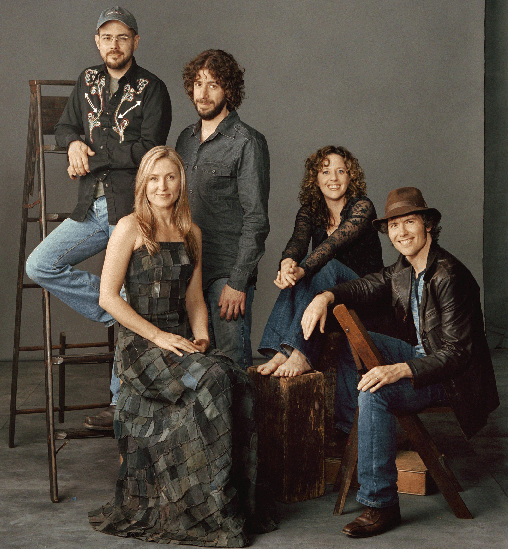 In 1965, I attended my first Philadelphia Folk Festival. I had left Bridgeport, Connecticut

after work and a few hours later, pulled into the day visitor's parking lot at Old Poole Farm

in Upper Salford, PA, sometime in the early evening. I guess I was exhausted because I took

a nap in the car first, before going into the festival grounds. I woke up somewhere around

8:30-9:00, to the sound of a boisterous chorus of voices, backed by electric guitar and drums.

It turned out to be The Sons of the Birds, the offspring of the seminal gospel group, The Dixie

Hummingbirds. The memory of the soaring power of that sound has remained with me all these

years. Also, during the late 60's, I can remember passing by a storefront chapel from time to

time, in the black community on the east side of Bridgeport where I lived. I would hear the

singing and marvel at its force, its strength.

I have an essentially non-religious nature (lapsed Catholic). I tend to rebel against the formalities

of all organized religions. I know there has to be something out there that made all this, but

I don't like anybody telling me who or what it is.

In spite of all that, the sound that originated in the black church and radiated outward has always

drawn me in. I shouldn't have been surprised by my reaction to the song "Riverside" as sung by

Ollabelle. I am moved nearly to tears. This is a group with all the components in place to effect an

awakening, if not religious, then something like it, maybe something even better, like mutual

understanding across mankind. The band is known for its blend of of gospel, blues, funk and jazz. 

In "Riverside" I hear both hope for peace and sorrow for its elusiveness. The song kicks off as

Glenn Patscha's lead vocal rides in on a soft carpet of an organ chord.

I'm gonna lay down my burden, down by the riverside

down by the riverside… down by the riverside…

A drum beat builds a foundation for the aural cathedral. Twin towers of harmony, Amy Helm,

daughter of Levon, and Aussie songbird, Fiona McBain make an entrance. The voices, drums

and organ build and rise to a crescendo, taking hope for a ride. They wield a power, whether by

arrangement of notes or instruments, that makes me want to believe in divine intervention,

or at the very least, the power of the human race to rise to exalted heights. It winds down to

a sorrowful coda, like a fading wish:

Ain't gonna study war no more, study war no more…

If, in response, the listener can't feel a sense of longing and loss, of a reaching for hope for this

sorry, crazy human race, perhaps a pulse check is in order.

This group is a monster. Everybody sings and they play the living bejeezus out of their instruments.

There are lots of serious jazz chops throughout the group that get applied to various forms of roots

music. They formed in the days after 9/11, and, in a way, from its ashes, taking their name from

legendary North Carolina songwriter, Ola Belle Reed. Her song, "High on a Mountain" is in Ollabelle's repertoire. If a fantasy film were to be made about a band of angels who get together to play gospel in a time of need, Ollabelle  would fit the part perfectly. Not to turn them into saints (they are musicians, after all), but their grasp of hope and redemption, and its evocation in music is so good it's otherworldly.

When we first encountered the band, they were putting their singing chops on display big-time, with

an a capella version of "Before This Time," using only a hand drum for back-up. In concert, the sound would hit listeners like a tsunami. It heralded the arrival of something very special. Their first eponymous CD contained virtuosic and innovative versions of traditional material and their second, recently released, Riverside Battle Songs stretches even further with more original material.

We talked to four of the band members about their respective journeys to New York City and how they happened to come together. What emerges is a picture of a near-perfect gathering of musical talent. Celestial beings? Angels?  Unlikely. They have wings, though, and they can soar.

Meet the Band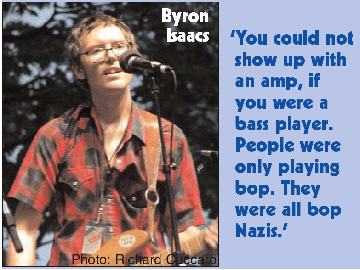 Byron grew up in Houston. His mother was an actress who was involved in the local theater scene. He thought he was going to be an actor like his siblings. Everyone was involved in all the school plays and the plays that his mother put together. Byron was much younger than the rest and wound up going in his own direction. His parents split up and his mom moved to Indiana and went back to school for her Ph.D. In Indiana, Byron discovered jazz and was recruited for his high school jazz band. The school had great musicians and he fell completely into music, the only one in his family to become a musician. "It was kind of out of left field," he says. He became an upright bass player. He then went to Indiana University and studied in the jazz program, studying classical music as well. Byron moved to New York to play jazz. When he got to New York in the mid 90's the jazz scene was not exactly what he was looking for. He began a period of transition that he described: "The city was into a retro phase -- purely bebop. You could not show up with an amp, if you were a bass player. People were only playing bop. They were all 'bop Nazis.' I was into modern acoustic jazz at the time and started playing other stuff. I discovered  a Suzanne Vega record which made me want to start writing songs. As soon as I started writing songs, I started playing with songwriters and got into the singer/songwriter scene. That led into the folk scene to a certain extent and I ended up playing with Joan Baez and recorded on one of her albums."

Ollabelle was formed at about this time. The band members had met and were collaborating. After 9/11, sometime during the winter, the gospel jam got started. Byron recalled: "The whole feeling in the city had changed. I think everyone was really sick of irony. I know I was really sick of irony. The pop music that was happening at the time, before 9/11 was getting frivolous. After 9/11, all of us wanted to say sincere things that we really meant and stop fuckin' around. Not the same stupid shit. We were asked to be a house band for a gospel night here at 9C. It was a jam session, an open mic, but with a band. There were a lot of people doing it at first. As a band, we were all friends and had been working together. We had been talking about doing something with a lot of vocals, so it gave us the perfect excuse to work up a bunch of vocal arrangements.

Nobody in NY does big vocal harmonies because it takes too much rehearsal. Nobody has time for that amount of rehearsal in NY. So, suddenly we had this every-Sunday-night thing, we had these gospel tunes we had to learn, they were perfect for setting up vocal harmonies. Less and less, it became the sit-in thing and more and more, it became the core band. We developed these weird arrangements because we came from diverse backgrounds.

It was very eclectic. We were all trying to turn every tune inside out as much as possible. It was really fun and it was good to do music that had nothing to do with the tongue-in-cheek bullshit that we were sick of. It had a healing feeling at the time, when we were all in a somber mood. The whole city was in a pall."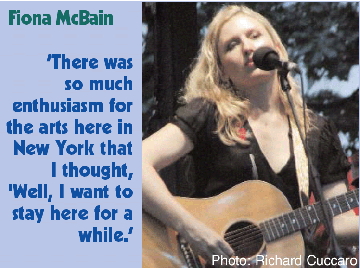 Fiona is from Sydney, Australia. Her father was a musician. He played the cornet and flugelhorn in the Army band  (where he met her mother). When the children came along, he got a "real" job, but always played music. When he came home from work, the children would rush into the bedroom, where her father would play the clarinet. He also played the guitar -- "Dark Eyes," "Feets Too Big"  with her mother.

They'd sing standards.The family had an old phonograph, the kind that come in the cabinets. They'd play a lot of jazz and sometimes classical music. She started playing guitar when she was 6 years old. Her first choice was piano, but that was not affordable. Fiona was the youngest of 3 girls and her older sister played guitar, so they'd go to lessons together. All three sisters would sing together at all hours of the night. "My mom would try to get us to be quiet but she couldn't."

They'd sing Beatles material, Joni Mitchell, and whatever their guitar teacher taught them, which was generally a lot of folk songs from the 60's (plus Beatles). Occasionally they'd work out more modern material on the guitar but, for the most part, it was a lot of early 60's folk. All through her school years, she was in choir.

She was in the school's "percussion" group which consisted of drum kit, bass, electric guitar and keyboards. She played drums, bass and electric guitar.She did gigs in Sydney after leaving high school, singing in jazz bands. She was also working in television. She started writing her own material and had her own band. A man she was romantically involved with moved to New York and Fiona came to visit him here in 1998. While she was here, she played some gigs (Sidewalk, Gaslight) and was so well-received that when her tourist visa expired, she returned home but made an immediate u-turn and came right back. "There was so much enthusiasm for the arts here in New York that I thought, 'Well, I want to stay here for a while.'" In 1999, she got a work visa which allowed her to stay longer and keep herself afloat. In 2000, she had put a band together and Roger, the manager of 9C gave her the first gig with the band. Byron became the bassist in that band, and through Byron, Glenn came aboard as the keyoard player. Thus, the nucleus of Ollabelle formed.

Through Glenn, she met Amy. Apart from the band, Amy and Fiona would get together and sing gospel songs. Then, one night at a gig for Fiona's band, Amy sat in and, when the two sang some gospel songs, a light went on in Roger's head. He suggested that they play a "Gospel" night every Sunday. Fiona found this highly amusing in light of the fact that 9C was very divey, a honky-tonk, with flames painted on the wall and vintage 50's pinups (Bettie Page, etc.) everywhere. "Sunday School for Sinners" was born. Drummer Tony Leone and guitarist Jimi Zhivago joined the group and they functioned as the house band with a lot of people sitting in.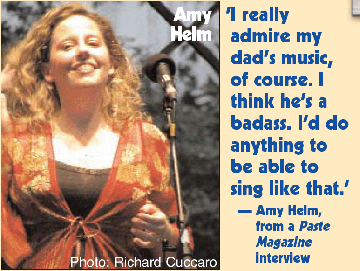 Unfortunately, we were unable to wrangle an interview with Amy Helm. We've read that her pre-Ollabelle roots were as a blues singer. While everyone else in the band comes to the

forefront regularly, it's hard to imagine the group without her rich alto at its core. We can only

speculate what the effect must have been, growing up as the daughter of Levon Helm, not only a founding member and a lead singer of The Band, but a seminal figure of rock 'n roll. He was a

member of Ronnie Hawkins' band The Hawks. Out of Canada, they had a rockabilly hit "Forty Days," in the early days of rock 'n roll, one of this author's favorites. What was it like, growing up with all that history?

We catch glimpses in a few places online and in an interview that Amy gave to Paste Magazine.

It was around ten years ago that her father was stricken with throat cancer. Levon was in mortal danger. He found a doctor at Sloan-Kettering who was able to save his life but, after undergoing

radiation and chemotherapy treatment, he lost his voice. During his recuperation, his home studio burned down and he declared bankruptcy. Amy moved home to be with her father while he

recuperated. During his convalescence, in order to stave off foreclosure, Levon re-created the

old-time, post medicine-show "Midnight Ramble." Visitors pay to see these late-night jams at his home in Woodstock on Saturdays when he's in town. Musicians come from all over the world to participate. Amy took a big part in her father's comeback. Initially, Levon could only participate as a

drummer during the Midnight Rambles  However, his voice returned and eventually, the idea to make an album developed. The result was Dirt Farmer, released in the fall of 2007. The album was co-produced by Amy and Larry Campbell, well-known guitarist who has performed with Bob Dylan. As Amy stated in Paste, "I really wanted the record to be a real platform for [Levon's] vocals and his story and for his history to really shine. And to keep it as simple as possible." In February of 2008, Dirt Farmer won the Grammy for Best Traditional Folk Album of 2007. Amy and Larry performed on the album and in subsequent shows in support of the album. We learn from Wikipedia that Levon "declined to attend the Grammy Awards ceremony, instead holding a 'Midnight Gramble' and celebrating the birth of his grandson, named Lavon [the original version of Levon's name]." Since Amy has recently returned to Ollabelle from a pregnancy, we  might safely assume that Lavon is her son. Congratulations, Amy! When asked by the Paste interviewer about the origins of the songs on the album Amy replied, "Well, my dad had been taught a lot of songs. Both his parents played music. His father — my papa — played guitar and sang at dances, and my mamaw was a strong alto church singer. That was just something that they did." Her roots can be seen right there in that statement. Paste also asked about the influence of her father. She responded:  "I think with Ollabelle, I know that with Tony [Leone] and Byron and Glenn [Patscha], they've studied a lot

of The Band's music, and I'm sure that he's a big influence on them. And on me, he's had a huge influence.

I really love the music of The Band and I really admire my dad's music, of course. I think he's a badass. I'd do anything to be able to sing like that. I put him right up there with Mavis Staples or Dolly Parton or any of my other heroes." Acoustic Live is a big Amy Helms fan. She's one of our heroes.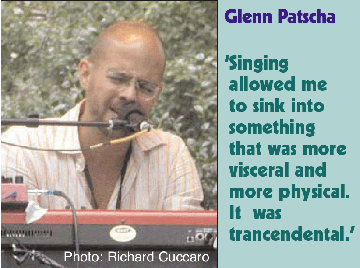 Glenn started playing when he was three years old, in Winnipeg, Canada. His mother played the organ. She'd listen to pop tunes on the radio, learn them and play them. Glenn did the same thing because, "I thought everybody did it." [!] He started studying when he was five, but didn't learn to sight read at first, because he'd just listen to what the teacher played and play it back. When he was 13, he became "obsessed with jazz music." His teacher gave him a record of Oscar Peterson's rendition of "Porgy and Bess." "It just turned my whole world upside down. After that, he began transcribing and writing things down, It was through transcribing that he learned how to read music. "That translated into me going down to New Orleans and studying with Ellis Marsalis," he says. Leaping ahead to Ollabelle's formation, he states that, "the one thing you never get to do in New York City [as primarily a jazz keyboardist] is sing harmonies with people."  When the group got together to work out harmonies, they'd all break down laughing in disbelief at how much fun they were having, he recalls. He says that getting a residency in New York is difficult, and when they got Sunday nights at 9C, "everything congealed." Singing represented a return to Glenn's core. When he was a child, he sang constantly.

If he wasn't singing, his mother knew something was wrong, that he might be coming down with a cold. When he got into jazz, he became self-conscious, because it felt out of place to sing the Neil Young or Stevie Wonder songs that he liked. "I got so far into piano that I let it go." When his father passed away in 1998, he couldn't express what he was feeling with the piano and it brought him back to singing. "Singing allowed me to sink into something that was more visceral and more physical. It  was trancendental. I jumped back into singing in a big way."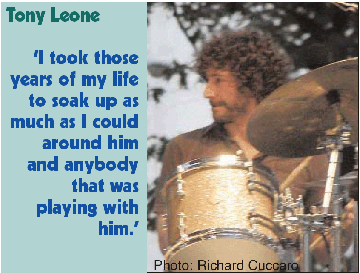 Tony grew up in Hartford Connecticut. By the time he was four years old he was already a big Elvis fan. As a third grader (8 years old), for a Cub Scout project, he organized a skit where he and his friends made banjoes out of cigar boxes and elastic bands. "We did 'Blue Suede Shoes' at the big Cub Scout weekly meeting," he recalled. He was into Little Richard, Jerry Lee Lewis, Chuck Berry and Buddy Holly. He started playing in his first rock band when he was eleven. They played Leonard Skynard and Neil Young material. At first he didn't take lessons. His dad was a drummer and had showed him the rudiments -- how to hold the sticks and gave him an old 1961 set of Slingerland drums. After a while his father told him that if he was going to really learn how to play, he'd need lessons. As time wore on, Tony got into jazz and became more serious about playing. He went to a performing arts high school and then attended the Hartt School of music in Hartford. He didn't need to travel to develop as a player.

Alto sax giant Jackie McLean was a faculty member at Hartt and also founded the Hartford Artists Collective. A steady stream of jazz virtuosos came to play with Jackie and Tony stayed around to play, learn and grow. "I took those years of my life to soak up as much as I could around him and anybody that was playing with him," he stated. Before Ollabelle formed, he had been strictly playing jazz around Manhattan. The film "O Brother Where Art Thou" made its impact in 2000 and this coincided with Tony's desire to get back to the roots of what drew him to music in the first place -- Country, bluegrass, gospel,early rock 'n roll. He noted that Jerry Garcia was influenced by Bill Monroe, Mississippi John Hurt  and Skip James. He pointed out that all the members of Ollabelle

came from different directions but were united by their desire to sing and write. It went without saying that they bonded through of their immense talent  and their respective mastery of their instruments.

Now Appearing

The management of Banjo Jim's, the current re-incarnation of 9C on the same spot, has re-instituted  "Sunday School for Sinners," two Sundays per month. Ollabelle, or at least parts thereof, gather to act as house band for guest artists. At the first two that I attended, the musical styles ranged from singer/songwriter folk/rock to jazz.  In every case, the band provided either virtuosic backing or, in some instances (Byron Isaacs songs) led the way. I especially enjoyed the way Tony Leone's drumming provide the perfect rhythmic structure for every style, laying back in softer passages,

or picking it up with a blistering tour of the trap set when called for. Glenn Patscha's keyboard work on the older house upright piano could be simply gentle or richly intricate Following jazz saxophonist John Ellis, he'd climb the keyboard up a mountain of emotion, unleashing jazz runs worthy of any club in the city claiming that genre. Look for "Sunday School for Sinners" at Banjo Jim's. They don't disappoint. In fact, if possible, don't miss any Ollabelle live show.

Website: www.ollabelle.net

Upcoming Area Performances

Nov 12    Le Poisson Rouge 158 Bleecker Street New York, NY

14           Tarrytown Music Hall, Tarrytown, NY

              8pm with Richard Shindell $35 - $45

22          Inter-Media Art Center, Huntington, NY (LI)

              8pm with Richard Shindell   $45 / $34 (members)