When Mya Byrne came out as a transgender woman earlier this year, it was probably shocking to some, although not to others. Beyond that, she's been embraced by our community and has put together an album of new music, As I Am, which, in many ways, mirrors her transition. She is working on being not only a performer, but an advocate.

I had asked this deeply talented singer/songwriter and multi-instrumentalist to tell her own story as a guest author, but she preferred that I write it. However, when I had the opportunity to listen to a download of the new album, I realized that in one sense, she'd already written it. Providing a view from the inside out, "Lost Angel" tells what it's like to deny a hidden part of yourself, needing and finally allowing that core essence to reveal itself:

Have you been broken / all shards and pieces

hands rough and bleeding / all folds and creases

Your pain is one thing / your heart's another

Where is your sister? / where is your mother?

But your shame will leave you if you let her in

cast your guilt down / there is no sin

You swear you've seen her face before

Your lost angel's at your door …

She knew you before you were a man

She'll love you no matter where you stand

… You swear you've heard her voice before

Your lost angel's at your door

You know you've known her long before

Your lost angel's at your door.

It's heart-rending and very Dylanesque … and Bob Dylan couldn't have done it any better. The rest of As I Am, a roots/rock barnburner, is going to open a lot of eyes — and ears.

Roots

Mya was born in Boston and always wanted to play music. At around 6 or 7, she would make up songs. She was a latchkey kid, and creating songs was a way to pass the time after school. Her parents' record collection provided inspiration. She and her sister used a tape deck and their parents' car as a make-believe recording studio for new song creations. She started playing guitar at age 10, bass at 12 and slide guitar at 14 with other instruments such as ukulele mixed in. Mya played in garage-style bands in basements throughout high school (she wrote her first "real" song at 17) and other rock bands in college. In her last year of school, she began attending Jack Hardy's Songwriter's Exchange.

Her first band, The Ramblers, was a roots/rock band, described on her website as "a festival Americana act, opening up for such bands as Levon Helm starting in the late aughts." After Jack Hardy died in March 2011, she participated in his memorial service in Greenwich Village. It was here that this author made her acquaintance. In 2012, a vocal cord hemorrhage brought on a hiatus from The Ramblers, which coincided with the affirmation of her female identity. Mya's voice was saved thanks to a new surgical procedure, and she rebounded as a solo artist while accompanying other folk friends, and becoming a member of Scott Wolfson and Other Heroes.

Recordings

Mya's first solo album, Lucky, was completed just before the operation and recovery from the throat hemorrhage. In December 2012, I wrote a review: The sparseness of production and the songwriting/playing style on Lucky seem drawn from another era … would have been right at home in the '60s. While the overall effect of "throwback" permeates this album, it in no way diminishes its impact. "I Know" is reminiscent of Bob Dylan's "Ballad of Hollis Brown."

The roots/rock of As I Am feels right at home in the current decade. "Don't Hurt No One No More" is a thumping ballad of self-discovery which extols:

Believe me, all I told you was true

I just couldn't give myself to you

I don't hurt no one no more / Don't hurt no one no more

Oh, sugar darlin', I can't keep fallin'

my love only causes pain over riveting guitar and organ riffs.

"Power of the Lord" is a powerful and compelling song with some hellacious lead guitar and backing choral passages. Mya and supporting voices sing:

Who's gonna teach you 'bout the dime store prophet

Oh, the power of the Lord

The preacherman who only wants to start a riot

Oh, the power of the Lord.

What might have been just an admonition to hypocrites using religion to condemn those who don't fit their version of "normal" (which it is) also becomes a rousing statement of faith. The entire album contains a potency and level of talent that is sure to find acceptance on airwaves and has a chance to provoke a change in overall societal mindset.

Transition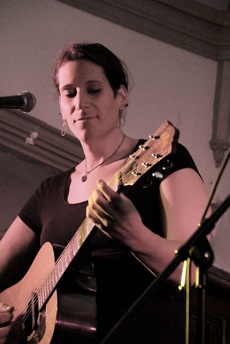 Mya's transition was informed through her art. Songs written throughout the years had contained the truth and it was just a matter of time before they spoke to her. One in particular, performed by The Ramblers, "These Blues Weren't Meant to Survive," can be heard online at Ron Olesko's
Folk Music Notebook
(singout.org/2014/06/16/mya-byrne/)
. Ron played the song during Mya's very edifying June 15, 2014, visit to his WFDU-FM (89.1) show,
Traditions
. Recording that song left Mya filled with an overwhelming inexplicable emotion, but eventually shook loose the truth about living her life and not giving in to society's conventions.
Mya Byrne had already been embraced by the folk community, but since she's transitioned, it's obvious that her music has blossomed. Let's all join her as this journey bears fruit.

Upcoming area appearance:

Dec 12   8pm Outpost in the Burbs, 67 Church St., Montclair, N.J. 

              Opening for Joseph Arthur