Honor Finnegan

The Tiny Life

By Richard Cuccaro

Somewhere around 1976, a group of children on the south side of Chicago waited for a schoolbus. This day, the bus was late. They gathered in a nearby gym and began to sing while they waited. The song was "Where is Love," from the musical, Oliver. A small girl in their midst, blessed with a big voice, Honor Finnegan, felt the music swell around her as she joined in. The voices, joined in harmony, telling an orphan's tale, went through her, lifting her up: Where is love? / Does it fall from skies above? / Is it underneath the willow tree / That I've been dreaming of? Honor felt something "transcendental." It was something like an epiphany. She remembers thinking, "Wow! I can do something really great with singing! …lift people up, or maybe I could have a positive effect on people."

The little girl with a big voice is now a little woman with an even bigger voice. Maybe the title of her upcoming album, The Tiny Life, reflects her quirky view of how life never quite works out how we've planned, or maybe it's just wordplay about her view of life from around five feet and one inch off the ground. One thing is certain: those who see and hear her encounter a powerful voice combined with a refreshing, offbeat sense of humor.

Discovering Honor

My first glimpse of Honor was in viewing one of a group of Christmas videos made at the 2010 NERFA conference which revealed Honor's humorous side. She wrote and sang "It's Jesus' Birthday: Drink a lot of booze, eat a lot of crap, buy a lot of junk… it's Jesus' birthday!… Later, when we met and chatted about the video, I invited her to play at our booth showcases at Falcon Ridge and Huntington (L.I.) Folk Festivals. At Falcon Ridge, I was impressed with her tenacity as she played over loud music from an adjoining stage. She held the audience outside our booth in thrall as she sang another humorous song, "Internet Junkie," which elicits an audience response of "Google it!" When she gave me a copy of her CD, Human Heart, my interest reached new heights. The voice that the CD revealed was that of a full-blown Irish diva, similar I thought, to Susan McKeown (or perhaps Mary Black or Maura O'Connell, as I would discover later). Then and there, this feature was born. The full breadth of Honor's talent and training would come to light in our

interview.

Beginnings

Honor, with two older sisters, grew up on the south side of Chicago. Her father sang a little bit and read poetry and she remembers him reciting. Her mother wanted to be a classical pianist and Honor doesn't remember why her mother didn't pursue it. She remembered that they had a record player. While there may have been some classical and children's records, the three she recalls in particular were the Jackson Five's first album, an ethnic music album from a Greek restaurant called The Parthenon and The Concert for Bangladesh.

A desire to perform appears to have gotten implanted early. Honor remembered being fascinated with Shirley Temple and Margaret O'Brien movies, possibly indicating some identification with them. She loved the Greek music and told me she "loved dancing as a kid."  On TV, the Mouseketeers were favorites and Honor learned their routines. At around six years old, she received some piano lessons but really didn't take to it.

The Play's the Thing

At eight or nine years old, she had a drama teacher at school who was an actor. He put on musicals. The first one Honor participated in was "Annie Get Your Gun." "I was the milkmaid," she said. "I was a real ham." When she was 11, she auditioned for a production of "A Christmas Carol" at the Goodman Theater in Chicago. She told me, "It's a renowned regional theater, so its a big deal and I was super excited. I felt like was admitted into the magical world of 'make believe.' I played Fan, Ebenezer's little sister and 'Want' — one of two children — 'Ignorance' the other, clinging to the cloak of the Ghost of Christmas Present."

The Trouper

At 12 years old, Honor auditioned for the first national tour of "Annie." She was accepted and toured with "Annie" for about one-and one-half years. They played Chicago, Boston, Philadelphia, and Detroit. Although there was a tutor, the kids were essentially on holiday and little or no studying got done. Returning to a regular school routine was hard. Her air of confidence, gained from the acting stint, earned the hostility of her classmates. They jealously felt that Honor acted superior to them. Honor was glad when she reached high school age. She joined the choir and experienced one of those "nine degrees of separation" connections. The choir teacher's son later became a member of the cast of The Office ("Darrell"). A concentration of talent seems to have always hovered near her. In high school, Honor wrote a bit of poetry and did some experimenting with writing songs.

There were disappointments. In the acting realm, she expected things to come easily like they had in the beginning. However, when she tried out for a role in "Bring Back Birdie." (A sequel to the Broadway play "Bye, Bye Birdie") she wasn't chosen. Additionally, she was also flown to New York and, after auditioning, narrowly missed getting a role in the movie of "Annie."

After high school, she applied to the Drama program at New York University but was turned down. She then attended University of Illinois as a Drama major, but stayed for only one semester. College would not provide the early path for Honor. She would need to find her own way forward.

An Affair with Godzilla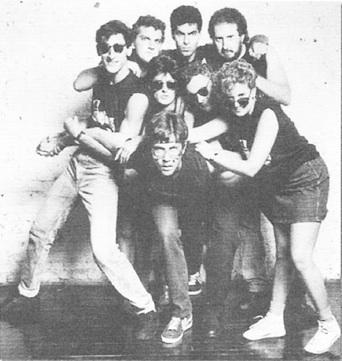 Not long after leaving college, she started working with an improv group at the ImprovOlympic in Chicago. Saturday Night Live stalwarts Tina Fey, Amy Pohler and Tim Meadows have come through the ImprovOlympic. Although Tina and Amy were there after Honor left, she did get to work with Tim Meadows, Chris Farley and Mike Meyers. Founded almost 20 years ago by Charna Halpern and the late Del Close, the ImprovOlympic has prospered as a comedy training center and performance venue.
Del took a liking to Honor and created a play called "Honor Finnegan Versus the Brain of the Galaxy." Honor played a superhero who fights an alien and becomes romantically involved with Godzilla. "It was fun. I sang this love song to Godzilla," she recalled, laughing.

While the experience might not seem pertinent to a musical career, Honor told me, "I didn't do a lot of music at the time, but I loved that group dynamic and I feel like I learned a lot about the creative process. Later when I did start writing songs, a lot of what I learned in improv came into play." Honor told about a form of 40-minute improv called "the Harold" that used one suggestion from the audience as a theme. The idea was to use the theme as a launching pad and make a lot of connections, creating new story avenues. She said, "It's almost like the Harold could be a song or a painting or anything else, I think it's a good model for the creative process because you learn to trust the process. You take a leap."

When Honor was 21, she left the ImprovOlympic and traveled around a bit. She lived in Portland, Oregon and sang with a top-forty dance band for a while and lived a bohemian lifestyle.

The Emerald Isle

In 1991, Honor went Ireland to follow the call of her ancestors, and the muse of Irish singing and dancing. She was working and living in a youth hostel near the Claddagh section of Galway. About 8 months into her stay, on a typically windy, rainy Galway night, fellow hostel residents convinced Honor to accompany them to Monroe's, the pub across the street.

In Monroe's, "crowded and low-ceilinged, the smoke was so thick you could chew on it," Honor would recall, a blues band was playing. When the pixie-like Honor asked the lead singer if she could sing a blues number, the lead guitarist for the band was aghast and vehemently shook his head no. Luckily, the lead singer overruled him. The Irish love their Guinness and their ale and they love the blues, having lived them in their own way for decades. It's no wonder many of them think they can spontaneously get up and belt one out for the crowd, with talent strictly an afterthought.

The lead guitarist, Carl Money, an Englishman had come to Ireland the year before and stayed to follow his own muse. Carl had seen too many drunken or no-talent patrons, allowed to play the role of lead vocalist, completely butcher a venerable blues number, forgetting melody and lyrics. Honor got up and, with a power no one could've suspected, sang "Wild Women (Don't Have the Blues)." She nailed it so thoroughly that the club patrons went wild, giving her a standing ovation. Honor walked out right after she finished. Carl realized he'd made a big mistake. Maybe he didn't know Honor would be the woman he'd marry, but he went looking for her the next day, and not having far to travel, found her. They began playing music together right away, forming in succession, a jazz duo, a blues band and a big band (Honor's favorite). They got married two years later, in 1993 and Honor sang "Misty" at the wedding reception. She gave birth to her son, Milo, not long after.

In addition to playing music in groups with Carl, Honor did some musicals, among them "Sweet Charity," Little Shop of Horrors" and "The Hot Mikado."

Life wasn't easy, but she was resourceful. She told me: "We were on the dole, and we played music. I also got some little jobs cleaning houses, and did a very brief stint as a waitress and nanny, but that was later."

She sang in all-female groups and did  a lot of busking. When I asked her about the street scene she told me: "Galway has a lot of Medieval architecture and layout. My spot was a sweet little place, my special and only busking spot called Butter Milk Lane, right off the High Street or Main Street. The acoustics were heavenly, which was important especially for me as a solo a capella (or sean nos) singer. On one end was High Street, on the other end, a church. The old ladies coming from mass were my greatest supporters. The regular folk. They would say they heard my singing in the church and that it 'sounded like an angel.' They always assumed I was Irish, and when they found out I was a Yank, they said they knew I must have some Irish in me. They were eager to claim me!

"One thing that I remember was that after a while, I could hear what was being dropped in my case. I knew the sound of a pound coin. This was before the EU so there was no Euro. The Irish pound or punt was a lovely, large silver coin with an elk on it, and it made a good solid thump."

Almost De Dannan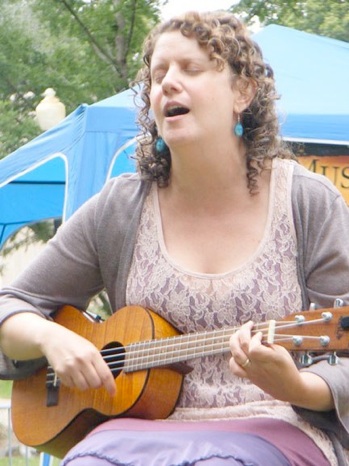 Two members, Frankie Gavin and Alec Finn, of the Irish folk supergroup De Dannan wandered across Honor's path. The group had split up but had plans to reunite. As Honor recalled: "I first met Frankie Gavin before I was married. He approached me in the lane and hired me to do a one-day gig out in Kinvara. I didn't have any contact with him after that." She was later offered the lead singer position in the group. She would have been the band's fifth, following in the footsteps of Dolores Keane, Mary Black, Maura O'Connell and Eleanor Shanley.
It went like this: "The time they wanted me to join the band was later after Milo was born. I went marching off to the lane to busk with baby in tow, wrapped up in the pram. He was sleeping, and Alec Finn approached me and said the band was looking for a new singer. he talked to Frankie, and they had me do a little recording in the studio, and then said I was in, but it didn't work out." Milo was only 3 months old and the band insisted that she wouldn't be able to travel with the baby and would have to leave the child at home. She couldn't conceive of leaving her son and turned them down.

Honor got sick a lot in Ireland, due to the dampness. During one bout of bronchitis, she got tired of laying in bed and decided she would tackle songwriting. She came up with about 25 songs. Today, she doesn't feel they were anything special, except for one, "Better Love  Water," which is included on Human Heart. It's subject matter cleverly made use of the incessant rain in Galway that caused her so much difficulty. Honor sang with an all-female a capella group called the Cappucinos and they sang the song live twice on the Gay Byrne radio show. Byrne was a popular radio and TV personality at the time, who tackled difficult social issues on the air. She released a cassette, Learning to Fly, in 1996 and was a finalist in the Paddy Music Expo in Limerick. Honor and Carl stayed until 1998, when they moved to New York.

The New York Groove

In New York, Honor waited on tables for a while. She sang in an Irish-American group that mixed in some traditional Irish songs with covers. The band played in some rough places in Brooklyn and Queens where fights broke out in the wee hours of the morning. Honor tired of it after a while and went back to school to get a degree in Special Education. She became a Special Education Itinerant Teacher (SEIT) for preschoolers and that helps pay the bills today.

Honor wrote the songs for Human Heart before she went back to school and did the recording while she was in school. The CD didn't get any marketing and lay around for a few years while Honor worked at being a mom and a teacher, not "playing out" very much. Now, especially since Milo has gone off to college, it stands ready as a listener's introduction to Honor, as she gets ready to release The Tiny Life.

There are many new surprises in store on the new album. Songs like "Life is Short," with its dark humor, and the aforementioned "Internet Junkie" show how inventive and perceptive a writer she is. Combined with her prodigious vocal instrument, her recorded and live repertoire packs a unique one-two punch.

Honor has maintained an intent focus on her songwriting, attending The Jack Hardy Songwriter's Group, which forges on after Jack's passing. She was a finalist at the Connecticut Folk Festival's 2011 songwriting competition and she hosts the monthly Alphabet City Songwriter's Exchange, an in-the-round performance of three to four players. It's been held at Googie's, above the Living Room and more recently at Gizzi's on 8th Street (between 5th and 6th Avenues) in Greenwich Village.

Honor will be a featured performer in our Acoustic Live guerilla showcase room at the 2011 Northeast Regional Folk Alliance Conference (Our line-up is below). We're proud to have the chance to present someone who combines humor with powerhouse vocals. Watch our listings pages for future performances from her.

Website: honorfinnegan.com