What is it with these Canadians? They turn out so many of the best singer/songwriters. As an aspiring songwriter, long ago, compulsively and with very limited results, I tried to emulate Gordon Lightfoot. Other giants to come south across that northern border and blow people away have included Leonard Cohen, Joni Mitchell, Neil Young, Bruce Cockburn and Sarah McLachlan.

Well… here comes another one.

Somewhere during 1998, I rediscovered the 1995 CD, Performing Songwriter Magazine's Top 12 Independent Releases. There, nestled within songs by three great voices, Martin Sexton, John McVey and Ellis Paul, on track number seven, I found Lynn Miles' "Nobody's Angel." I was flabbergasted that I hadn't paid special notice to this one the first time around The sound is starkly beautiful, suffused with bittersweet melancholy regret. Her voice is soft but enormously expressive, with the barest hint of a catch in her throat. It's just her voice and her acoustic guitar with a bass in the background and just the right amount of echo added. Her words show that she's seen those late afternoons with the long shadows that coat the loneliness with a wistful amber light. And express it…

"In the days between stations, I've got time on my hands…I'm lookin' at the fallen trees and the round golden bands…and soon I'm gonna be… anywhere but here…I'm gonna ride that train right down the track… 'Til it's just a memory of a tear…

Regrettably, the album from which this is taken, Chalk this One Up to the Moon, by this time, is no longer in print.

I then found out that she was going to be one of the acts on the bill at the First Night concert in Oakland, New Jersey, on the eve of 1999. Also on the bill was another favorite, Buddy Mondlock. They were both opening for the main act, Cry, Cry, Cry. All were exciting, but it was Lynn, who I'd never seen live before, that I was most eager to watch. She didn't disappoint. Every song, one after another, was movingly satisfying, filled with surprising melodic turns and articulate phrases. It didn't hurt that she's also attractive, with a mantle of dark hair framing a striking face with eyes that seem to brood in their intensity.

We were lucky that she was sharing a workshop performance with Buddy after the main performance. We headed for another room in the High School where the concert was held and listened to them both for another hour. Again, she spun tale after tale, weaving her voice through songs with more hooks than a tackle box. Belatedly, I decided to run out to the front lobby where the CDs were being sold to get her latest, Night in a Strange Town. Too late. They were all sold out.

Eventually, I got my hands on the CD and the fascination continued. There are high number of achingly beautiful songs on it. The second cut ,"Middle of the Night,"is mesmerizing. She goes right for the jugular…and draws blood. The guitar and mandolin set up a mantra-like rhythm and the pedal steel sighs in the background. Her voice loops and darts around every nuance of emotion. Her lyrics are searing and relentless.

Like a poet needs pain / like a bride begs a kiss / like a baby wants a mother / like a gambler has to risk / like a drunk needs a drink / like an artist needs a muse / it is the middle of the night and all I need is you

like rust needs steel / an ocean needs a shore / like the moon needs the night / like a pimp needs a whore / like a river craves a bend / a cold December begs for June / It is the middle of the night and alI need is you

and I don't need candles or lace or wine / and I don't care about the consequences of what I left behind / you can take away all I have but the only thing that's true / it is the middle of the night / and all I need is you

like a kid loves to play / like a horse loves to run / like the sisters need Jesus / like a robber loves his gun / like a junkie needs his needle / there is nothing I can do / It is the middle of the night and all I need is you

like a train needs a track / like the sun loves to shine / like the world needs a conscience / like bells need to chime / like the stars need to shine / like guilt needs shame / I will lie here in the dark / and I will call your name

While there are some other favorites on the album, I listened to this one over and over. The production is sheer perfection, showcasing Lynn's voice and melodies without going too far.

At my 9-to-5, the department chairman, Ben, is into contemporary folk, going back to Phil Ochs and Tom Paxton. Over time, he's become a big fan of Christine Lavin and Lucy Kaplansky, among others. I loaned him my copy of Night in a Strange Town and he promptly went out and bought two copies of the first CD of Lynn's that he could find, her previous album, Slightly Haunted, and gave me one. Now, that's gratitude for you.

Some of the songs on Slightly Haunted are, for me, riveting enough to keep me playing them over and over.

When she sings "I Loved a Cowboy," she takes you to, "those nights spent in two-horse towns" with "pick-up trucks and country bars" where she "loved his sky-blue eyes, those cold November days" where she "could see his breath" and "swear" she "heard his heart beating inside his chest." Whew!

And … yet another example of how she bleeds poetry:

But your eyes are much too familiar

and my heart is in extremes

and if I could I would tell you

my life is coming apart at the seams

-The Ghost of Deadlock © Lynn Miles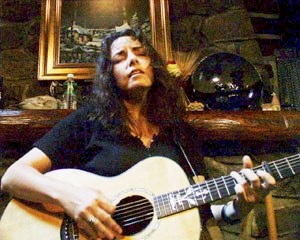 Though not fond of doing house concerts, in late September, Lynn did one at the home of Tim and Lori Blixt as part of their monthly "Cabin Concert" series. She'd been there before and had found it enjoyable. To see her in this setting, up close and unamplified, was a treat. Her style of picking is clean and precise. We got to hear a bunch of great new songs and Lynn worked a sardonic brand of humor on the living room full of guests. When she mentioned that she'd gotten a feature spot in November in the main showcase at the Northeast Regional Folk Alliance Conference in the Poconos, we thought it would be a good idea to do a feature on her, sharing our fondness for her work with the others in attendance at NERFA.

By the time this issue hits the streets and our readers pick it up in the venues throughout NYC and surrounding burbs, we will have seen Lynn once more at the Towne Crier, in Pawling, NY on Halloween eve where she's sharing the bill with Richard Shindell. As for shows during November, outside of the showcase at NERFA, they're far flung. The closest she gets to Manhattan is upstate at Alfred University. She's scheduled to play Nashville, Philadelphia, Winston Salem, North Carolina, San Louis Opisbo and Santa Barbara, California. Other stops on the west coast swing include Seattle, Washington and Portland, Oregon. Keep checking the her website though, at www.lynnmilesmusic.com for future Lynn sightings!

Laura Wetzler's Incredible Blessing

by Barbara Horowitz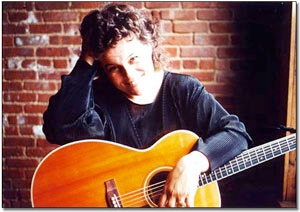 1999 ASCAP-award winning singer-songwriter Laura Wetzler sings, plays and composes a wide range of material, all with great flair and verve. She tours in over 150 concerts and workshops a year, singing contemporary folk and Jewish roots music in Hebrew, Yiddish and Judeo-Spanish.

As she told me on the phone, she inherited an early passion for music from her mother, a professional musician with a specialty in Jewish folk songs who also worked as a folk DJ. As a kid, Laura always loved the strong, poetic lyrics of Leonard Cohen, Joni Mitchell and others.

"I wanted to grow up to be Judy Collins because I always loved the variety and quality of the songs she sang."

I am taken by what Laura herself has accomplished with her own fine songs.

Her debut CD release, Songwriter's Notebook, is currently receiving airplay on 260+ radio stations around the world. It features songs about lost jobs, group home buddies, sudden deaths, ancient texts, notorious NYC canals and long-haul relationships. I'm listening to it for the third time, tapping my feet to the swift, strong beat of "Taken by Surprise" and moved by her ballad "Wonder" when a friend calls, hears her CD playing in the background and says, "Who is that? She sounds great!" And so Laura wins yet another admirer. Her back-up musicians on the album include some wonderfully familiar names: David Hamburger, Mindy Jostyn, George Wurzbach, Greg Anderson and others.

Laura plays in many different venues but prefers acoustic listening rooms

for the close attention to lyric and nuance folk audiences demand. She praises the vital service that folk club volunteers render to the musical life of our communities. "The support I received from Fast Folk and the Folk Alliance, for instance, from Richard Cuccaro and others, was very important when I was preparing this CD. I'll always be grateful for their terrific support of new music."

In addition to constant touring, Laura's career continues to take her in many directions, including film soundtracks and a unique show she performs with Janiece Thompson called "Jewels of the Diaspora-A Celebration of African-American and Jewish Song."

Says Laura, "I just feel incredibly blessed to make a living as a singer and writer."

You can catch Laura in concert November 7 at The Uptown Coffehouse at The Ethical Culture Society in Riverdale, 7pm; November 13 in "Jewels of the Diaspora" at The Open Center, 83 Spring St., NYC at 8pm (212) 219-2527 and Dec 10th, solo, at Westpac in White Plains, NY. For more info call Nervy Girl Records (413) 634-5617 or write to: Box 26, Cummington, Ma 01026

Write Laura at laurawetzler@hotmail.com. and make sure you check out her music and order her CD Songwriter's Notebook at her website: www.songs.com/LauraWetzler, or order by phone: 1-800-BUYMYCD.

Venue of the Month: Out of the Way but Worth the Trip

by Richard Cuccaro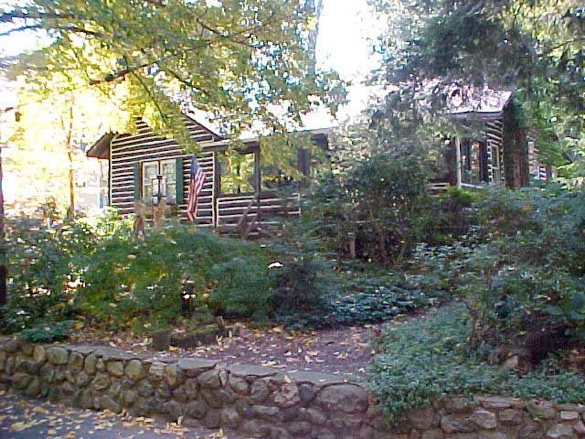 Cabin Concerts

Home of Tim & Lori blixt

60 Hawthorne Road

Wayne, New Jersey

973-616-0853    

There's something about seeing a favorite performer in a house concert, up close and intimate, that has me clinging to my ownership of an old, beat-up, but still costly automobile. Wayne, NJ is about an hour from Manhattan. Tim and Lori have now been presenting their "Cabin Concerts" for four years. They book one act each month. The quality of the talent they present brings some audience members back every month. Some favorites who've appeared there include: Cheryl Wheeler, Cliff Eberhardt, Hugh Blumenfeld, Vance Gilbert, Lucy Kaplansky, and Richard Shindell. Enormously popular with Cabin-goers, Richard is booked for two shows on Sunday, January 16th. The first is sold out and by now the second may be also. Tom Meltzer, formerly of the 5 Chinese Brothers is scheduled for the 14th of this month. John Flynn is pencilled in for December and Pierce Pettis and Michael Smith are scheduled for the spring of 2000.

The atmosphere at the cabin is friendly, of course. During the pot luck lunch before the concert and during the break, it gets even friendlier when the Blixt's two big, gentle dogs come 'round to see who'll give in and offer them a snack.

Directions to the cabin can be found on the website. Find some wheels and enjoy a Sunday afternoon in the country!