Cliff Eberhardt

and Chronicles from the Long Road …

by Richard Cuccaro

Call it a triumph of the will.  Perhaps a spark that lit a flame that refused to quit. During his childhood in Berwyn, Pennsylvania, he witnessed the struggle of family members with substance abuse and their passion for that and little else. So Cliff Eberhardt became passionate about music and life.

Off to an Early Start

When he was around four, Cliff got a plastic ukulele and wanted to learn how to play it the way his dad played the guitar. His father didn't want to bother teaching him, so instead showed him how to form chords using the block chord diagrams that came with songbooks. Cliff went through as many songbooks as he could, learning one song after another.

The family listened to many forms of music. From radio and record player, the sounds that poured forth included Cole Porter, George Gershwin, Harold Arlen, Pete Seeger, Woody Guthrie, Chad Mitchell, The Kingston Trio,

Nat King Cole, Ray Charles, and Billie Holiday. His mother played piano and so Cliff taught himself to play piano by ear. At an early age, he figured out how to play "Moonlight Sonata."

At the age of seven, he got his first guitar. The first song he learned to play was the Kingston Trio hit, "Tom Dooley." Cliff says wryly, "There were only two chords…I was really good at that one." He and his two brothers began playing programs at churches and schools. Their material was gleaned from the records of groups like The Kingston Trio and The Limelighters.

Berwyn, outside Philadelphia, was close to The Main Point (today known simply as "The Point"), one of the best folk clubs on the East coast. When he was fourteen, he saw his first live act there. Chris Smither opened for Eric Andersen. Quite an introduction. Other acts he saw there included James Taylor, Joni Mitchell, Howlin' Wolf, Muddy Waters, Bonnie Raitt and Mississippi John Hurt. Aztec Two-Step once opened for Bruce Springsteen during Bruce's acoustic singer/songwriter days. School was seriously "in session."

New York and Beyond

At fifteen years of age, Cliff and his brother Geoff were performing as a duo. In 1971, at seventeen, he and Geoff moved to New York City and played in folk clubs here for two years. In a series of moves toward developing his own voice, Cliff moved to Ohio in 1974 for a year, then to Carbondale, Illinois in 1975 for three-and-a-half years, then to Colorado briefly, all the while writing songs and playing in clubs. His stay in Carbondale proved to be particularly rewarding. Although he needed to take a job in a masking tape factory, he got to play constantly; every night there was either a club to play in or a song swap to engage in with other writers. Shawn Colvin was one of them and the two of them did a lot of collaborating on song development. Cliff's first demos were cut there with Shawn's participation. During this period, when he was just 21, Cliff wrote one of his finer compositions, "White Lightning," found on his first album, The Long Road.

Shawn sings back-up on the album. This song shows a maturity far beyond what one would expect from anyone in their early 20's, with lyric lines of sharply varying lengths, surprising twists in melody and narrative weaving. The effect is dramatic in a way that is cinematic and even suggestive of a professionally staged musical:

   Again, and it's summer and you are too late.

    But the Devil's employed you…don't question your fate.

    You move so slow."…

    You got that white lightning

    Heat lightning

    The heavens are calling for you to come home.

In 1978, Cliff moved to New York City again. This time he stayed longer. He recounts life in New York City in scalding but amusing terms. Living in a $125 a month apartment was possible. However, other people were allowed to "shop" through his belongings. He once spotted a guy leaving the building in his coat. He's also said, joking, but with a straight face — a surreal reference to NYC alternate side parking rules — "People talk about living one day at a time, which is good advice except in New York, where I preferred to live every other day at a time. That way I didn't have to move my car." At first, it was necessary to work as cab driver and in restaurants to make ends meet while he worked to improve his craft. He attended the song swaps at the Cornelia Street Cafe and held his own amongst the likes of Suzanne Vega, John Gorka, Steve Forbert, Julie Gold, Christine Lavin, Lucy Kaplansky, and once again, Shawn Colvin.

An Expanding Career

Throughout the 1980's Cliff worked steadily, playing clubs in New York City and the surrounding area. Around 1986, Cliff experimented with playing with a full rock band, "stretching out," as he put it. The Lone Star was one venue where Cliff and the band played. He also had a steady weekend gig for 3 years during the late 80's at the Cottonwood Cafe in the West Village. One of the more fortuitous gigs was the one at the Bitter End around 1988 or '89 where for two months, he had a headline spot once a week and other performers such as Christine Lavin, Eric Andersen, David Massengill or Shawn Colvin would open for him. Cliff would play lead guitar for them before doing his own set [How I would've loved to have seen these shows!] During one of them, Richie Havens stopped in and liked what he heard, then spoke to Cliff after the show and asked him to play back-up in an upcoming tour. Cliff spent the next two years, off and on, touring and playing lead guitar for Richie. Intermittently he did the same for the folk/pop

singer, Melanie, a '60's icon. During this time, Cliff accompanied Richie, Melanie, The Band, and Canned Heat on a Woodstock Reunion tour of Italy, as a lead guitarist for all of them. "I learned stuff on that tour," Cliff says.

The Recording Career

In 1990, Windham Hill included "My Father's Shoes" on its first Legacy album. That same year they released his first album, The Long Road. Richie Havens performed a duet with Cliff on the title track. Cliff then followed with Now You are My Home in 1993 and Mona Lisa Cafe in 1995, both on Shanachie Records. A chance meeting with Bob Feldman of Red House Records at John Gorka's wedding led to his joining that label's formidable array of artists. Two albums have been released by Red House so far: Twelve Songs of Good and Evil in 1997 and Borders in 1999.

His Approach to the Craft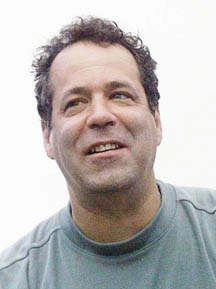 Before contacting Cliff, I searched the internet for background material to find out he'd already talked about with others. I then talked with him to clarify lingering questions for myself. To start, I remarked at how much I enjoyed the unusual shift in melody in one particular song "Not Alone in this World." He reiterated a statement made during a recent concert about his lifelong interest in composers like Cole Porter and George Gershwin, their influence on him, and his habit of listening to works such as these at home. He then stated that the song's startling change was due to the fact that it was written in the key of E, with the chorus shifting to the key of C.
For the most part, he said, melody and lyrics tend to flow together during the process of creation. He doesn't write a spate of poetry and then try to find a melody to wed it to."If I come up with an idea for a song, I would immediately pick up the guitar and start trying to put a melody to it, instead of sitting at the computer or with a pad of paper and writing down all the lyrics. 'Cause I'd like the melody to also tell me where to go lyrically," he said to another interviewer.

If there is one principle he adheres to, it involves simplification. He likes to simplify things to the point where "you'll almost miss them." From another interview: "I try to distill everything. I will take a sentence apart for three weeks and try to drop out every syllable I can to make it more concise and search for a word that simplifies something. Also, the simpler it is, the more room the listener has to add his own interpretation to something."

He also said, "If there's any pretension, I try to edit it out…' and  "I don't want to write about myself so that it's so specific, other people can't relate to it." He then remarked that with any work of art, whether it's a painting or sculpture in a gallery or a song, "I want to be emotionally changed by it," and that the work should provoke rage, joy, satisfaction, enlightenment, something.

We talked about a song from Borders, "The Wrong Side of the Line." He had started out trying to write about Bosnia or Rwanda, but decided to use elements from the Civil War  to express what he wanted to say, because that was what he was familiar with. I had some trouble understanding the point of the song. The main character, living just south of the Mason-Dixon line loses the family property to the destruction of the Union army during the Civil War. God damn Mason, God damn Dixon.… I never hurt no one, I never chose sides.

The theme of passion and commitment, or the lack of it is at work here, but what is the main character trying to tell us? I finally got it, talking to him, that Cliff doesn't sit in judgement on the guy, and can sympathize with his plight. He just presents him as one similar to us, without conviction or commitment. Perhaps like someone who, out of apathy or cynicism, didn't vote in the last election but decries the results. Cliff is quoted elsewhere: "Actually, the person is very passionate about what he feels in that song, but he's very apathetic. He doesn't choose a side, and then in the end, he blames everybody, including God, for the fate that has befallen him."

In this vein, we then conversed about the current state of national affairs. I was particularly concerned about our democratic system spinning out of control in a coup toward right-wing corporate fascism [what, me, hysterical?] I asked, "What's an average working stiff to do, to act upon whatever commitment he espouses?" He had some advice about how accessible elected officials are, to direct the average person who wishes to effect a change and then added, "It's a great time to be a folk singer. We're the last of the town criers." This is relative to pop music where the concern is not about conveying truth. He added, "Pop music doesn't sing of true love … it's about success."

A Return to Slide Guitar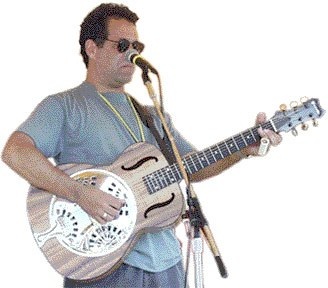 I was interested in the expansion of Cliff's already prodigious guitar skills to the dobro, which he picked up about 5 years ago.  How did he go about learning it? It wasn't much of a leap, as it turned out. It represented a return to slide playing after a 20 year hiatus. He said that he'd learned and played slide guitar when he was about 14 or 15 years old. He learned from "a bunch of old blues records." Both the dobro and the six-string acoustic he uses are made by master luthier Pete Granata. I wanted to know what guitarists he admired. He mentioned Richie Havens, Stephen Stills and Chris Smither. He said that the first acoustic lead guitar he'd heard on a record came from Buffalo Springfield.
I asked him if he had any advice for aspiring players. His response was simple and direct: "Learn an instrument really well. The more theory you know, the more interesting you can make a song."

Some Road Tidbits

When I wanted to know about some memorable touring incidents, he mentioned arriving to a padlocked club in Bloomington, Indiana. In the world of singer/songwriters, it isn't unusual, he said, to find out that "the IRS has closed a club a week before your show."

I asked for some favorite venues or festivals and he cited some that have been particularly supportive, including the Newport Folk Festival which has brought him in 9 times, The Bottom Line, in New York City, The Turning Point in Piermont, New York and Passim's in Boston.

Website:  www.cliffeberhardt.com