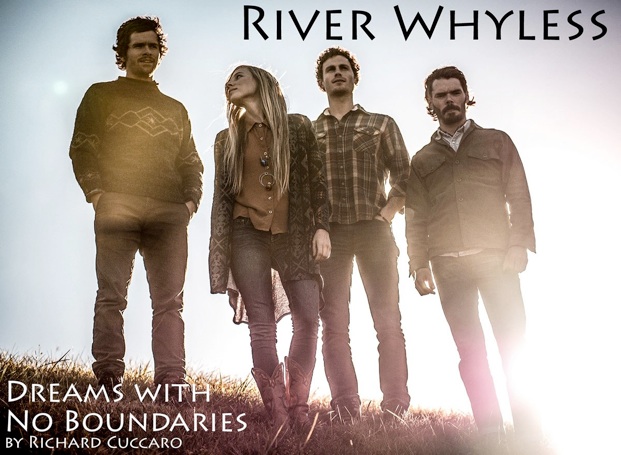 There are sounds some musicians make that have the power to shape our dreams. With flawless harmonies, an array of influences and a versatile instrumental approach, River Whyless is just such a group of musicians.

Their sound explodes like the flash of lightning and a clap of thunder preceding a cloudburst. The listener feels the music the way one might welcome a cooling downpour that breaks the oppressive heat of an August day.

Expanding on my own dream shape, I envision this group, with skill and daring, scaling to a great height, walking up to the edge of a cliff, stepping into thin air and not falling, but flying.

The band is comprised of Ryan O'Keefe on vocals and guitar, Halli Anderson on vocals and violin, Daniel Shearin on vocals, bass and harmonium and Alex McWalters on drums. From online videos I've seen, everyone does some form of percussion as the need arises. At an NPR Tiny Desk Concert, the band used a typewriter, a toy piano and a harmonium, as well as a gong, percussive accents and subtle guitar effects. Check their website for other videos.

Lyrics dealing with personal events sometimes blossom into universal statements. In "Baby Brother," from their latest release, We All the Light (2016), Ryan's familial experience with emotional fracture and healing flows into: I'm burning up all the spruce and pine / I know it's not the best at heating us / I know I'm not the best at healing us / But we all deserve the light / We all deserve the light.

The musicians met at Appalachian State University in Boone, N.C., in 2004 and began playing together. The band first called itself "Do It To Julia." Their debut album, Archie Carroll, was released in 2008. Described as having "crisp male and female vocal harmonies and lyrics that range from narrative storytelling to ironic social and political statements," they opened for national acts such as Keller Williams, Sister Hazel and Sam Bush. After graduation they moved to Asheville, N.C., where they changed to their present name and began writing their sophomore album, A Stone, A Leaf, An Unfound Door, released in 2012. The band has evolved steadily from a pop/folk/rock sound to something that has absorbed the rootsy feel of the mountains while including some Middle Eastern influences. The effect is a richness that goes beyond most of what is heard at the bluegrass festivals where they sometimes perform.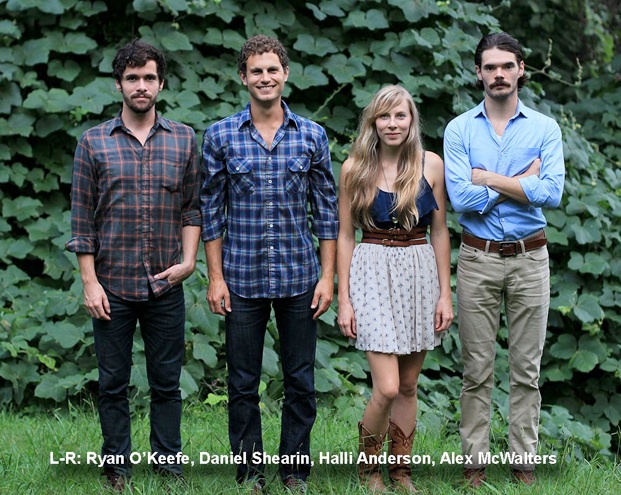 Amazingly, core member Ryan O'Keefe, raised in Maine, did not pursue music until he got to college. He met Alex on the track team and started playing guitar with him.

Alex grew up in Atlanta and had been a punk/"angst" rocker who absorbed the Boone area's musical influences while playing in the band. He said the group started "sounding like the mountain."

Halli, raised in North Carolina, started classical violin in sixth-grade orchestra. She later met a fiddler from the mountains who taught her traditional songs of the area and decided to never play classical again. Afterward she jammed with her mom in a group they called "Crazy Madre," playing the songs of her mom's favorite bands: Creedence Clearwater Revival, The Doobie Brothers and The Waterboys. They still play when they get together. She likes films by Terrence Malick — particularly his choice of shooting angles — different, she thinks, than everyone else. Similarly, she thinks the band's goal is to come at things musically from a unique angle. They experiment with their instruments the way a director would experiment with visual elements in a film.

Bassist Daniel Shearin grew up in a small town in eastern North Carolina and wanted to learn guitar because he liked The Teenage Mutant Ninja Turtles theme song. Oddly, although he plays guitar on certain songs with River Whyless, he never did learn that theme song.

Although the band's first songs were written primarily by Ryan and Halli, the most recent release is more collaborative and has songs from all four members, who are avid readers and, judging from the imaginative verse of their songs, quite literate.

The band even has a budding novelist — Alex. However, he isn't sharing his first novel's theme or title. No sense raising unneeded expectations. Nevertheless, we'll be keeping an eager watch for its publication.

We think this band will fill arenas. Thus, we're looking forward to their appearance at Caramoor's relatively small-sized American Roots Music Festival Katonah, N.Y., on June 24. They'll be part of the afternoon program. We hope our readers will join us. Your dream awaits.