Suzie Brown

Rx for Heartache   

By Richard Cuccaro

Two years ago, Suzie Brown, a singer out of Philadelphia, made a startling, auspicious entry into a wider singer/songwriter community at the 2012 Northeast Regional Folk Alliance (NERFA) Conference. Her voice was a perfect mix of huskiness and honey, at home covering old blues and rock, as well as her own finely crafted songs. She's a cardiologist who has had to make room in her life for music. Her vocal gifts and her love of singing were too deep for music to remain a hobby. It called to her over the years, finally pushing its way into and partially nudging aside a burgeoning medical career. She's seen some trouble and heartache, and given what she's experienced  in her medical career, the heartache she sings about could be more than just the expression of her own losses.

It took only one listen to her first full-length album, Heartstrings, to know we'd be having a chat sometime soon and I'd find out more about Suzie Brown, M.D.

Beginnings

Suzie was born in Montreal. Her parents, both doctors, moved to Boston when she was about 3 months old to do training for fellowships at a Boston hospital. They intended to return to Montreal, but never did. They had green cards and later became naturalized U.S. citizens, as did Suzie herself.

Suzie's mother and father were heavily into folk music. They'd build a fire in the fireplace and sing "all these left-wing folk songs," largely Pete Seeger classics, "Where Have All the Flowers Gone," "Last Night I Had the Strangest Dream" and "If I Had a Hammer." They would come into her room every night and sing "Good night Suzie" to the tune of "Good Night Irene."

Suzie always sang along with songs on the radio and on records. It was mostly a private thing. She'd lock herself in her room with her Billy Joel and Whitney Houston cassette tapes, memorizing every song. She did the same with all the top-40 hits. On car trips to Montreal and to Vermont vacations, Suzie would sing along softly to the car radio. Her father would encourage her to sing louder, but she would self-consciously clam up.

Music wasn't her first choice for a life path. She was adept at science and math and perceived how much her parents loved their work in medicine. She also liked the idea of serving society and thought that becoming a doctor was a perfect fit.

The Shift Begins

Suzie attended Dartmouth as an undergraduate, where she majored in chemistry and also met her premed requirements. One day while studying for a physics test in the library, she got an email about a tryout for an a cappella group that was going to be held in 15 minutes. She left her books in the library, ran across campus and nailed the tryout. "I always had a cappella envy," she said in a television interview. The experience proved that singing was something that she would always want to do. She said of her time with the a cappella group: "It was a life-changing experience. I felt that for the first time, I was with 'my people.' I fit in and felt liberated to be singing out loud."

After graduation she moved to Boston, where she worked for two years in a lab at a Harvard teaching hospital before attending medical school at Harvard. She fit in music wherever she could. While working at the lab, she bought a guitar and sang at open mics in the area. Her brother showed her a few chords and she got a book that taught  her how the chords were constructed. As for the rest, "I figured everything out by ear," she said. During that time, she also was in a theatrical production of the musical Hair and attended Berklee College of Music's Summer Performance Program before starting medical school in the fall.

After attending Harvard Medical School, Suzie spent three years in residency at a Boston hospital. "In Boston, I had carved out a little music community for myself. There was a group of other residents who liked to get together and jam. We just played covers, but it was really a lot of fun. I was also in a cover band. We'd get together and practice and do about three gigs a year. We played at a private party and at different clubs. We'd rent out a whole club and invite all of our friends from the hospital. There was a huge medical community in the hospital, so hundreds of people came. We'd give all the money to charity."

The Medical Grind

Suzie went to the University of Pennsylvania, intending to become a top research cardiologist.  "When I moved to Philly I had no music community because I didn't know anyone here. That was hard. The first two years during the fellowship, I was working a lot, so I pretty much only met people at the hospital. It was all clinical work in different places in the hospital, learning about cardiology — in the emergency room, the hospital, the clinic, taking care of patients, on night time call, working on weekends, with not much free time at all." During that period, moments where she got to pick up the guitar and sing and play were rare and sporadic, coming "in waves," she said.

Jumping Back In

"When I started my master's degree in the last two years of my fellowship, I no longer had to take night time call and I didn't have to work on the weekends. That was the first time since I started medical school that I had any kind of free time at all. I started going to see a ton of music and met a lot of people in the local Philadelphia scene. I was kind of seeking out my music community because I missed it so much.
"When I emerged from that and started in the lab, I had a lot more time. I met this guy at the gym who also loved music and played guitar. We'd get together to jam. I was looking to re-create the same thing I had in Boston. He said to me, 'Suzie Brown, why  aren't you writing songs? I can't imagine you don't have anything to say. Your voice is beautiful. You should be writing songs.' I said, 'Of course I have something to say. I just don't want to write anything terrible.' What it came down to was that I was so afraid to write something horrible and cheesy that I was afraid to write anything. I was just afraid of the whole thing. Egging me on, he said, 'Don't be such a perfectionist. Of course you're going to write bad songs. Everyone does. You can get over that right now. It isn't about that.' I needed that — I needed permission to not be perfect at something. That's when I realized that the music part of my life wasn't about being perfect [as opposed to medicine]. It's about being honest and expressing something inside of me. That's how I started writing songs. After that, I started carrying a lyrics notebook around."

A couple of weeks later, two things happened in quick succession. She went to the wedding of a friend from med school and ended up singing at the rehearsal dinner. There was an open mic kind of thing. All her friends from med school knew that she could sing and pushed her to go up and play a song. She sang "Angel from Montgomery" and the entire tent went silent. All weekend, unfamiliar people came up to her saying, "Oh, so you're a musician!" She replied, apologetically, "No, I'm a cardiologist!" It gave her a little confidence, though, that maybe people would want to hear her sing in public.

She returned home afterward and went through a breakup with her boyfriend. "I was feeling really blue, and I figured, 'If I can't write a song when I'm feeling like this, I'll never write a song!' So I wrote my first song. I called my friend from the gym and he had a little recording setup. I went over to his house and we recorded it." [That song, "You Can Lie," is on Heartstrings].

Open Mic-itis, Then the Gigs

"I went to an open mic night that week  to play my one song, shaking like a leaf. I didn't even know how to play standing up. They had to find me a stool. Then I couldn't stop going back — every week. It was like crack. At first I played my song and 'Angel from Montgomery' — the only cover I knew well enough to play in public. My guitar playing wasn't very good. Then I wrote more and more. I knew so many people in the Philly music scene at that point [2008], once I started writing my own songs, a lot of them asked me to open for them, just as a favor [to me]. It was a really nice community. No venue operators knew I sang. I hadn't told anyone. I had no intention to write songs. I didn't know that anything was going to happen."

(Suzie counts Bonnie Raitt, Patty Griffin, Etta James, Kathleen Edwards, Ron Sexsmith and The Wood Brothers as big influences. I think she could make a "Bonnie Raitt Favorites" album and sell a ton.)

"By the third month, I was playing 10 shows a month and I just loved it. My first solo set was at a 2008 Octoberfest. It was at Fergie's, the same place I'd been playing open mics. They presented a 'Best of the Open Mic' lineup and I did a six-song mid-afternoon set." She sold out her first show at Philly's Tin Angel and then opened for Livingston Taylor. In February 2009, she opened for Lyle Lovett.

However, she was conflicted. She couldn't understand why making music made her so happy and she was not so happy in the lab doing research. Suzie didn't know how she was going to rectify that with her career in medicine. She was in her fourth year of the fellowship, working on her master's full time in the lab and seeing patients one half-day a week. She was supposed to finish getting her degree in June 2009.

"I was applying for this big career development grant which would give me five years of funding for my research if I got it. I didn't know if I wanted it. In January, I decided to not apply for the grant. I'd finish my degree and look for a part-time job as a doctor the following year. I had finished my clinical training and was fully trained as a cardiologist. I finished my degree in June 2009 and took the summer off." She says the decision felt reckless at first: "I think I was afraid to admit to myself that I didn't want a high-powered academic career … even if I could have had it."

"I had made a five-song EP, Side Streets, and spent the summer working on promotion. I had found a part-time job in Philadelphia and started it in the fall, treating patients with heart failure." The EP was released on Sept. 12, 2009. Working at her part-time job, she began playing nights in Philadelphia and touring weekends between home and Boston. Her first full-length CD, the aptly named Heartstrings, was released in May 2011.

Attending NERFA for the first time in November 2012, she posted this on her Facebook page: "After working 9 days in a row at the hospital, I drove 4 hrs to the Catskills last night, barely surviving a GPS freakout that had me going in circles for a half hour, to come to the Northeast Regional Folk Alliance Conference. The best way I can describe it is a mix between band camp and musical speed dating. I'm ready to get folked!"

I didn't get to see her, but I managed to pick up a copy of Heartstrings in the exhibit hall. Upon giving it a listen, I wrote in our 2012 December NERFA Scrapbook issue: "This was perhaps the biggest pleasant surprise in the batch of CDs that I opened from someone I hadn't been able to catch at NERFA — like unwrapping a gift on Christmas morning. Suzie's voice reminds this listener of Patty Griffin. She wisely kicks the album off with a John Prine cover, "Long Monday," and knocks it out of the park. That one is followed by 'What You Do to Me,' which includes a horn section and has a strong '50s feel. Suzie could have sung lead for The Shirelles. The title track has a Patsy Cline feel with a strong country vibe. Her version of Joni Mitchell's "Urge for Going" is exquisite. While retaining her own particularly edgy quality, her vocals mold themselves perfectly to every song on this album." In an interview done elsewhere, Suzie said, "For me, songs are things I can't say in any other way. Heartstrings wasn't about just one person. Those songs were like 10 years worth of heartache. Heartache is the easiest, most accessible emotion to tap into."

While keeping her focus mainly on performing in one area — the Northeast — Suzie has won many awards. Among them are: "Best of Philly" for music talent by Philadelphia Magazine in 2010 and Regional Finalist, Mountain Stage NewSong contest in 2013.

The Right Man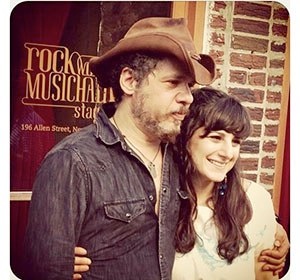 In early October 2010, Suzie met Scot Sax, a singer/songwriter, hot guitarist and former member of highly regarded '90s power-pop group Wanderlust. Scott popped into the studio where Suzie was recording
Heartstrings
to borrow a congo drum, then again the next day as he was returning it. They met again later the same day at a mutual friend's wedding. "We danced all night at the wedding and the rest is history!" she said. "We wrote 'Receipt for Love' a few weeks after we met, as kind of a joke. Scot brought the uke on our trip to Vermont to spend Thanksgiving with my family (six weeks after we met) and we had a lot of fun recording that song all over." Spontaneous iPhone videos were made in the car (the phone apparently fixed vertically, so the video came out sideways on screen) — Scot played ukulele while Suzie drove and sang; in an airport terminal on a moving walkway; and a chair lift at a ski resort. They
do
know how to have fun.
Scot has won a Grammy for "Like We Never Loved at All," a song recorded by Faith Hill and Tim McGraw, and has numerous other TV and film song credits. "We knew we were going to get married after a couple of weeks," Suzie told me. They were married in September 2011.

From what I've seen of online videos, Scot possesses a mixture of down-to-earth worldly charm, brash confidence, intelligence and a sense of humor that dovetails neatly with and deftly complements Suzie's earnest, passionate style. There are numerous videos of them singing together. One of the more illustrative, loving numbers is of them singing "Not Just Now & Then." Scot fingerpicks a crisp, metronome-steady melody on an acoustic guitar and the two sing a call-and-response duet. One of the other videos that shows how well they complement each other is their homemade New Year's resolution video in which Suzie plays "straight man" to Scot's wry, zany pronouncements. Suzie: "I need to call my grandmother more. She lives in Montreal…" Scot: "I would like to try to embrace spam mail and try to understand where they're coming from. Perhaps it's a cry for help?"

Almost There

Scot has been steadily providing guitar  backup on Suzie's gigs for more than a year and is all over her October 2013 release, Almost There, recorded with Oliver Wood of The Wood Brothers. When I reviewed the album for that year's NERFA Scrapbook issue, I wrote, "… The  combination of softness and edginess in her voice prompts a descriptive catch phrase to cross my mind: 'velvet knife.' This album is almost completely an unvarnished paean to love with a capital 'L.' The title track, co-written with her slide guitarist Scot Sax [I was unaware they'd gotten married], kicks off the album and it's just plain beautiful. A slight shift into a minor chord in the 'almost there' refrain produces an ache of longing for something good to come. Suzie puts that velvet knife to good use in 'Own Little Show,' a mash note to the man she loves, telling him that The price of admission / is just a little kissin'. In other hands this would be a bit too syrupy, but she carries it off. Another co-write with Scot, 'Receipt for Love,' is a great little finger-popping number that automatically gets the listener's toes tapping." However, "Receipt" wryly warns against getting too comfortable in love's embrace.

Some of the songs on Almost There reflect the fear and doubt that creep in because both Scot and Suzie, reeling from previous failed relationships, had never been in one this fulfilling before. "Don't Know if I Dare" is brilliant. Suzie balances newfound love with fear of loss with I think you're gonna leave me alone / I keep feeling like I'm home. The sorrowful tune, "Fallen Down," is about the Sandy Hook Elementary School shooting. It laments: blood stained ground / This time we've really fallen down. There are some upbeat tracks. Besides the title song, the  cover of Fats Domino's "I'm Gonna Be a Wheel Someday" shows smart respect for rock history. The velvet in her throat is a perfect match for this nugget from the legendary '50s "Fatman."

Nashville, A New Chapter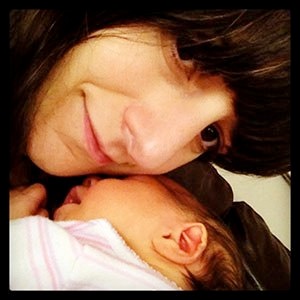 Scot and Suzie moved to Nashville in late January. They now have their first child, a daughter, Josie (Josephine Edie, born April 9, 7lb. 8oz.).  We discussed the responsibility of parenthood and she said, "I've always wanted kids, but until now, I've never met anyone I even remotely trusted to have children with." [tip of the hat, Scot]
Suzie now works at Vanderbilt University Medical Center. Her new business card reads: Assistant Professor in Medicine / Heart Failure and Transplantation. She asked for and received Vanderbilt Cardiology's only part-time position (two weeks on, two weeks off) in order to split her time between the two aspects of her career. "I didn't have the same balance between medicine and music in Philly, and there isn't a sense of community there. Nashville offers the best of both worlds."

Suzie is taking a break, making sporadic appearances with Scot, but expects to begin performing more steadily in the fall and is planning a November tour. We're eagerly waiting for this multiple award-winning singer/songwriter's next appearance in the New York metropolitan area. Visit her website, get on her mailing list and when she gets here, join us in giving her a New York welcome!

Website: suziebrownsongs.com