The Stray Birds

Scary Good 

By Richard Cuccaro

It's fun to take a flight of fancy and imagine Oliver Craven, Maya de Vitry and Charles Muench of The Stray Birds as young wizards, straight out of Hogwarts, armed with wooden instruments instead of  magic wands. There's certainly an aura of something magical that happens when they play and sing in harmony.

The truth is just as much fun. All three are classically trained and have a long and deep connection with American old-time and bluegrass music.

Before we delve into the actual source of their wizardry, I'll present a case in point regarding that magical aura. Not long ago I took a young co-worker to lunch who happens to be one of those different people often termed developmentally disabled. While noticeably rigid in his verbal expression, he is nonetheless, heavily steeped in an appreciation of classical music. After we ate, I shared with him a video I had made of the three playing their instrumental medley, "Give That Wildman a Knife/ Bellows Falls/ Waitin' on a Hannah," using a laptop and a headphone splitter for privacy. (They had actually switched some songs for the video I made — the three songs mentioned can be heard in another online video, here)

I watched my young friend rock back and forth in ecstasy, a wide grin spreading over his face as their music coursed through him. Three wizards wielding two fiddles and an upright bass cast a spell that day. I know, because I felt it.

Their stories

Oliver, Maya and Charles grew up within 10 miles of each other in Lancaster County, Pa. However, it took a few years into their adult lives before all three discovered each other as professionals. Maya and Charles had grown up in the same town, Landisville, and played in the same middle and high school orchestras.

Charles Muench, bass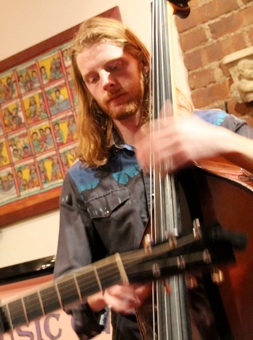 As Charles described it in another interview: "I started playing music because I saw my dad playing the bass, both upright and electric. I was also tall for the fourth grade and went to a school with an excellent string music program. There were something like 8 violins, 4 violas, 3 celli, and me on the upright bass playing 'classical music' in the large group room at Landisville Intermediate Center. We had a holiday concert and a string concert for the entire school, parents, siblings, etc. It's funny to think of it now … that's my first experience playing though, in ensemble."
His mother loved listening to "oldies" in the car – The Everly Brothers, Aretha Franklin, The Temptations, Janis Joplin, The Beatles and The Grateful Dead. It was then that Charles started to sing music mostly because his mother sang so loudly along with the radio and records.

Charles has said elsewhere that he connected to Led Zeppelin IV and Houses of the Holy in middle school. He loved Robert Plant's voice and John Paul Jones' feel on bass. His grandmother gave him Beatles 1 and he liked the back half of that album, especially "Lady Madonna." "Anything by CSNY or The Grateful Dead was also on my radar," he has said.

In live performance, Béla Fleck and the Flecktones were a huge influence. His family would see them anytime they came within three hours of Lancaster. Victor Wooten, the bass player in that band was a huge inspiration rhythmically.

Charles went to a Grey Fox Bluegrass Festival in upstate New York in his senior year of high school and was instantly smitten, not only with the music, but by the ensemble playing he saw. He told me, "The scene there blew me away — all the people pickin' and playing and having a ton of fun. I knew I wanted more and kept going to festivals and playing on my own."

After high school, Charles attended West Chester University in West Chester, Pa., getting a degree in music education. He met bluegrass musician Joe Hillman, and through Joe, he met Oliver. As he relates it: "We met through a mutual friend named Joe Hillman. I was playing in Joe's band while I was in West Chester University and he introduced us. We were at some kind of gathering where everyone had instruments. Oliver is a great player and he also writes great songs. We played together on some bluegrass standards, but when he played me some of his own music, that's when I knew I really wanted to collaborate with him."

River Wheel came about through a continuation of the first meeting. Charles said, "We decided to make a record with my friend Nick DiSebastian. Nick was going to Berklee in Boston and had met a great banjo player named Kyle Tuttle. Nick, Oliver, Kyle and I recorded The Sound We Made in early 2010.

While they were recording that album, Maya deVitry showed up to connect with her old acquaintance Charles. She met Oliver and another musical connection was made. More on that in a bit.

Oliver Craven, fiddle, guitars, mandolin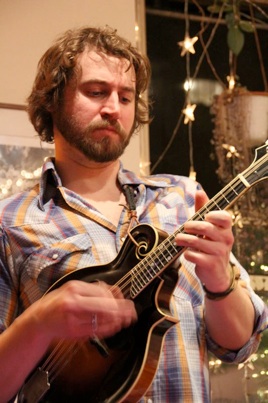 About a half-hour drive from Landisville, Pa., over winding roads, we arrive in Ephrata, Pa., where Oliver grew up, smack in the middle of the Craven Family Band. While they were (and still are) folk musicians, they insisted that Oliver study classical violin from the age of 5. Although he hated it for the first five to six years, he is thankful today. During that first period, one incident epitomized his frustration. As he described it in an interview with Jim Blum of Folk Alley, he was traveling with his parents in the family Volvo to a Saturday group practice session when he spied some of his friends having a home run derby in a ball field. As they passed by in the car, one of Oliver's friends hit a dinger that struck the Volvo. Oliver, jealous that he wasn't playing baseball with them and mortified at being recognized while headed to a violin session, shrank in his seat, burying his head in his hands. It took a long while for that to become just a humorous story. He later appreciated playing violin in the school orchestra and fiddle in the family band.
During high school, Oliver picked up the guitar and mandolin and started writing his own songs. After high school, he went to Temple University for three years. He had little academic ambition and left, heading for Nashville. Oliver was there for one week when he met Adrienne Young and joined her band. He remained with her band as a backup fiddler for two and a half years, then got tired of playing other people's compositions and left. Back in Pennsylvania, he reconnected with Joe Hillman and met Charles. As he explained it, when he worked with the River Wheel band project/album, the other musicians were college students while he was already a professional. The River Wheel recording was comprised largely of Oliver's compositions. Oliver met Maya when she came to a River Wheel recording session and they connected musically, personally and through their love of travel. One description of their first meeting has them sitting together with maps spread out between them.

Oliver was impressed with Maya's voice and musicianship and decided to help her record some of her songs She wanted a demo to take with her when she went to Berklee College in Boston. During the initial period when Oliver and Maya began collaborating, they'd team up at an area open mic and busk at Lancaster's Central Market, often making more money in tips than some vendors. Through this process, they worked out the bulk of the songs for the demo, including one of his songs and a co-write. Charles was invited to join in where bass was needed. Later, when the three made a commitment to join forces as a group, this recording, a seven-song EP, became Borderland, their first album.

Before Borderland was completely finished, Maya took her demo and headed to Boston to attend Berklee and Charles went back to West Chester University to finish getting his degree. Oliver finished working on Borderland in the studio and then went back to being a full-time professional musician. He spent a year with The Steel Wheels, a Virginia Blue Ridge Mountain roots band.

Maya de Vitry, fiddle, guitar, banjo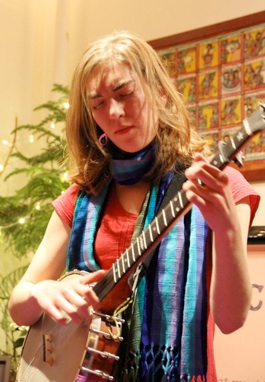 Maya started taking piano lessons with her grandmother when she was 7. She chose to take violin lessons in school because her father, an architect, played fiddle (and other instruments) as a folk musician on weekends with other visiting family members.
As soon as she started playing violin, in addition to mastering the classical repertoire given her, she applied the violin to other music that she heard, including the folk styles her family played. She began playing along with her father when he played guitar. She realized that the violin could be used in an orchestra or around a campfire. As she got better, she took a more active role in the family folk jams.

Her parents took her to a lot of festivals, but the one they went to more than any other and the one she found most hugely influential was the Appalachian String Band Music Festival in Clifftop, W.Va. Two band competitions were held every year at the festival, a traditional and a neo-traditional. When Maya was 16, she and her friends, siblings from another family, decided to form their own band and compete in the neo-traditional contest. They called their band The Old Time Liberation Front (taken verbatim from graffiti on a festival restroom stall door). Cheered on by their parents, the kids put together a mash-up of a song by then-young teen rapper Lil' Bow Wow, some lyrics by Beck and the traditional tune "Cluck Old Hen." They were well-received by the audience, but were disqualified for having more than the allowed seven participants onstage (they had permitted several younger, non-playing siblings to come up with them and dance).

They pared down their group the following year, sharpened their cohesiveness and won the competition with a musical mash-up similar to the first effort. When they returned in their third year, they were a main stage act. Their success prompted them to gather at Maya's home and record an album in the living room.

Some time later, Maya spent a joyous week at a Swannanoa Gathering in North Carolina. Whereas Clifftop was attended primarily by players returning to their day jobs afterward, Swannanoa offered the opportunity to rub elbows with professional musicians. This led a brief infatuation with North Carolina and to Maya's attending the University of North Carolina at Asheville. UNC didn't work out and Maya left after one semester. Afterward, Maya began an odyssey, first traveling the United States, busking at farmer's markets, then Europe. With a friend, Jacob, she busked on the streets of France, Spain and Ireland. She and Jacob bicycled in France, slept in a tent and played music at a gazebo for locals during a rainy stretch. They also met Hillary Clinton walking out of a pub in Dublin.

When she got home around Christmastime, Maya reconnected with Charles and met Oliver. As she recalls it, the recording session was at Nick DiSebastian's house and it became a holiday gathering and picking party. After sharing music with Oliver and Charles, Maya and Oliver began playing together. It led to collaborating and recording Borderland.

When she left Lancaster, her intention was to get a degree from Berklee. As it turned out, she left Berklee after a year and a half, then rejoined Charles, who'd graduated, and Oliver, who had left The Steel Wheels. Life with The Stray Birds began.

Joining forces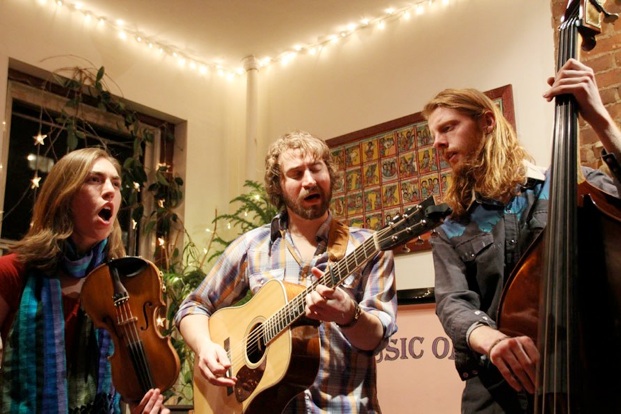 When the three got back together, they took their name from the themes of the first EP, specifically the song "Birds of the Borderland."

One of the first things that listeners were impressed with on Borderland was the sparseness of the production and the confident way the songs were presented in spite of the simplicity. The Stray Birds were awarded a quadricentric showcase at the 2011 Northeast Regional Folk Alliance (NERFA) Conference, which is where we first saw them. They made an immediate impact and were given a main stage showcase the following year, having released their eponymous album in 2012. In comparison to many acts showcasing at NERFA, their rise has been meteoric.

The Composers

One of the signature features of this group is their ability to create original work that sounds timelessly traditional. The instrumental medley mentioned earlier, "Give That Wildman a Knife/ Bellows Falls/ Waitin' on a Hannah," sounds like a combination of jigs or reels that a Cape Breton fiddler might play, taken from a canon of tunes passed down over the years. It's impressive that Maya wrote two of them and Oliver wrote one. Maya and Oliver both play blazing fiddle on that track. Charles' muscular fingerboard work on the fast numbers and his sensitive bowing on the slow passages show his virtuosity. The songs are strikingly beautiful and elicit the urge to dance; making this listener wish he had gotten around to learning how to clog.

One song of Oliver's, "My Brother's Hill," is dedicated to Ralph Stanley and the Appalachian Clinch Hill area. Referring to a family member's chosen place of burial, it reaches its crescendo with the phrase, I am your child, / I'm comin' home. It's both chilling and moving.

One of the most stunningly beautiful  songs that we've heard in a long time is "Dream in Blue," sung by Maya and Charles which leads off the 2012 album The Stray Birds. Maya jumps off fiddle to take a turn at the banjo.

The Stray Birds will make its lone area appearance for this month on June 29 at the American Roots Music Festival at Caramoor. We'll see them again at Falcon Ridge Folk Festival in Hillsdale, N.Y. (Aug. 2, 3 and 4).

As I stated in December in my review of The Stray Birds CD, "The two males and one female all sing as well as play like they're possessed. Their ability to convey a combination of authentic hill country old-timey, bluegrass music is scary … It's going to be a lot of fun watching them capture every heart in the folk arena."

Website: www.thestraybirds.com