It is mid-November at the ancient Kutscher's Hotel and Resort in the Catskill Mountains in Upstate New York. I am attending the conference at the Northeast Regional Folk Alliance (NERFA). We are about three hours from an ice storm that will knock out all the electricity for the hotel and surrounding region, but we don't know that yet. 

I sit in the fabled Starlight Room ("Dirty Dancing" was filmed here) watching the juried formal showcase artists perform their fifteen-minute sets. The trio called We're About 9 takes the stage and my interest is heightened.

I know them, casually. They were among the 25 acts selected for the Friday afternoon New Artists showcase at Falcon Ridge Folk Festival last year — no mean feat. They asked to perform at our Acoustic Live showcase in front of our booth, and I eagerly  added them to our roster. I liked their tight vocal harmonies and the melodies of their songs were ear catching.  However, the distractions of the festival had prevented me from getting a clear picture of their talents. Now, fully focused, I saw why they had been selected at both the Falcon Ridge and NERFA showcases over hundreds of other entries. Suddenly, aside from their crisp vocal and instrumental attack, in the middle of their swirling, rising music, I found myself buffeted by cinematic images. Here, inside their songs, were people whose lives had broken free of their moorings, who were lost and haunted, like floating asteroids of space junk.

I was dropped into the twisted wreckage of their conversations…

Are you a convicted felon… No…

Do you plan to be?… Nah-uh…

Then what is the gun for?…

To get me to Canada… 

"Hello, Maria…

If you see William someday,

you can tell him it's true what old friends say…

I've fallen in love with money…

There's no beginning to their stories and there's no end in sight. Just like life. In the sly humor of one song, "Born Again," the central idea of a prior existence as a long-suffering, over-priced parking spot shows stretches of imagination seldom seen anywhere.

Now I am shaken and staggered and cheering for them. I 'm cheering for me, too because I've just gotten that explosion in my chest that I get when someone new has walked into my life and lit the fuse to another thrill. I think to myself (and I tell them later) "You guys are fucking mind-boggling!" They seem pleased to hear this.

This melding of voices honed, crafted and precise, three people out of Maryland calling themselves "We're About 9," are Brian Gundersdorf, Katie Graybeal and Pat Klink. Vance Gilbert has  described them as "some kind of cross between The Kingston Trio, The Four Tops and The Story."

Brian told me the story of how they came together to form the group and how it evolved: "I graduated from St. Mary's College of Maryland in 1998 ( degree in Music Composition) and, having performed in college, I immediately set to looking for a place to perform in my home area, Ellicott City, MD. I started running an open mic at a small coffee shop, and ended up with such great success, that there was police involvement."

"Katie and Pat both turned up at this open mic--Katie performing as part of a powerful and unique duo, and Pat playing Michael Hedges, Ellis Paul and Martin Sexton covers with his own delicate, lyrical style."

Brian continued,  "I was playing a lot of rough-around-the-edges songs that I'd been writing for the young audience at the open mic, so I was nervous about approaching someone as polished as Pat.  I sent him an email asking if we could get together sometime and work out a duo arrangement. I told him I wasn't trying to start any kind of crazy folk group or anything, I just thought it might be fun to play a couple of songs together."

"We did some small shows together, swapping songs, and playing together on some songs.  Katie would sing harmony on a song here and there. We quickly realized that those were the moments when it was really working, and that there was something magic and/or physics-related about the way our three voices came together." "So then we needed a name.  Everybody wants to know what the name is about, so here's the answer, in absolute honesty:

It's a maturity level issue.  Beyond that, we don't even remember anymore."

"So we did a regimen of coffee shop shows, interspersed with some surprise other-kind-of-shows, and eventually found that we were building a real reputation as a group with great songs, impressive and tasteful musicianship, and a sound that might break from the local scene."

"We started playing together late in 1999, and by early 2000 we had recorded the tracks for our first album Something Important with Your Time -- four months after we had started playing together. We set out to really understand the folk scene, attending local concerts whenever possible.  We'd sit up in the front row and try and learn everything we could. We'd go to open mics and song circles and digest, and digest.  I began making as many connections as I could with the presenters of the folk genre starting from the very beginning of  WA9's existence.  And somewhere along the way, it all popped." 

"We all introduced each other to different artists and really pulled from a variety of sounds in building our own performance voice.  We get a lot of comparisons to Crosby, Stills and Nash and The Bare Naked Ladies — and we definitely feel like we've learned a lot from The Nields and Cry, Cry, Cry."

Katie has just graduated from Towson University with a degree in Mass Communication with a focus in Public Relations, and Pat has just graduated with a degree in Vocal Performance. Now, after working at day jobs and getting their  degrees, they're planning their first long tour, with a whole bunch of festivals thrown in. In July, they'll be releasing their second full length album,  Engine.

They also have a New York City appearance at Makor on July 29th, with three other acts (see below).  It's going to be a long and glorious career arc for this group. We hope our readers will watch it light up the world's stages along with us.

Meet the Band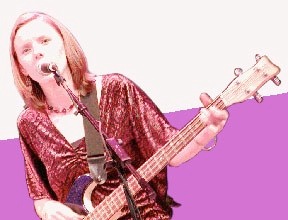 Katie Graybeal
(Vocals, Acoustic Guitar, Electric Bass
—
sometimes harmonica, shaker, tambourine) Katie's natural sense of musicality really balances this group.  She has a warm and adaptive voice and an instinct for melody and harmony.  She's also a terrifically prolific and engaging songwriter and a

fountain of energy. Katie got her first musical indoctrination from her dad, who was a big fan of the "oldies" with its Doo-wop harmonies. In classic rock 'n roll, Roy Orbison became a favorite. She then went on to a fascination with

the vocals of 90's hit-makers Whitney Houston and Sade. Later on, she

became interested in alt rock and reggae.

She says she learned singing from experiences and mistakes.

From grade school onward, she sang in choruses and sectional groups.

In high school, her eyes were opened by the world of spiritual music. 

She was also active in dramas in school theater productions. In elementary

and middle school she  studied piano and trumpet. She's written songs since

the eighth grade and says that "you start to pick up on things when

you play an instrument."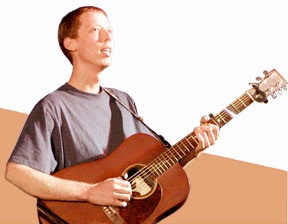 Brian Gundersdorf  (Vocals, Acoustic Guitar — sometimes piano)

is a tall, wiry wellspring of manic brilliance.

When I asked him what his earliest influence was, he emphatically said,

"Barry Louis Polisar!" It's easy to see why. Polisar, a children's singer/songwriter has been called a "one-man symphony of comic anarchy."

He'd alternately been banned in one Maryland county and then got invited to perform at the White House. His edgy material began with "I Eat Kids and Other Songs for Rebellious Children." It must've been perfect input for Brian. All that bristling energy and intelligence looking for something to hook into.

Brian began listening to Tiffany in the 7th and 8th grade and then went on

to Belinda Carlisle [good move!] and then The Violent Femmes. In college

he met singer/songwriter Flora Reed who turned him on to Richard Shindell,

Ellis Paul and Dar Williams. He'd sung a lot during his early childhood and

then in high school. In college he majored in piano for one and one-half years

and then gradually taught himself guitar. Acknowledging the considerable

contributions of Katie and Pat, Brian is the primary author of their most recent work. I asked him where these characters and conversations were coming from. Aside from being a sharp observer of contemporary life, he cited the recent influence of Pulitzer prize-winning author Russell Banks (called to his attention by Brendan Milburn of Groovelily). I'd just finished reading Banks' Affliction (made into a movie starring Nick Nolte). I can see where Banks, a master of the depiction of the dysfunctional family, would have an impact on him.   Brian seems to have a voracious appetite for absorption and expression of the quirks of social alienation.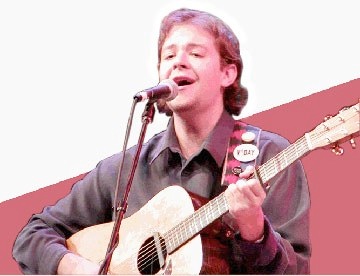 Pat Klink (Vocals, Guitars, Percussion, Drums, Mandolin, and on and on) —

Does the bulk of the arranging for the group, and is the one who can tell when they're accidentally singing parallel fifths with each other.  Pat's lyrical voice, poly-genratic guitar playing, and mastery of musical vocabulary are an anchor for the group.  Pat's contributions to the We're About 9 repertoire are sparse but extremely potent.

Pat said his parents skipped the 70's and 80's. Just turned off the radio. At age five, Pat's parents turned him on to American, English, Irish and Scottish folk music. His dad's interests in pop music centered on the harmonies of The Beach Boys. Soon after came an interest in Bruce Cockburn, Paul Simon and Bruce Hornsby. There was also classical music among the influences.

Pat has sung all his life. At nine years old he began playing drums in school.

In college he started with a major in Jazz Percussion, but later switched to Classical Voice. That's right… Opera. At a recent gig in New Jersey, Brian and Katie performed without him because he was on tour, doing a classical vocal gig. Watching him play guitar, it's hard to believe he's only had two years of instruction during high school. A big Michael Hedges fan, he's picked up technique and managed to learn a great deal on his own.

Web site: www.circanine.com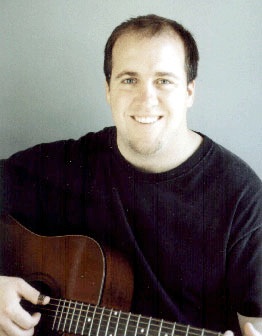 The voice is quiet, unassuming and direct. It's careful about reaching the higher registers, but it reaches everyone in any room he sings in. His e-mails to friends and listeners carry the tag line, "Do not fear mistakes - there are none." - Miles Davis

I have seen him lift an entire audience, all of us singing the one-word chorus of a song about hitting the open road: "driiiive…"

For all the sing-alongs prompted by folksingers, few achieve the near-spiritual the way that one did. I guess that's because, acknowledging his lateness in embracing the role of musician, he sees himself more as a poet and a writer. Whatever he's doing, it's working.

I first heard him sing at an open mic in Hoboken. He did a cover of a Counting Crows song. While I thought that his voice could use a little work, I was impressed by the passionate reading he gave the song and told him so.

He then started showing up at the Fast Folk Cafe, where I was house manager, volunteering regularly at shows, working at the sound board and helping with publicity, an early demonstration of his community spirit.

A 1993 graduate of Penn State University, at that time he was working as a mechanical engineer. He was part of the team that designed the International Arrivals Building at JFK airport.

Essentially a non-player until he was 24 years old,  growing up he listened to mostly classic rock. The  Eagles, Led Zepplin, The Beatles, and Crosby Stills, Nash and Young. The latter helped to form his musical sensibility. Things changed when, at age 21, he spent a summer in Boston. He biked around and listened to some music. Live. There they were, appearing in town: Steve Forbert, John Gorka, David Wilcox, Chris Smither, Dave Van Ronk, and Catie Curtis. Enough to change somebody's DNA.

So, late in his college years he bought a guitar and began to learn how to play.

A sign of his tenacity for developing as a songwriter came with his steady attendance at the Monday night song swaps that I held for a period of time. He came in with new songs and older ones that he wanted to polish. He'd been attending open mics in New Jersey and was spurred on to develop his songwriting by the talent that he saw there. At the Fast Folk Cafe, three or four of the most promising players from the open mics would get their own night once a month and play original material  in a round-robin set. Erik earned a spot in one of these "New Voices" shows in 1996.

Quicker than anyone would've expected, he put together a set and, in the parlance of the serious performer, started "playing out."

The gigs stretched through New Jersey and around New York City.  Following in the tradition of some of the very best folkies, he got himself a weekly gig at a coffeehouse in the heart of Greenwich Village at the corner of Bleecker and Sullivan Streets. He also played at the Baggot Inn on West 3rd. Eventually he was playing uptown at the Dark Star (now The Triad) and in Chelsea at Eureka Joe's. The folksinger's world was pulling hard and he wanted to quit engineering and play full time but it wasn't feasable, financially. 

Finally, in January of 2002, a desirable "site position" at the construction of the Kimmel Center in Philadelphia  ended when the job was finished. Rather than report back to the New York City office, Erik decided it was time to make his move. Ready or not, he left.

Even before he started playing full-time, he began e-mailing periodic newsletters that he called the "Songwriter's Tour Guide." He's still sending them. These monthly dispatches chronicling his experiences on the road document both the hardships and hospitality he encounters. Taking that a step further, he began organizing "Songwriter's Tour Stops" where he'd play in round-robin shows with friends. He's been putting shows together for himself and other singer/songwriters since then.

Erik Balkey is a driven man. In fact, having logged 54,000 miles and over twenty states, for 300 appearances in 2002, he is both the driver and the driven. That not-so-clever pun aside, taking into account his amazing progress and his ability to make things happen for others as well as himself, there's no doubt that he is something special. Back in the late '90's, his voice seemed to constrict when he reached for the higher notes. He took voice lessons for a year, in 2001, and then hit the road for the aforementioned trek. The results of all that hard work and his dedication to the craft of a performing

songwriter can be heard on his CD, Negotiations and Compromise. The songs are all well-crafted and the production is impeccable.

Andy Fox and Denise O'Brien, of the performing duo of Andy and Denise, joined with Erik for a remarkable production job (Andy and Denise are also producing the next We're about 9 CD, Engine).

My favorite song, "I Quit," on Eric's  CD, is a good example of his ability to express the bedrock emotions of living and to construct a scene around those sensations. In no-nonsense language, it perfectly captures the day-in, day-out struggle of a recovering addict.

It's always moving done live, but here, sung over the pathos and compassion of a cello backup it reaches trancendency:

Now the sun's shining brighter

And the rain is bittersweet

And I don't quite feel like shit

'Cause I hold my head higher

And I stand on these two feet

Ever since the day I quit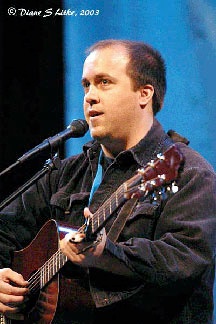 Erik (at left) seen here performing as a finalist in the Wildflower Festival Singer-songwriter contest held in Richardson, Texas in May of 2003.
His next CD, God's Poet Now, a tribute to the late Dave Carter, is almost ready for release. All sales will benefit the Dave Carter Memorial Fund. Erik very recently sat around a campfire next to Dave's partner Tracy Grammer and sang some of the songs from the CD for her and the others there. After one song, she immediately asked him to sing it again. What an affirmation!

Erik will be appearing in New York City at Makor on July 29th with We're About 9, Andy and Denise, and CC Railroad. Visit his web site www.erikbalkey.com to check out upcoming gigs and read the Songwriters Tour Guides.