Steve Tannen at the Living Room

by Richard Cuccaro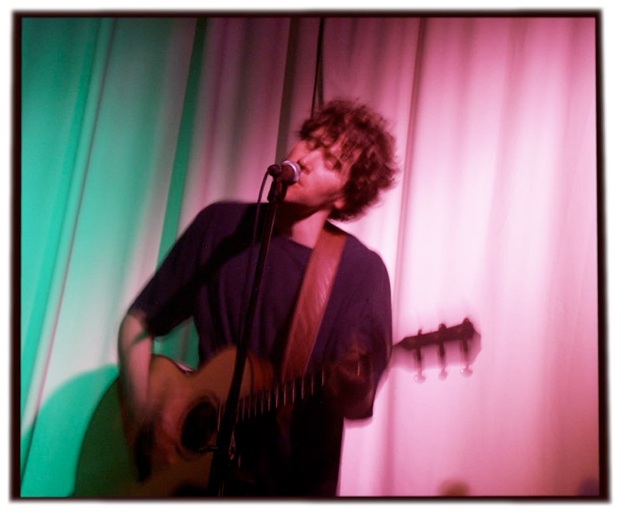 It's almost 9 pm at the Living Room and the performer on stage begins a soft, chopping, double-strum, 4/4 rhythm on the bass strings of his Taylor. Steve Tannen is slowly weaving his way into "Love Come Knockin'."
There are a few ardent conversationalists in the room whose low buzz can still be heard in the background. Steve's voice, somewhere between Sting-as-choirboy and Edith Piaf-as-songwriter/guitarist begins to pull them in. At about the midpoint of the song, the room, except for Steve, is dead silent. It's happened before, in bigger, noisier rooms. He seems to be living inside the song and we go there, too. Even normally disinterested people who've come to hear other performers get drawn in by the all-too-familiar, melancholy memory of longing that the song evokes and the way the singer's soaring voice is delivering the news of "too little, too late." The silence continues for a millisecond after the last note, then the room erupts. Boisterous applause mixes with whoops of approval from won-over strangers and from Steve's followers, fans who show up at every gig.

Normally Steve shares a song or two, usually a cover, with his brother Greg. Their harmonies are very tight, as you might expect from two brothers with exceptional voices. However, Greg is in California at a family reunion, and can't join Steve this evening. Steve spins some dark family humor out of the way he was informed too late to make arrangements to go. After the laughter subsides, he acknowledges some unsuccessful, last-ditch efforts on the part of some family members on his behalf. He then invites friend and fellow singer/songwriter Don Everett Pierce to join him onstage for a moving version of Don's "Joshua Tree."

Steve's circle of singer/songwriter friends keep showing up at his gigs, whether they sing with him or not. While he continues to record songs for his yet-to-come first CD, his friends and supporters keep begging for something, a cassette, anything, to keep them going between his gigs.

Steve writes predominately of life in the downhill bobsled run of romance and the sudden hairpin turns that result in the requisite trail filled with broken dreams and hearts, with egos bruised beyond recognition. So, given the emotional carnival ride described in Steve's songs, I decided to ask him a few questions.

What leads up to a song like "Love Come Knockin'", or "Sing Me to Sleep"?

Lack of sleep. I'm an insomniac. During the early morning hours, from midnight to 6am, I'm usually working on songs. Part of the viewpoint I take comes from looking at the life and the world at those hours with no sleep. I work until I can't handle it any more,then I get a couple of hours of rest.

I especially like the sense I get of living inside of a moment when you perform. How does that happen?

One of my big influences is jazz. Jazz guys have this "atmosphere." You put something of theirs on the turntable or in the CD player and the whole room changes. That's what I aspire to.

How did that come about?

My Dad plays jazz on the piano. He always did. We moved around a lot my whole life; Canada, Australia, but wherever we were, the one constant was the music. I remember, in Australia, around Christmas time, Mom would always have the holiday recordings of Nat King Cole and Ella Fitzgerald playing. If it was summer time, Louis Armstrong's stuff was usually playing. Of course there was always Dizzy, Miles, and Coltrane, too..

What experiences really stand out for you?

I got this job for a couple of years in L.A. as a production assistant with Norman Jewison, the guy who made Moonstruck, Heat of the Night, Jesus Christ Superstar, and Soldier's Story. I used to read stories, encapsulate them , work them over, and bring them to him for possibilities of producing them as a movie. He'd say "Just tell the story." That stuck with me.

After that, I moved to Colorado and I lived there with my brother, Greg. I had taken piano lessons on and off throughout childhood and I had started playing a little guitar. Greg played guitar and he showed me the first chords I learned. We formed a duo, called "The Kahluas" (after the name of my older brother's dog).

Have there been influences among contemporary singer/songwriters?

When I started writing, there were about…10 people whose work I was really in love with…among them, Bob Dylan, Ricki Lee Jones, Bruce Springsteen, Joni Mitchell, Lennon & McCartney…

What was the turning point like when you decided that writing songs and singing them was your main passion?

It was like walking along a path and coming up over a rise and being able to see everything all the way to the horizon. Then it struck me: "Oh, my god…check this out! This is what I do!

    Well I hung around like

    cigarette smoke on your jacket

    and in motel rooms the lullaby

    was the sound of the traffic…

    baby sing me to sleep

    turn down the covers

    'cause talk is cheap

    baby sing me to sleep

    oh turn out the lights

    remember the nights

    when the rain fell

    eighteen inches deep…

    and at closing time we're a nickel and dime

    in the deep back pocket of America…

    right now you better make

    the best of your situation

    escape through a hole

    in the conversation…

    but you came up like a wind

    came up like a weed

    all black and blue

    all lipstick and need

    to dig a hole in your heart

    to bury the doubts

    She holds the bottle

    like a gun in her mouth

    you head downtown

    in your black leather jacket

    you're getting old now

    but you still stop traffic

    the sun comes slow

    like it's thinking it over

    the moon shoots a dirty

    look over its shoulder

    and I'm so lonely without you

-- excerpts from "Sing Me to Sleep"© 1998 Steve Tannen

Keeping the Tradition: An Interview With David Kleiman, Program Chair of the New York Folk Music Society

by Barbara Horowitz

Dave, tell me a little about the New York Folk Music Society.

We're a club of some 800 members, and we're entirely run by volunteers. We're perhaps better known as Pinewoods. We present all kinds of acoustic music in venues ranging from intimate house concerts to larger retreat weekends. Because traditional acoustic music needs to be preserved and promoted, the club tends to emphasize the "trad" style.

How do you make music from other decades or even centuries relevant to today's audience?

You often have to be creative. The passion that a sea chantey or work song had on those who sang it may be lost unless you perform it in a modern-day style. The goal is to still preserve that emotion, as well as the music and words. That may mean adding harmonies or speeding it up. It might even mean translating a staid traditional tune into a bluegrass mode (even though that might not sit well with the preservationists, who want such music to remain untouched by time).

I know that some traditional folk music instruments, such as the hammered dulcimer, which dates back to 10th century Persia, are finding their way into the limelight. What do you attribute that to?

Yes, dulcimers are making a comeback. I believe that the hammered dulcimer's appeal stems from its use in contra dance groups. And Cindy Lauper recently appeared on MTV playing a mountain dulcimer. The tin whistle has gained enormous popularity because it was used in the movie Titanic.

I've heard everything from trad Irish tunes to the Beatles played on the hammered dulcimer. And it's now commonly being played throughout this country. So, Dave, what would you most like to say to the folk musicians out there?

I offer up this challenge: If you're into contemporary folk music, get off your rear ends, and share your music with those of us in the trad genre. And trad folkies, do the same with the contemporary crowd. I've seen what happens when this sharing of music occurs. There's some incredibly exciting cross-pollination, and it keeps right on building. So challenge your ears, everyone.

Venue of the month: A New Kid on the Block

by Barbara Horowitz

The SUN Music Company 340 E. 71 St. (now defunct)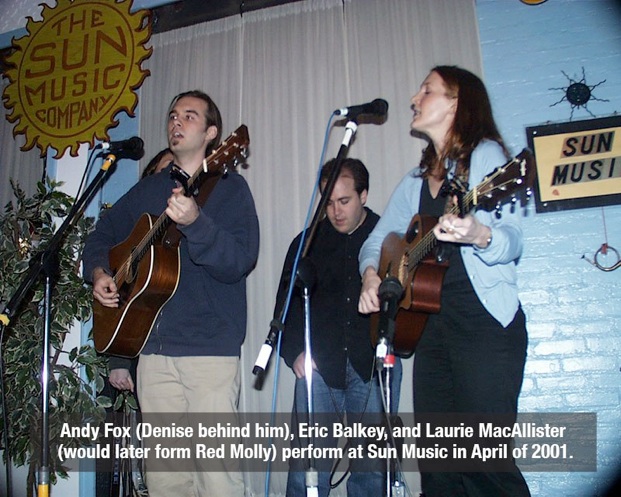 Nestled in between large office buildings and stores displaying expensive merchandise is an unpretentious room in a church. Yes, this is it--340 E. 71st Street, the Sun Music Company. I have been searching for a New York City locale that I can patronize regularly to hear folk music, so it's got to be inexpensive (what, here, on the upper East Side??) and smoke-free, too. And I might be in the mood for a contemporary sound or an open mike, but then again I might want some folk-rock or neo-country in another week or two. When I find out that shows are $10, or less, and that the word "folk" has been left out of the venue title so as not to be too limiting, I start feeling pretty good.

I arrive, where I meet Paul Gioia, who formerly served as a director of the Fast Folk Cafe. In the mid-70's, Paul did the lights for college acts like David Bromberg and Richie Havens. Now he's running every aspect of this place, pretty much singlehandedly. I'm relieved and frankly amazed that there are people like Paul around who are still willing to fight the odds to open clubs like this--and keep them open.

Paul wants to provide both a stage where new performers can get up and practice their craft and a venue for established artists. To that end, there are weekly open mics as well as concerts by people like Sloan Wainwright or the Scott Wolfson Band. In addition, Paul plans to start workshops costing from $5 to $10 in the fall where really good people will hold forth on topics ranging from guitar playing and the basics of music theory to the business end of composing and performing. Paul also wants to videotape open mikes and record live shows. Paul is adamant about the need for songwriters to have a place where they--and their songs--can change, grow, and move positively through the creative process, without ending up canned and packaged. We agree, Paul, and wish you very good luck

The Newsletter's Founders: Some Background

Barbara Horowitz (now deceased):

If it is possible to become infatuated with a folk music venue, Barbara Horowitz, a former book editor, did just that in 1996 with the all-volunteer run Fast Folk Cafe in Manhattan and became enthusiastically involved in volunteering for and promoting of the place, as well as serving as its volunteer coordinator. She came into the cafe with respect for folk music and musicians and left it with a more thorough knowledge of acoustic music and even more admiration for and loyalty to it. Although not a musician herself (she hits more wrong notes than right when she does sit down alone at her piano), she founded this newsletter because she wants to keep in touch with the folk music community that she has grown to love.

Richard Cuccaro:

"I had been writing songs for years on my own, never knowing of the existence of Fast Folk Musical Magazine and its contribution to the field of contemporary folk. One night, in early 1994, on WFUV, I heard about the Fast Folk Cafe's opening. I became involved with the cafe to lend a hand in providing a place where singer/songwriters could perform and improve their craft. I had hoped to improve my own singing and songwriting. I discovered that I was far better suited to the administrative end of things at the cafe and eventually started to write promotional descriptions of the performers for our mailings. For me, the emotional high that certain music brings is usually followed by a desire to know and express the reasons why. When Barbara put forth her idea for this newsletter, I decided to throw my hand in as graphic designer and take the opportunity to expand my skills as a writer of descriptive prose. `This newsletter is a chance to promote and support the artists we love and have a lot of fun doing it. We hope it's fun for our readers as well."