Greg Trooper

It's Real Like That

by Richard Cuccaro

At yet another Tuesday night at the Living Room on New York City's Lower East Side, a performer in John Platt's monthly On Your Radar series mesmerized an audience.

The notes rained steady like a metronome, the bass strings rock-solid and the treble, bell-like. The melody floated ethereally, a gossamer heartbreak, like the story the song told. The protagonist inside the song has issues. His answers to those issues are of an alcoholic nature. So, the singer sang: I woke up in the sand with my head about to burst / My mouth was so damn dry / thought I'd already died of thirst / By the time I made it to my knees / the sun was in the west / Another day at the office, I guess. The singer, Greg Trooper, has penned a novel inside of a song, "They Call Me Hank." After we follow the central figure to a park bench, to a bar, and then home, a particular glimpse, among many, says most of what we need to assess the depth of his fall: My home's not much to look at, but it holds all that I need /A bed with some old sleeping bag I found last Christmas Eve…  His losses are overwhelming and lastly, we hear …the finest thing I own is my little wooden boat / It keeps my mind from wandering, it keeps my life afloat / It brings me down the river where the biggest catfish lay / And it also keeps my memories at bay. Finally his image drifts away on the chorus…  They call me Hank, I live by the River / I fish for whatever I can sell / They call me Hank…  Greg told me later, "They Call Me Hank" was inspired by an actual novel, Suttree, by Cormac McCarthy. There are a few similar characteristics to the main figure in Suttree, but otherwise, it's all Greg.

He finished his set, and the audience rose to its feet, giving him an ovation that seemed longer and more fervent than the usual appreciative applause regularly awarded by monthly On Your Radar attendees.

As he would mention during our interview, he uses very little autobiographical material in his songs, but instead, pens "reality-based fiction."

"The story of my life gets pretty boring after a while," he told me.

I'd made a brief acquaintance with his work back in the mid-'90s, when his song "Ireland" hit the airwaves. A friend and I went to see him play, but we lost track after that. It was about that time he relocated to Nashville.

A phone conversation a week later would reveal that what Greg called "boring" turned out to be quite a roller coaster ride as he was pursuing his craft.

Beginnings

Greg's mother, a farm girl from Pennsylvania, married a graphic artist from Brooklyn. Greg was born in 1956 in Neptune, New Jersey and grew up in the town of Little Silver. It was his mother who initially brought music into his life. She played piano a bit and liked singing. Greg liked it too, and his parents proudly encouraged him. Greg remembered being especially fond of "cowboy" songs, especially one called "Shoot Them Buzzards." He said that when he was young, it was all "AM radio, riding in the back of the car, and television." One seminal experience was seeing Louie Armstrong on TV. "This guy is sweating and making faces and being so emotional about it all … so happy …" He found it "mind-boggling and inspiring." He wanted to play the trumpet. His parents bought him a bugle, which he learned to play. He also took trumpet lessons in grade school. He only stuck with it for a short time and regrets it today, because, as he said to me, "Boy, would I like to be able to play trumpet now."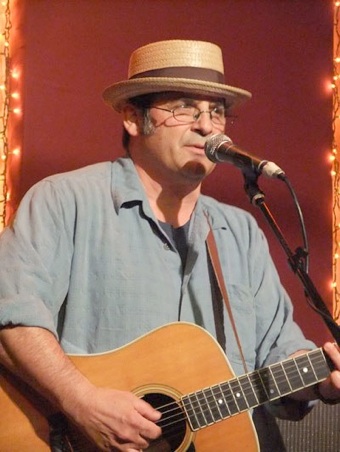 Dad's Connections
and Early FM Radio

By the time Greg was 9 years old, the Beatles were ascendant. His father worked in the design department of WOR Radio, one of the sponsors of the Beatles' shows at Shea Stadium. He managed to get box-seat tickets for the second of their two shows at Shea. This was another mind-blower for Greg. His brother, two years older, had been instrumental in turning Greg on to the major rock acts of the day. Greg characterized his own focus as "Beatles-Stones-Dylan."  While describing the elements having the greatest impact on him, with no small trace of irony, Greg encapsulated it as "a bunch of white guys playing black blues music, because that's what the airwaves were full of then … that, and Motown … You had to dig further to get Muscle Shoals and Stax, which became a bigger passion for me." It became, as he said, "Beatles, Stones, Temptations and Four Tops."

Greg provided some remedial history for this author. He told me that, as AM radio gave way to FM, there were certain stations in the lead. Initially, along with WOR, WMCA and WABC radio stations led the way for Greg. WMCA was the other sponsor of the Shea Stadium Beatles shows. However, "WOR was the first New York album-oriented rock-and-roll FM station," he said.  "We still have some psychedelic posters from WOR that my father did the lettering for," he stated. "That's where a lot of those DJs started. That was a real exciting time …  commercial-free … it was song-after-song-after-song. WOR was a real maverick in radio, at least in New York."

Coming of Age

In 1969, Greg was 13 and Woodstock became the next big event to rock his world. Actually, he said, it was post-Woodstock, when he was 14 and 15, that the prevailing word of mouth and the movie worked its magic … He recalled the performances of Sly and the Family Stone, The Who and Joe Cocker as simply "outstanding."

Greg was in the 8th grade when he began playing guitar. His parents bought him a Harmony acoustic. "I wanted to play and sing music, he said. I was starting to develop a direction and I liked lyric-based folk-rock." Bob Dylan's influence crept higher. In the early '70s, Greg was in his late teens when the work of John Prine and Steve Goodman made an impact. "Prine wrote these brilliant songs that we could actually play, that weren't above our pay grade — as amateur and beginning guitar players."

The Ravioli Brothers and Beyond

After getting out of high school, Greg and a friend, Richard Scott, formed a duo. Jim and Tom Paschetto, two other extremely talented friends, joined them to form a band, which they called The Ravioli Brothers. "It was our East Coast answer to the Flying Burrito Brothers," he told one interviewer. The band lasted less than a year. On their way out west, Greg and Richard stopped in Emporia, Kan., to visit a friend and wound up playing gigs in the area for about a year. They then moved to Austin, Texas. Richard stayed for a short while and then moved back to New Jersey. Greg stayed for almost a year. While Greg was in Austin, things got pretty dicey. "I lived out on Lake Travis," he told me. In an online interview, Greg is quoted: "I was desperate back then … I was living in a trailer park … We were just desperadoes with shitty jobs. I don't know how we did it. We were that young. I was the only one there who wasn't either running from the law or 16 and pregnant." After I remarked about the risks he (and so many other musicians) took, Greg responded: "In the mid-'70s, we were all hitchhiking across the country … there was a different gestalt … you thought you could do whatever the hell you pleased and live to tell about it. There was a different frame of mind for a while there. Nobody was concerned that they didn't have a job. It was just different, or maybe it was just different for me, chasing the dream of making music. It was a really romantic vision of all these people that we looked up to that were playing these clubs, and there were a lot of folk clubs to go and see these people."

Greg played covers in various clubs. His material included songs by Townes Van Zant, Waylon Jennings, Willie Nelson, Jerry Jeff Walker and Happy and Artie Traum. After nearly a year, Greg moved back to New Jersey for a short while and then went to Lawrence, Kan.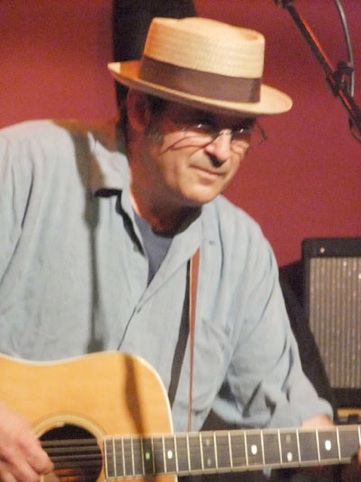 University of Kansas and New York
Although he had a band, he wanted to go to school, so he enrolled at the University of Kansas. He studied music at first, but switched to English. Around 1979, Jim Paschetto moved to Lawrence and joined Greg's band and the idea of writing original material took serious hold. "I took myself to task," he said. Then, after two years, although he was doing well at school, he felt antsy to move forward in his desire to "make records," so he quit.

In 1980, a "benchmark" year, Greg moved to New York City, to make or break it as a performing songwriter.

Although he played solo, he was "looking for a band" and sought out guys who were "fun to play with." After about two years of different lineups, he certainly found one. The Greg Trooper band that evolved consisted of Greg on lead vocals and guitar, Larry Campbell on guitar, fiddle and mandolin, Greg Shirley on bass harmony vocals and Walter Thompson on drums. Campbell, who's played with Dylan, gets our attention, but anyone in that kind of company would need to be good. "We were one kick-ass little quartet," he said.

Greg lived in New York for 15 years. He met his wife, Claire Mulally of Brooklyn, while he was in New York. They've been married for 20 years. She co-wrote three songs with him, all of which he's recorded. Also during this time, Greg wrote "The Heart" with Tom Russell, who was living in New York then. Lucy Kaplansky covered it on her debut album, The Tide. This author was quick to add it to his collection. In addition, "Ireland," included on his 1992 album Everywhere, according to a quote we saw somewhere, was written as a tribute to his wife. (" 'Ireland' was written just after I met Claire and Ireland and the Irish were on my mind a lot at the time," he told me.) I heard somewhere that he had not actually been to Ireland at that point. The song captured the spirit of Ireland so well that Irish folk diva Maura O'Connell covered it, and the song subsequently saw heavy rotation on Fordham University's (WFUV) radio playlist — back then, this author's only source of preferred music. A friend and I saw Greg play an inspiring set at the Mercury Lounge in the mid '90s and stopped to pay our respects afterward. He was, as usual, modest about how good he was.

Greg moved to Nashville in 1995. Although he moved back to New York in 2008, most of his recorded output has been from Nashville. One article states that he was writing for Nashville publishers even while living in New York his first time around.

For the Record

Greg's solo and co-written work form a treasure-trove of great listening — a desert-island collection, which, in my case, according to iTunes, amounts to about five-and-a-half hours. On short notice, I downloaded six albums from Emusic. The first two albums, Everywhere (1992) and Noises In The Hallway (1996), are out of print and can only be bought as used CDs from Amazon at this point. I can't figure out why digital technology hasn't caught up to those.

Once people dig into Greg's body of recorded work, the reaction usually is, "Why isn't this guy (take your pick) bigger … more well-known … huge…?" While we mention a variety of lyrics and instrumental effects, the anchor for everything is Greg's voice, a dense baritone that reaches high notes with ease and packs emotion into every line. He can shift, mid-note, into a higher range for greater emphasis or break into a yodel if a Hank Williams cover demands it.

There are too many great tracks to mention here, but some of my favorites include the following:

On Popular Demons (1998), "Lightning Bug" seems to channel Buddy Holly. Its blistering attack of chiming guitar chords and steady tom-tom beat take me back to 1957. I'm skipping ahead of a few favorites to get to the track that ends the album, "I'll Keep It With Mine," a Dylan cover that makes a wonderful honky-tonk slow dance. The track is so amazingly strong that you might cut in on somebody with his girlfriend at the roadhouse, plead temporary insanity and not get your head stove in. Greg's buddy, Steve Earle, thinks so, too, since he duets with him on it.

It's tough to skip around anything on Straight Down Rain (2001). It kicks off with "Nothin' But You." This one chugs through with the urgency it needs to express a guy's return to the woman he regrets leaving behind. Another day of drivin' / we'll be together again / If I had wings I'd be flyin' / I'm goin' fast as I can…  A joyous  Beatlesque "Staring Down the Night" follows, and then it's "Real Like That," an updated Dolly Parton and Porter Wagoner country/western number, but this time it's Greg with Julie Miller. Then we get "You Love Your Broken Heart" about a lover who's unable to choose happiness: I'd like to think the time has come for ancient wounds to heal / to shake off all the ghosts that still remain / I'd like to think the time has come / To get to  something real / But you love your broken heart too much to change. This guy has read all my old letters and regrooved every favorite twang I've ever loved. My eyes are wet with joy.

The live album Between a House and a Hard Place (2002) will give listeners a sample of Greg's sense of humor. During the intro strumming of "I'm So French," we can only wonder what's happening when the audience laughs as he says, "I'm recording here! Seasoned pro, huh?" He then sings, When I'm in school I'm so bored / When I'm in church I'm so tense / When I'm downtown I'm so cool / but when I'm with you I'm so French… When I'm with you, like Pepe le Pew, like Gerard Depardieu, comment allez-vous, jolie rendezvous, sacre bleue! Texas barbeque, I'm so French!  We also get to hear him do "Ireland," in the only version I have at the moment until I can pick up a copy of Everywhere.

The bittersweet melody of the title track of Floating (2003) underlies the memory of a killer who wishes he could float on a river like he did when his conscience was clear: Floating, I always loved floating / staring up at the sun while the water held me and my dreams… each summer I'd go floating / I don't float any more, but the memory will always remain… Years have gone by and folks still wonder why a young girl was found on your banks…  The third track, "Lucky That Way," seems at first to have a bluegrass/Celtic feel. The "quickstep" tempo and the fiddle and mandolin are an invitation to dance. After a couple of listens, I shared it with my wife and she identified it as a perfect Cajun two-step. The song's protagonist declares I've been lucky in many bad situations / But for your love, I don't get lucky that way… However, a test run in the living room showed that a dancing couple will get lucky feet. Those who just sit and listen will have to accept uncontrollable foot tapping. "Muhammad Ali (The Meaning of Christmas)" is an ingenious hymn. The image of the aging fighter on TV, sparking memories of his glory years, becomes a life lesson: …his hands were shakin' and his knees were weak, but listen when this old warrior speaks… "I am the greatest, he says with a grin, but he was talkin' about you, not about him…

In "Don't Let it Go To Waste" on Make it Through This World (2005), a girl named Alice won't give in to love: Your mama was a double martini / And your daddy gave up wearing clothes / Now you're as cold as the Arctic Circle / Living where nobody goes / But in your eyes / I'll tell you what I see / Just a hint of love / Peeking out at me / I don't care how small / Just a little taste / Might not be for me at all / But Alice don't let it go to waste … I think you're as lonely as a Sunday morning / That's never had a Saturday night.

On The Williamsburg Affair (2009), Greg covers Neil Young's "Wrecking Ball" that Emmy Lou Harris had success with on her Daniel Lanois-produced album of that name. We think that Greg's is every bit as good.

"These Sunday Nights" works the "stuck in this small town" theme as good as it's going to get. This station is dark and it's empty. Train stops here once every century. I've got to lose these Sunday nights… Lit a cigarette in a doorway, stayed up all night waiting for Monday… How come these damned old Sunday night blues / follow me Monday through Saturday too… The chime of the pedal steel sweeps us into the rabbit hole of the one-stoplight burg.

Jumping ahead to the recently released Upside-Down Town (2011), we've already sung the praises of "They Call Me Hank." The album kicks off with the soul-struck "Nobody in the Whole Wide World:" A Hammond B3 organ  helps the soul vibe as Greg sings: You and your boyfriend ought to call it quits / He buys you clothes but they never fit / They're always two or three sizes small / Don't think it's you that he wants at all / Nobody thinks that he's the man for you / Nobody in the whole wide world. He kicks the living bejeezus out of the genre. Critics are saying that this album is yet another wonder in the series of great Trooper releases.

As said, it's not possible to enumerate all the great tracks here. It's also not possible to convey the warmth and self-effacing humor of his live performances. We can only encourage readers to see Greg live. You'll get a taste if you go to YouTube and type in "Greg Trooper," but that's only a taste. If great writing, perfect recording and stellar performances are your thing, this is the guy for you.

Upcoming local performances include:

Jul 29  9pm Rocky Sullivan's, 34 Van Dyke St, Brooklyn, NY  Add'l Note: Lobster dinner complete with sides for $27.50 then join John Sieger and myself on the roof deck for a concert. (Lobster not mandatory but recommended)

Aug 2   7pm Watercolor Cafe, 2094 Boston Post Rd, Larchmont, NY

See gregtrooper.com for more dates.