The first time the voice of Robinson Treacher reached my ears, I knew the folk community had found something special. There will be comparisons to other great singers — David Gray and Van Morrison come to mind — but his approach to his material is unique. It doesn't matter which song in his repertoire he sings. Like a tent revival shouter, rooted in gospel and blues — a mix of silk and gravel — the sound is coming from a core somewhere deep. Particularly satisfying is a song borrowed from the Alan Lomax collection, a work song called "Hopali" which kicks off his most recent album, Porches. In an early Lomax recording, a chorus of female voices engages in a call-and-response field holler. Robinson's version, recorded live with audience participation supplying percussive clapping, seems to grow out of bygone Southern soil: Oh Miss Bell, / Oh Miss Bell / Hopali Miss Bell, Hopali Miss Bell / Oh Miss Bell, she promised me / that when she died / she'd set my people free. There's a sense of something being reborn when he sings. It's hard to believe all this has come from the New York City area, but it has.

Roots 

Robinson Treacher was born in Forest Hills in Queens and was 3 when his family moved to Oceanside on Long Island. The family spent idyllic summers in upstate New York in Phoenicia, west of Woodstock, where the backdrop of the Catskill and Adirondack Mountains were a definitive early influence. Although his parents were baby boomers, they were, uncharacteristically, not into Dylan and The Beatles. They listened instead to Nat King Cole, Johnny Mathis and Sam Cooke. His mother's older siblings were into doo-wop, so Robinson grew up listening to what she liked — groups such as The Crests, The Del Vikings and The Coasters. His father's taste ran to groups such as The Four Seasons. Robinson's influences expanded via his extended family. Various cousins who babysat him had their own preferences in music they listened to while they were with him. Through them, he learned about The Beatles, Bob Dylan, Black Sabbath, Kiss, The Bee Gees, Joni Mitchell and disco and soul music. He got an air organ (a small keyboard instrument that produces a thin, accordion-like sound) when he was young and played Christmas music on it. His father happened to have an acoustic guitar sitting around, and Robinson picked it up and learned the basics.  Robinson was in boys chorus in school and, since he sang with a high soprano, he was given solos — until his voice changed.

An Early Career Start  

Robinson also played drums. When he was 13, the band he belonged to during high school — all older boys — made him their lead singer. His mother had to drive him to bar gigs (where he was kept away from the alcohol) and wait for him until he finished the gigs.

Forward into the Past 

At State University of New York at Oneonta, he played with a jam band called Delaware Hudson. Having picked up some cues from the writers in the band in high school, he began to emerge as the lead songwriter for Delaware Hudson. It marked a newfound appreciation for the blues. They opened for some well-known  performers such as G.E. Smith. After six years, he got back into artists such as John Denver, Cat Stevens and Nick Drake. He decided to slow down the pace and started playing acoustic guitar and singing solo for the first time. In the fall of 2010, he published his first seven-song EP, Chrome. Available for listening on his website, it's worth chasing down for a CD purchase or a download.

Porches and Beyond 

Some highlights of his latest release include "One More Soul," during which we get the full brunt of his passion: And if I lie awake in bed to reach you / If I lie awake in bed, will I receive you / 'Cause you're one more soul I'll never find / You're one more soul I need. In "Can't Call You Again," he sings: You got roses from your valentine, but they were signed by li'l ole me / And you tossed them up into the sky, to let them fall where they may be / I never could, why would I / I never would, how could I … ever want you to change / I want to, but I can't call you again. If you don't feel your heart break, check your pulse. You may be missing something.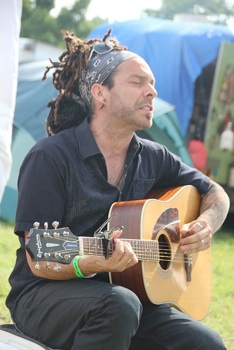 In live performance, there's an electric quality, a charge that stretches across the decades, back to the thrill of first hearing certain '60s folk rockers. There are elements of Tim Buckley, Donovan and John Fogarty (Creedence) as well as the aforementioned Van Morrison. At times, in his use of rapid strumming and powerful vocals, he seems like the second coming of Richie Havens. It would be tempting to place his picture in the middle of an Owsley-style Grateful Dead poster.
In case it needs restating, we're really pumped about Robinson Treacher. We hope you'll join us in seeing him at every opportunity.

His next live appearance will be on Jan. 28, 7 p.m. at The Way Station, 683 Washington Ave., Prospect Heights, Brooklyn, N.Y.

Website: www.robinsontreacher.com