Lois Morton

The Fourth Lifetime

By Richard Cuccaro

I saw Lois Morton play a Northeast Regional Folk Alliance (NERFA) showcase, then reviewed her debut CD, As I See It, for our December 2011 NERFA wrapup issue. Both times I was confronted with a sly, satiric commentary on the idiocies of human nature. As I See It is categorized by iTunes as "Easy Listening." This is true only if you're not paying attention. The torrent of descriptive terms dealing with the less attractive activities of homo sapiens demands complete concentration. Granted, there are some ballads that mean only to entertain, but they're outweighed by tongue-twisting rhymes laced with brilliant sarcasm.

I listened to "Side Effects" about those TV ads for drugs and learned how perfectly Lois could encapsulate their lunacy. She skewered the titular "side effects" of said drugs with a rapier wit worthy of Cyrano de Bergerac: Oh you may want to be cautious 'cause this pill could make you nauseous / and do not get in a tizzy if it leaves you feeling dizzy / here's a pill could cause amnesia or a fainting bit could seize ya / but don't worry, if you fall you / won't remember it at all…  She then blistered my eardrums with a dizzying array of drug names set to nearly impossible rhymes. As I See It went on to lampoon a range of topics such as rude cellphone use, pack rat clutter, the weirdness of digital communication and kooky dieting.

The wonder of all of this was that I was listening to a grandmother who had, for a number of decades, been a teacher of English as a Second Language (ESL), an administrator and a therapist. She had as keen a mind in viewing modern foibles as anybody I'd ever heard and had only been pursuing this avenue of performance for a couple of years. Late starter? You might say that.

Beginnings

Lois Morton was born in Grand Rapids, Mich. Her father died when she was an infant, so her mother moved to The Bronx to live with her parents. While Lois was in college, her mother and grandparents moved to Manhattan. After graduating, Lois lived in Manhattan herself. She got married and later she and her husband had two children and moved to Long Island.

Lois was always involved with music when she was young. Her family was very musically inclined. Her grandfather, "a little Jewish tailor from Russia" had a voice like operatic tenor Jan Peerce. Her mother played a bit of piano and had a good ear for harmony. She had an aunt with a "wonderful singing voice" and an uncle who played "at least six instruments." Like Lois, many in the family — her aunt and her cousins — thought easily in rhyme. She called it the "rhyming gene."

She was a little prodigy, always performing for the family and picking out songs on the piano. At school, although she was shy, she would achieve popularity by performing. In junior high, "The Ballad of Rodger Young," a song about a martyred World War II infantry hero, was one of her strongest pieces. One of her major influences was the musical playwriting team of Gilbert and Sullivan. W.S. Gilbert was a big hero all through her early life. Lois loved opera. She knew all the G & S operettas and, over the years, was in several and directed two. In grade school she was, as she put it, "a big fish in a small pond." This changed when she got to high school.

Lois was a voice major at the Music and Art High School (There were two coexisting schools, Performing Arts High School and Music and Art High School on West 46th Street. They later moved near Lincoln Center and merged into the High School for the Performing Arts.)

At age 16 or 17, she could perceive how high the level of talent was at the school — television and stage actress and singer Diahann Carroll (Carol Diahann Johnson then) was in her senior chorus. She decided  to go into education, something "with a greater chance of success" than she foresaw in performing.

A Different Direction

She attended the University of Michigan with a major in Spanish and minor in drama. She was "very active" in the Gilbert and Sullivan Society and was in "at least five operettas."

When Lois graduated from college, her first job took advantage of her music background. It was as a camp counselor at Camp Taconic in the Berkshires. She was about 22.

She had taken piano lessons for two years in junior high school, but had such a good ear that she'd fake it a lot of the time and didn't practice. She put the lessons aside but continued playing on her own, always playing by ear. This came in handy in her counselor job. She was supposed to teach drama to 6-year-olds, but the music counselor turned out to only play the tuba, "and he hadn't even brought it!" she said. The camp administration "put him in a canoe," she said, "and I became the music counselor." She played the morning sing-alongs.

The Age of Aquarius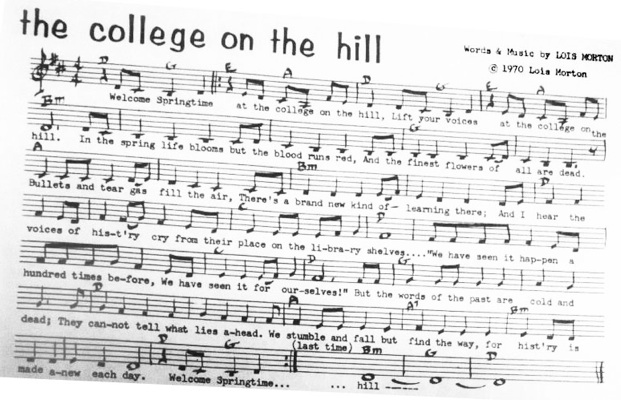 In the 1960s, Lois was writing songs. Her heroes were Joan Baez and Judy Collins. She wrote some songs and sent the first four to Pete Seeger. Pete wrote back and encouraged her to keep writing and told her to send her songs to Sis Cunningham at Broadside Magazine. Lois sent her songs and got them included in four issues.
Among them were "The College on the Hill," about the Kent State shooting; "I Have A Dream" from Martin Luther King's speech; and a satirical "Come On and Join In The Human Race," about fast-paced "modern" life

Lois played basic guitar and sang in a program called The Musicians Emergency Fund, which sent performers into hospitals to play for patients. She also advertised as an international songstress, doing a few shows she called "Around the World in Song." Lois was in a Broadside concert during that time. She was told by others that she should become a musical performer. She decided not to do that after conferring with her husband, telling me cautiously, "It was not something that would have worked out. I made the choice not to do it."

After that, she didn't write songs for 25 years.

The Long Hiatus

The depth of life experience from this point forward is staggering. After teaching school in Manhattan full time for five years, Lois took a maternity leave and she and her husband, son and daughter moved to Long Island. While filling the role of a parent,Lois worked in adult education part time; ran a program part time in Manhattan for five years, the American Council for Emigres in the Professions (emigres learning English); earned a doctorate in Adult Education; acted as an administrator at various programs for adult learning (FEGS, YWCA); and taught ESL at various colleges and programs throughout several decades. "I was never without one or two ESL classes per week somewhere," she said. One of the places was Queens College, where her husband was chairman of the Political Science Department.

In addition to teaching, Lois wrote books — books for children and books on ESL. She also did a lot of non-musical, straight acting in community theater, given that, as she said, "I am an actress." [We'll second that.]

Lois' husband died in 1999. He had suffered with Alzheimer's for 10 years. "It was a dark decade," she told me. She wrote a few serious songs during that time. One of them, "The Last Goodbye," her farewell to him, is on As I See It.

A Slow Turning

After he died, Lois began to explore other avenues of coping and expression, entering several programs. Jimmy Dale Gilmore's Songwriting class at the Omega Institute for Holistic Studies in Rhinebeck, N.Y., was one. Summersongs Camp at Ashokan Center in Olivebridge, N.Y., was another. In 2002, she enrolled in a program titled Music for Healing and Transition. This cemented her awareness that playing by ear was OK. Most of the other enrolled musicians were playing large-sized harps and reading music. They envied Lois, with her piano and the ability to recall songs and play them by ear. As Lois described it, they'd role-play and her opening words to the person playing the patient were: "Hello! My name is Lois, and I'm here to play music for you. What is your favorite song?" And that's how it always went. These days when she plays for Alzheimer's patients or older ailing people, without using sheet music, she just asks what their favorite songs are and she always knows them. "It would never occur to me that I wouldn't know it," she told me. [When I asked about two songs I knew as a child, "The Old Lamplighter" and "Winter Wonderland," she sang them without hesitation. She also knew the song I was always teased with, "Open The Door, Richard."]

The Fourth Lifetime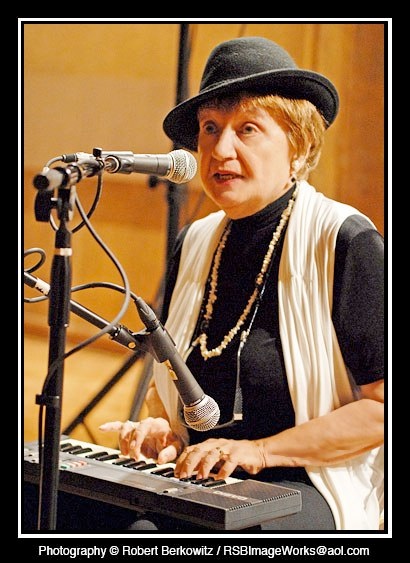 In 2006 Lois began her fourth lifetime. It began with "Confessions Of a Clutterholic," rising from her experience working with a professional organizer. As she explained: "I rediscovered the funny side of life. A genre that I had not written in before came popping up, that was very Gilbert and Sullivan with some Tom Lehrer thrown in." Because she and her husband never threw anything away, after he died, she began the process of letting go of clutter. "When my husband died, I was living in a big house in Glen Cove. I was a pack rat and he had been a pack rat. We still had 100 boxes in the attic from 1969! I worked with the organizer for about a year and a half, not so much in throwing things out, but in organizing it." While they organized, she wrote a song about it. "Clutter is a serious thing, but I began to see it as a humorous thing and I wanted to write a song about that. It took me a while to find a format, but then this Gilbert and Sullivan format jumped out. It best fit what I was trying to say."
The words start out with a spritely tempo: There were piles on the piano and piles on the floor /  I hadn't seen my tabletop since '94 / I read all the books, tried to master feng shui, but I couldn't  throw a single piece of paper away… Then the words speed up into a torrent: I had jigsaw puzzles, missing pieces, forty years of rental leases, baby shoes and old eyeglasses, notes from all my college classes…

She had told me earlier, "I became enamored of the organizer's labeler." The "labeler" section of the song is slower and it's easy to picture a woman in a G & S operetta sauntering onstage singing, I'm in love with the man with the labeling machine… ending with something even more practical: I need a guy with a shredding machine!

It was a major breakthrough. The following year, 2007, she attended a conference of organizers in Minneapolis and got a standing ovation from 900 professional organizers — "Me, the client!" she exclaimed.

Lois described how the song gained exposure: "I was involved in a community theater group and we were doing a show at that time. I would sing it for my friends in the theater group and they were crazy about it. I then started taking some cabaret classes in the city. I sang it for the teacher and for other students and they were crazy about it, too. Then, in 2008, I did a cabaret show of my own in Manhattan at Don't Tell Mama [a cabaret/restaurant on 46th Street]." Out of 17 songs, she played five or six of her own. One of them, the Clutterholic song, had become her signature. People were asking for the words to her songs and if there was a recording of them. She characterized this opening phase as "a different path on the mountain." She wondered if she could write more like these. It turned out that she could.

By 2007 she had finished "Don't Throw It Away," "Come to Suburbia," and "What Does It Mean?" In 2008 she wrote "Side Effects" and "The China Syndrome." In 2009 she wrote "The Diet Is Cast" and "Twentieth  Century Girl."

In "The Cell Phone Song," another of my favorites, written about two months after the Clutterholic song, she skewers egocentric, obsessive cellphone users perfectly with: It doesn't seem to matter, you're assailed with noisy chatter when you only want a quiet, peaceful walk… Pretty much everything I despise about those people is in that song — but humorous. Lois made both songs part of whatever she did. In 2009, she did another cabaret show in Manhattan and included the "Diet" and "20th Century Girl" songs.

The adulation prompted her to think, "What is going on? I have never been here before."

The Folk Arena Discovers Lois

Lois began playing open mics on Long Island and found that she could cross over into the folk arena. She got her biggest response when she played the open mic at the Mansion at Acoustic Long Island in St. James. A large enthusiastic audience simply loved her. In early 2010, Lois screwed up her courage and asked Dave Dircks, the director, for a slot in the regular performance schedule. She expected a rejection. Dave looked at the schedule on his smartphone and said, How about May? So, in May 2012, Lois did her own show and considers it her first successful gig in a folk venue The huge following she already had from the Mansion open mic was there for her.

Edith Piaf in Song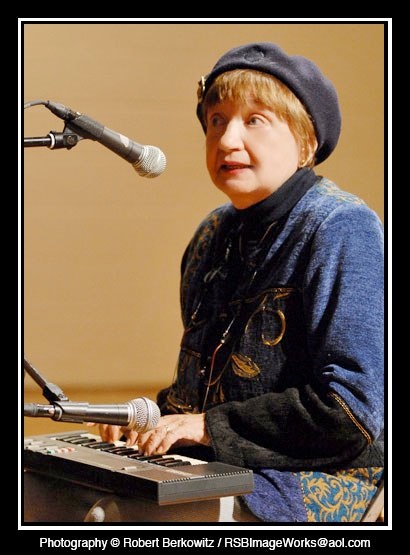 Edith Piaf has long been an inspiration for Lois. She's been using French in her songs for some time including the conclusion of "The Last Goodbye." In 2009, an audience member, hearing her sing in French, asked her if she could do an Edith Piaf show, Lois asked, "How much time would I have to prepare?" The woman said she'd need it the following year. In 2010, one month before the Mansion show, Lois did her first one-woman Edith Piaf show. To date, she's done about 25 Piaf shows, accompanied on a number of songs by Larry Moser on accordion. Larry is the producer of
As I See It
  and her prime motivator early in her career. Later in 2010, she made her first trip to the Northeast Regional Folk Alliance (NERFA) conference, staying briefly, since she had Piaf shows scheduled that weekend. In 2011, she was sponsored for a DJ showcase at NERFA by Barbara and Graham Dean of radio station WBCR-lp in Great Barrington, Mass. and in 2012 was awarded a quadricentric showcase.
The Decision

A big component in driving Lois to embark on a new career was having a source of purpose and income taken away from her. Lois was a psychotherapist in Gestalt therapy. New York state licensing laws changed in 2006 and, uninformed about required paperwork, she was left unable to practice professionally. Although she might have chosen to give herself another title in order to practice, Lois had already made a conscious decision to commit to a career path as a performer. She got involved with making a CD and putting together promotional materials and getting them sent out. She had to develop a mindset in which she did not fret about every cent it was costing her. It was an "investment."

As she perused her earlier resume as a teacher, therapist and author, she looked at what she was doing as a performer and thought, "Who is this woman?" At first glance, nothing seemed relevant. However, as she ticked off everything she's worked at through the years, it all came into focus: "The camp counselor, the ESL teacher, the psychotherapist, the language teacher, the community theater actress — all of these things, if I hadn't done them, I wouldn't be who I am now."

Lois recalled marshaling the courage to make that sort of commitment: "I bought the equipment, I have my cards, I have my brochures… I no longer said, 'Oh, maybe somebody will sing one of my songs someday.' I, myself, was going to go out and do it. I was going to go out and do what I did not do earlier, before I couldn't do it anymore." Lois believes her act gets praise and stands out from other singer/songwriters because of its "different cast" — her cabaret style. My opinion is that she  is just that good.

She has new roads to travel and conquer. There's a new CD coming (one of her new songs deals with GPS users — what's she going to say about that GPS woman's voice?) and a new concept show in the works — a show in Yiddish using a Jewish theme. There's no telling what future projects she'll be tackling. We'll just have to watch and wait as this musician/grandmother continues to astonish us.

Website: loismorton.com

Upcoming Performances:

Jan 10   Raisins & Almonds: Jewish Songs From the Heart, Private fundraiser

        in Plainview, NY

Mar 3   2pm As I See It, Cutchogue-New Suffolk Library  631-734-6360

13      As I See It (aka Funny Songs), Women's Club of Massapequa

Apr 5   As I See It, Friendship Force International, Northeast Mid-Atlantic

        Regional Meeting. Sheraton Long Island Hotel, Hauppauge, NY 

        631-231-1100

21     2pm Edith Piaf Remembered in Song and Story, Sachem Public Library

        150 Holbrook Road, Holbrook, NY  631-588-5024

28     Edith Piaf Remembered, Haverstraw King's Daughters Library,

        Garnersville, NY,  845-786-3800  ext.23

May 4   9pm until Midnight, Rich Warren's "Midnight Special & Folkstage"

        98.7 WFMT Radio, Chicago

19     2pm Franklin House Concerts, Franklin, MA  508-528-0026