It's been said that, "If you can remember the sixties, you weren't there."

That kind of sixties began late for this author. The first six or seven years, I spent bouncing around academia, pitching fitfully toward a B.A. in Art. Meanwhile, getting thoroughly trashed by the Engineering program at Northeastern U. in Boston, then wrestling with the Industrial Design program at the University of Bridgeport (CT) before getting my shoulders pinned to the mat in the third year.

In 1965, while working as a waiter that summer in the Catskills, a folkie came through and stopped at our little hotel to visit a friend on the staff. He was fingerpicking a Martin. The sound of the metal picks against the bronze strings blew everything else out of the water. Gone was the infatuation with Frank Sinatra and the booze-soaked cool of the rat pack. Bob Dylan began making sense. "Like a Rolling Stone" edged out the Stones' "Hey You, Get

Off of My Cloud" on my car radio favorites list.

Upon my return to Connecticut, I promptly sought out Will Tressler, my folk-singing Industrial Design professor. Leader of The Jackson Pike Skifflers, he taught me how to finger pick a decent "Midnight Special," and a few other blues songs of my choosing. Around that time, I learned that the Reverend Gary Davis, an inspiration to many 50's and 60's folk-era fingerstyle guitarists, was playing one evening at a church coffeehouse in the area. I went, and got to see a legend for at least one evening. His voice seemed guttural and a bit hoarse, but still rich and deep.  When he sang "Twelve Gates to the City," it seemed to come from a higher plane, somewhere I could only dream about. It echoes in my mind to this day.

We were also getting off on rock staples like the Beatles and Stones and our homebred establishment bashers, The Jefferson Airplane. The excitement of Grace Slick singing "White Rabbit" and "Somebody to Love" gave way to an enchanted intrigue with an instrumental, "Embryonic Journey" on the Surrealistic Pillow album. There was nothing like it anywhere on any other rock album. For anyone who harbored a fondness for fingerstyle guitar, this was an inclusive jewel of life-changing proportions. Lead guitarist Jorma Kaukonen became a standard-bearer for a hybrid form of rock music.

Jefferson Airplane played at the University of Bridgeport in the late 60's/early 70's. The gym was packed. It was my first and only exposure to a west coast psychedelic light show. Light shone through oily paint shapes floating in a

tank of water, which shook in time to the music and was projected onto a screen behind the band, or so it appeared.

While watching the band play, it was Jorma who stood out and who I can still remember. He rocked his head back and forth, flinging long hair side to side while his foot plied a wah-wah pedal. And it was a thrill to discover that he

was playing the electric guitar almost exclusively …with fingerpicks.

Maybe a year later, I went to Boston to visit my former college roommate. Sufficiently toked, we decided to take in some music at a local venue that presented two or three nationally touring acts per evening (Paul's Mall? Not sure -- the 60's had finally kicked in.) Among the people appearing over two nights running were Pentangle, Livingston Taylor and… Hot Tuna. We had no idea who or what a "Hot Tuna" would look or sound like. When they walked onstage, my jaw dropped to discover Jorma Kaukonen and Jack Casady. Their acoustic blues set reinforced the cross-pollination between the folk and rock worlds. I didn't know then that Jorma had already paid homage at the shrine of the Reverend Gary Davis, genuflecting numerous times. It didn't start out that way. Like a lot of guitarists, it took him a while to get to playing fingerstyle.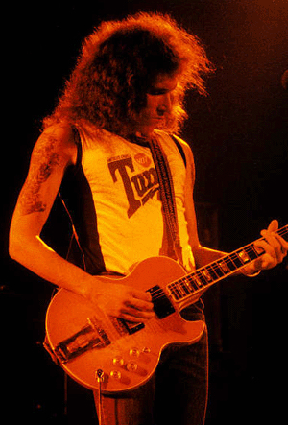 Jorma, fresh from the Airplane, with Hot Tuna

Beginnings

Jorma was born and raised in the Washington D.C. area. His father was a State Department official. Both parents played piano and his father played violin. There was always music and singing in the house. Jorma developed a fondness for blues and bluegrass.His early influences included The Carter Family and Flatt and Scruggs. When he was 15, he decided he wanted to learn guitar and play bluegrass and old-timey music. A friend taught him some old-timey bluegrass songs.

His father had seen Jorma pick up and fail to continue with other instruments, so he agreed that if Jorma could learn two songs on his friend's guitar, he could get a brand-new one. He remembers learning Louvin Brothers songs and he was able to make that trip to the music store. He got himself a new acoustic Gibson J-45.

In high school he became friends with Jack Casady, also a guitarist, and together they went to concerts and clubs. Their main interest was blues, jazz and bluegrass. When Jorma was 17 years old, he and Jack (then 15 years of age) formed a band called the Triumphs. They got fake IDs and played rock 'n roll in bars.

After high school, Jorma went to Antioch College in Ohio, where he studied Sociology. There he met Ian Buchanan, who turned him on to fingerstyle guitar, specifically the music of the Reverend Gary Davis. Jorma stopped going to class, so he could practice for 8 hours a day.

Meeting the Reverend

A subsequent work-study program  through Antioch allowed him to live in New York City and strengthen his chops further.

He played at open mics at Folk City, and got to watch the Reverend play live there, as well as people like Sonny Terry and Brownie McGee and John Lee Hooker. Brief chats with the Reverend were a part of those heady nights

Airborne with Jefferson Airplane

In 1962, Jorma moved to the San Francisco Bay area and enrolled at Santa Clara University where he finished getting his degree in Sociology.

He was teaching guitar in a small music store in San Jose during this time, playing as a solo act in coffee houses and backing up a young, promising blues singer on the acoustic scene by the name of Janis Joplin. Soon, rock and roll would adopt them both. When Paul Kantner asked Jorma to be in a new band, he demurred at first, having reservations about going electric.

He did join, however, and when the band needed a name, he offered a shortened version of a nickname a friend had teased him with (as with many other blues players): "Blind Thomas Jefferson Airplane." So, Jefferson Airplane was born, and Jorma got seduced by the technology of electric rock and all the innovations it offered, such as tape delay. The latter allowed Jorma

to play an extended lead guitar duet by himself (check out the ending of the Airplane's "Hey Frederick"). As he stated to one interviewer, "…the band was becoming a success, and I learned to play electric guitar." [And how!]

Jorma called his old friend Jack, back in D.C., and asked if he wanted to be in a band. So Jack came and became the bassist for the Airplane.

While Grace Slick, Paul Kantner and Marty Balin normally took the vocal leads, Jorma can be heard on one of the author's  favorites, "The Good Shepherd."

How to Catch a Hot Tuna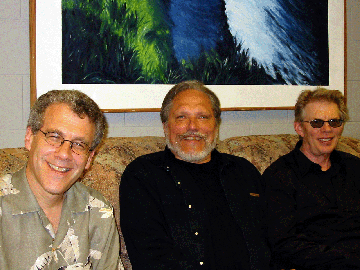 Old friend Barry Mitterhoff (left), mandolinist extraordinaire (a member of Silk City when Acoustic Live featured them in our December 2000 issue) has joined Jorma (center) and Jack Casady in the present version of Hot Tuna.

When the band went on tour, at first, shows weren't as long as they would later become, and Jorma and Jack still had plenty of energy afterward. They'd go back to the hotel room and jam. Soon, they were doing acoustic sets in the middle of Airplane concerts to enormous audience enthusiasm. In 1970, they went official, and started performing as Hot Tuna.

In 1972, the Airplane disbanded and Jorma performed and recorded both solo and with Hot Tuna.

Hot Tuna went through numerous permutations. Marty Balin was a lead vocalist initially, for a short period. Papa John Creach, violinist for the  Airplane, also joined the band for a couple of years. Hot Tuna took a hiatus in 1977, leaving Jorma to do solo work, both solo acoustic and electric, with bass and drum backup. The group resumed performing in 1983 and has

been together ever since.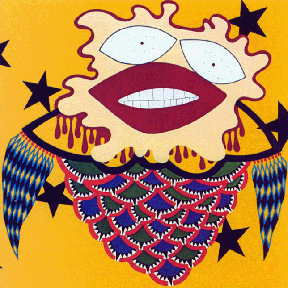 Jorma's first solo effort, Quah

Vanessa

In 1988, while playing a gig with Hot Tuna in Key West, Jorma took notice of a woman from the stage. A spark ingnited within him and he asked his road manager to invite her backstage. On a whim, Vanessa Lillian, a civil engineer, had accepted an invitation to attend the concert. As if following a Hollywood script, they talked all night, and then got together the next day, then again the following night. Vanessa has said that when Jorma kissed her she felt that she was finally "home." They married several months later and Vanessa began working for the band.

Fur Peace Ranch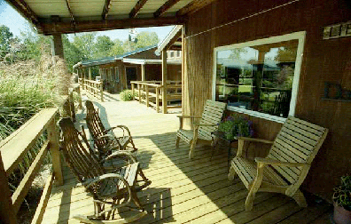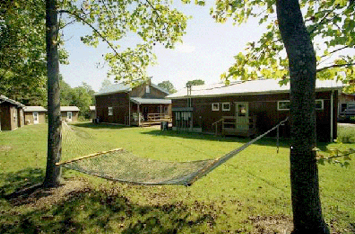 Two views of Fur Peace Ranch. We're sure that a whole lot of pickin' takes place on the porch.

For his whole career as a guitarist, Jorma has loved teaching. Perhaps it stemmed from the time that Ian Buchanan helped him learn how to play finger style, or simply to pass along the torch of the old craft, down from the Reverend, to new generations of players. He wanted to create a school where he and others could teach. That dream has come to fruition in Fur Peace Ranch, a guitar camp in Pomeroy, in the hilly farmland of southeast Ohio, about two hours drive from Columbus. Vanessa's engineering background and her organizational skills enabled the dream to achieve reality.

The name is a play on its isolated location and the phrase, "It's a fur piece from everywhere."

In addition to guitar, there is also instruction on bass guitar, lap steel guitar, mandolin, percussion, vocals and songwriting. Besides Jorma, the pantheon of great teachers includes, at various times, Jack Casady, Chris Smither, Little Toby Walker, Happy Traum, Bob Margolin, John McEuen, Barry Mitterhoff, Woody Mann, David Lindley, David Jacobs-Strain, Beppe Gambetta, Tommy Emmanuel, Guy Davis, Rory Block and a host of others.

There is also a concert hall at the ranch where national touring artists look forward to playing.

Breakdown Way

If you can't make it out to Ohio, there's something else to try. In addition to Fur Peace guitar camp, Jorma has established www.breakdownway.com, a state-of-the-art on-line guitar instruction course that is eye-popping in its clarity and its interactive capability. There are lessons in guitar, from Jorma, Woody Mann, David Wolf (includes beginner level), bass from Jack Casady and Oteil Burbidge and mandolin from Barry Mitterhoff. The site allows the student to contact the instructor and receive specific help to smooth out any rough spots with the lessons. In the two samples which show Jorma, a song is broken down into sections and demonstrated throughly.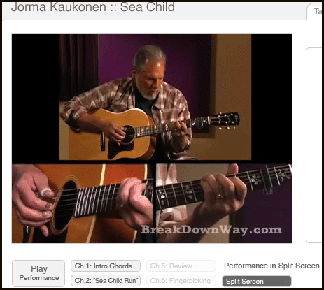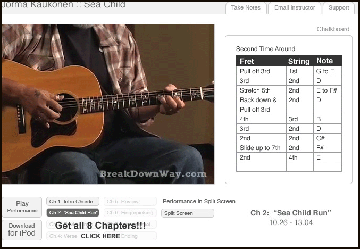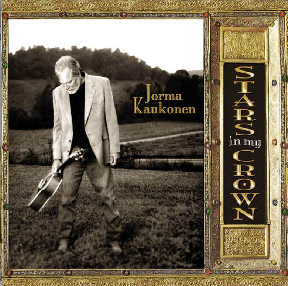 Jorma's latest album: Stars in my Crown

Life is full for Jorma these days between touring and teaching and being a husband and father (he has a 10-year old son and 18-month-old daughter). Life for this rock 'n roll warrior is full and rewarding, as it should be. His gift for sharing has rewarded so many

Web sites: