The Amazing, Enduring, Ongoing Musical Journey of

Aztec Two-Step   

By Richard Cuccaro

In 1971, the Vietnam War still raged on. The Supreme Court gave permission to newspapers to publish the Pentagon Papers and thousands were imprisoned in a Washington D.C. stadium, a result of arrests during 3 days of anti-war protests. A diversity of styles poured from the radio. John Denver hit the charts with "Take Me Home, Country Roads," while  Carole King admonished us with "It's Too Late, Baby." Isaac Hayes defined hip with the "wonk-chicka" wah-wah-pedaled theme from the film "Shaft." James Taylor

lent his nasal drone to the Carol King composition "You've Got a Friend."

In the spring of that year, a 17-year-old feisty, hotshot guitarist/singer from New York City, Neal Schulman, walked into a Boston coffeehouse for an audition. He was slotted to play and when he finished, Rex Fowler who was to follow, complimented him on his performance. Neal stuck around to hear Rex. When he heard Rex's elegaic  farewell "Guinevere"-like "Highway Song,"

he was smitten. They talked about playing together and immediately began rehearsing. Three days later, they played their first gig and blew the room away. Two guys with acoustic guitars and a knack for tight harmony knew they had found something special.

Talkin' 'bout the Boy from NYC

Neal Schulman has lived his whole life in New York City. He got folk music pumped into him very early. As a 5-year-old, he attended Weavers concerts with his parents. At home there were records by Theodore Bikel, Oscar Brand and the Weavers. When he was 8 or 9, he got his first radio. His sister, who was three years older introduced him to the songs of Del Shannon and The Shirelles among others. While one's first impression of Neal is that of a phenomenal acoustic guitar player, his first ambition was to be a rock and roll drummer. He played along to records first with hand drums and later on a three-piece high hat/snare/cymbal set. His mother, who worked for an orchestra leader was able to get them on a loan from a musician. When he

was around 12, he decided, as a lark, to learn guitar. He asked his parents to buy one for him. So his mother took him to a pawn shop on Eighth Avenue and he got a nylon string guitar for $22. He started learning songs from the songbooks of Peter, Paul and Mary and others

such as Judy Collins and The Weavers.

Rock 'n roll Madness

When Neal turned 13, he fulfilled his drum fantasy by going out and buying a "big crankin' set of rock and roll drums." His singlemindedness is palpable in the statement he made to me: "When I was 13, I was fully loaded. I had the guitar and the drums and I was a complete maniac. I was in two or three rock and roll bands as a drummer when I was 13-14, but playing the guitar all the time."  

Woodstock in Manhattan

Then, when Neal was 15 years old, the Age of Aquarius dawned. Neal was an actor in a real-life version of Hair. By that time he was playing guitar every night at home. However, the eruption of flower power pulled it into the world-at-large. As he describes it: "In 1968, the hippie thing totally exploded and people went very tribal. I was the youngest hippie. There was this bunch of people that got very tribal in Central Park. The first 'Be-in' was there. The Sheep Meadow looked like Woodstock had been dropped into the middle of New York City on a smaller scale." Neal's journey to being the crack guitarist he is today appears to have begun here. Many in the group that he hung out with were musicians. "They were all older than I was, with better guitars and they were all better players that I could sit eye to eye with. I was 15 and they were 17, 18 years old. I was absorbing their influences like Donovan and the Jim Kweskin Jug Band. They were putting together jug bands, doing solo things and writing songs. I sat there playing my $22 Kent guitar and hearing

the ring of the Gibson J-50. I'd ask 'Can I play your guitar?' and they'd shoo me away. I didn't know any better… that you don't ask to play someone else's jewel. Once in a while somebody'd hand me one of these big honkin' Gibsons and I'd think, 'Oh man, I've gotta get one of these!' I started to get the vocabulary of so many styles on the acoustic guitar and developing the common vocabulary of songs. It had as much to do with seeing and listening  as it did with playing."

The Icon

For Neal, the lynchpin of his folk experience was Phil Ochs. Listening to him talk about seeing Ochs, his regard for the man and the purity of acoustic folk is apparent: He remembers, "From the time I was 13 to when I was 18, I saw Phil Ochs play every place he played in New York and other places too.

When an artist becomes preeminent to a fan, you put together a lexicon of all his songs. If you're sitting in Carnegie Hall watching them play, you're gaining knowledge, even from the 2nd balcony… Just the purely technical aspect of playing the guitar and and making it sound the way you want it to sound.

So much of it was one guy and one guitar carrying hours and hours of music. For me, it was so complete and never wanting in any way, like 'where's the drummer?' It was always the sound of that acoustic guitar and those licks that was compelling." Neal's musical education crystallized and then, looking for new avenues, he headed for Boston…

Rex's Journey

Rex Fowler did not intend to be a musician. As a youngster, he was very athletic. His first  encounters with music were the experiences common to most kids. His family lived in Moodus, Connecticut until he was ten, before relocating to Pittsfield, Maine. In Connecticut, he listened to WINS radio out of

New York, mostly riding in the back seat of his parents' car. He says, "I remember listening to all the greats, standards, starting with Frank Sinatra and Louis Armstrong, including some goofy stuff, too, like "How much is that Doggie in the Window." I remember very clearly listening to Elvis Presley's 'Heartbreak Hotel' and even as a kid, I knew this guy was totally different and very cool. He had that soul connection. I'm not gonna say that he was an influence. Just what I listened to on the radio. We didn't get a TV until 1963-64 when the Beatles burst on the scene.  None of these musical impressions

or things that caught my attention ever made me think that I could do anything like this or that I'd be remotely interested in it. I was a jock in high school. At Bay Central Institute in Pittsfield, I played football, basketball and golf. In fact, I lettered [got on the varsity team] in golf as a freshman, which was a big deal,

because no freshman had ever lettered in anything.

Bob Does the Trick

Just before his senior year in high school, Rex went away to a summer resort in Booth Bay Harbor. He remembers: "Somebody had a Bob Dylan record… and that was it. That was the thing that made me think 'Holy cow. I want to pick up a guitar and play' …and I did. My sister had a roommate that left a guitar behind our sofa. It was an old Kay with the strings "about an inch" off the frets. I didn't know that this was unusual. I picked it up and started playing. I never really learned how to play other people's songs. I had a pretty good ear and I just wanted to write my own."

In College as a Rolling Stone

Rex went to college at a "straight Phys. Ed." school, Aroostook State College at Preque Isle. He remembers how they used to shut down the high school every fall to have the kids harvest the potato crop. He earned a few extra dollars that way himself on weekends. Rex said that in his freshman year, he became a bohemian, and, in addition, went through a phase of "being Bob Dylan." "I was definitely into  Another Side of Bob Dylan, Bringing it All Back Home, and Highway 61 Revisited, " he says.

Then there was Rex's college career as a lead singer in a cover band. "We did all these great songs from 1966, '67 and '68," he recalls. "It was a lot of fun. 'Happy Together [The Turtles], Rolling Stones' stuff, like 'Under My Thumb.' We did a medley of Sergeant Pepper. I put on a theatrical mustache because I couldn't grow one back then. It was our first big gig — at another college. We considered ourselves a college concert band, doing a lot of Beatles and a lot of Stones and one or two of my originals. At this gig, there was a big crowd around the stage, I was playing the hamonica on something and my mustache came off." We'll assume that Rex did not manage to impress any coeds that night.

The Call of the Coffeehouse

This was during the Vietnam War. Going into his junior year, Rex got deferred from the draft. With this weight off his shoulders, music as a career became a goal. He says, "That was it. I knew right then and there, I was going to go down to Boston to pursue being a folksinger." Donovan had been an early big influence. Rex was a huge fan. He'd heard "Laleña" on a radio station in Maine and said, "When I heard "Laleña," I felt like I had a spiritual awakening."

The song "Baking" on the first Aztec album is very much from Rex's "Donovan period"… "In a dream lived a maiden of wind."  Ensnared by a Donovaneque" vision, he told me, "This was what empowered me to go down and try my hand. So I dropped out of college, second semester junior year. That was in 1968 or '69. I went down to Boston and played in all the little coffeehouses. I met Jonathan Edwards. When I heard him and a few of the other people, I knew I was in way over my head. I lasted the winter. I got a job at The Simplex Wire and Cable Company as the export clerk. It took them three months to figure me out. I lost that job and went back to Maine with my tail between my legs."

Rex Rises Again

When he got back home, Rex found a job a the Heartland Tannery, a mind-numbing type of dead-end place. Not for Rex. He wrote "Cockroach Cacophony" about the experience and additionally, the "Highway Song"

and "On the Road - the Persecution and Restoration of Dean Moriarity." (all on the first album) while working there. He says that, "When I wrote 'Highway,' 'Cacophony' and 'On the Road' I knew I was on to something.  I stayed on in Maine that summer, fall and winter. In 1970, I went to Boston again. There, I wrote "Cosmos Lady and "Almost Apocalypse." I was finding my real voice and sensed that I was becoming a songwriter. I started making some noise and lined up several gigs. That's when I met Neal."

Neal Comes Forward

"I was at best an average guitar player and was looking for someone who could accompany me, a really good guitar player. It was at this little coffeehouse and it was 'hoot night.' You'd go down and audition for the weekend gig. I heard this kid jamming before the evening started. It was obvious that this guy was a precocious New York City kid . He had all kinds of personality, a cockiness and bravado. We were the last two guys to play. He heard me play the "Highway Song," and said that's the one that did it for him.

Three days later we did our very first gig."

The Career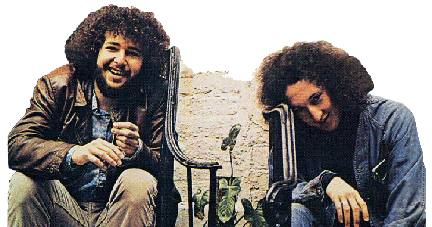 They called themselves "Aztec Two Step" from a line in a poem in the collection
A Coney Island of the Mind
by Beat poet Lawrence Ferlinghetti. One year later, signed by Elektra Records, Neal and Rex were in
Los Angeles putting the final touches on their debut album, Aztec Two-Step.

Rex Recalls: "I was a kind of shy, introspective person and Neal just took over. Back then it was mainly a good combination of mostly my songs, his unbelievable guitar playing and our harmonies. We just started making a lot of noise. We opened up for [the legendary] Tim Hardin. In those days you played for 4 or 5 days at a club."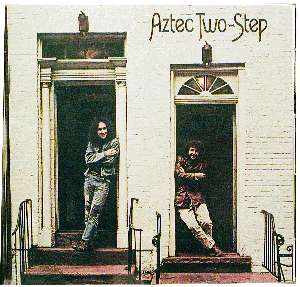 "We burst on the scene in 1972. Our first album was our most defining record. It got a tremendous amount of airplay all over the United States. We sold close to a million records in the first four albums just from FM airplay. We were pretty much the biggest college band in the early to mid-70's. We played hundreds of colleges and were played a lot on college radio. We played with a four-piece backing band for two or three years and a nine-piece entourage on the road for three or four years in the '70's, the RCA days."
In the early 80's styles and tastes changed. With the advent of punk and bands like Talking Heads, Rex and Neal lost their college base and were forced to cut back economically. They began to play with a percussionist

and bass player, then cut back to just the two of them with bass back-up from time to time.

Fast Forward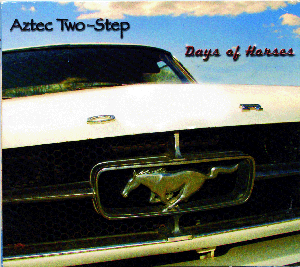 After hearing Aztec on college radio back in the early '70's, I finally met Rex and Neal when they played The Fast Folk Cafe during the late 90's. They would still glide through anthems of love and faith, drawing on days of hope when Martin Luther King's oratory soared and days of rage against the Vietnam War made our blood boil. Riding on Neal's blistering guitar runs and Rex's mystical lyrics they never failed to inspire. Today they still do.
Their most recent album, Days of Horses is in great part an invitation to take a trip down memory lane. The title track, by Rex is a wistful look at the evolution of the automobile through decades of relative innocence in America. It has the feel of a drive on a sunny day with the wind in your hair and the radio on.

    Ride on Ventura Highway, rag top Route 66,

    U.S. 1's looks, and byways… Ride on and get your fix…

"Stargazers" is a sweet elegy to his childhood; love of family and fireflies on the lawn with his sisters.

    We've been a family of stargazers for a very long time…

Neal has stepped forward as a writer, contributing five of the eleven songs.

His "Dad Came Home" is a personal reminiscence that also speaks eloquently of a simpler time:

    Dad… married mom /  baby makes three / plus another one / the other one was me…

    I'd come home and / I'd do my sums / at the kitchen table / with the radio on… Murray the K on 1010 WINS / as loud as it would play…

Neal's love of blues and gospel are on display in "Better These Days," and "I Don't Believe in Jesus (But I Sure Do Like His Songs)."

Rex and Neal are possibly the best acoustic duo in the world today, and our readers owe it to themselves to see them perform if they haven't already.

Check their web site at www.aztectwostep.com for updates on gigs.