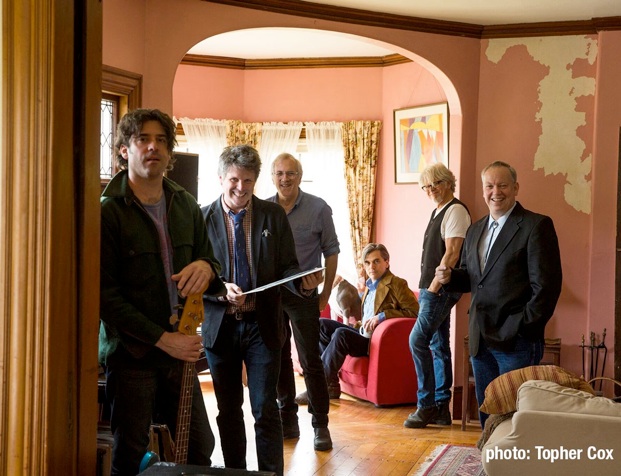 Session Americana showcased at the 2016 Northeast Folk Alliance Conference — I was there — and I missed them. Oops. My bad. They're simply one of the best roots/folk/rock ("Americana") bands around. Luckily for me, John Platt had the good sense to book them for his January "On Your Radar" series at Rockwood Music Hall in Manhattan. That's where I got up to speed. They're on their seventh album,
Great Shakes
, and their collection of YouTube videos totals more than 200.
As singer/guitarist/ringleader Ry Cavanaugh told John Platt (paraphrased here from their website), "The band started out as a kind of a lark, a fun thing to do at [Boston bar] Toad on a Sunday night. I was modeling it after Irish sessions — guys sitting around a table in a pub playing fiddle music. We thought it'd be fun to do a country-music/rock version of that, and it grew until it became more of a band."

In 2015, The Boston Globe reported in greater detail: It all started around a table. An accident, you could call it. In 2003, Ry Cavanaugh and Billy Beard had just finished a set at Toad, the Porter Square club with a capacity of 62. When the next act didn't show up, Cavanaugh got an idea. He jumped onstage, pulled the microphones out of their stands, and duct-taped them to the table. He was conjuring the feel of a traditional Irish jam session or perhaps the family parlor room. A bunch of musicians were in the house, and they banded together and sang songs they all knew. "It transformed this sort of rowdy weekend night vibe into the most intimate performance," Beard says. "People sat behind us, and the people seated at the bar actually turned around and sat on the bar so they could get up high and see the table." They were on to something. By the end of that session, the whole bar was in thrall with the camaraderie, but also with the perception that there was no wall between artist and audience.

The band we saw at On Your Radar had Ry on guitar and lead vocals, Jefferson Hamer on lead guitar and vocals, Jim Fitting on harmonica and vocals, Billy Beard on drums and Kimon Kirk on bass and vocals (keyboardist Dinty Child was absent that evening). Today, their carry-along collapsible bar table has a hole in the middle for wiring and a surround-sound bluegrass-style microphone attached to its round surface.

Also mentioned in the Boston Globe article, the lineup is forever in flux. It depends on who's in town and available (always hand-picked). However many numerous special guests appear, Cavanaugh, Beard, Dinty Child and Jim Fitting are considered the "core four."

Given that I'm a sucker for tasty but snarly lead guitar licks, I was enthralled that Brooklyn-based Jefferson Hamer was a part of the group. Gig listings in this area for Hamer have appeared in Acoustic Live from its inception in 1999. Besides Session Americana, his collaborations are extensive: Mike + Ruthy, Joy Kills Sorrow, Laura Cortese, The Duhks and, perhaps most often noted, Anais Mitchell. It may have been more than geography that found Hamer present for the evening. He co-produced the band's latest album, Great Shakes, and has been a part of their previous three, dating back to 2011's Live recording. He also appears in many, if not most, of the band's YouTube videos. If he isn't a permanent member, it may be simply to allow for his other projects.

Their On Your Radar set was a selection of songs from Great Shakes, then a finale — a rave-up cover of Rodney Crowell's "I Ain't Living Long Like This." While Cavanaugh strummed a steady rhythm guitar, Hamer soloed with the aforementioned snarly licks and Jim Fitting used a vintage bullet mic — getting that muted, echoed Chicago blues harp sound. Beard and Kirk fleshed out a pounding, heart-racing bottom.

If I were a lot younger and had the energy (and a lot less inhibition and a lot less body weight), I would've pulled wife Viki out of her seat and engaged in a favorite pastime of a swing dance right out in front of the packed house. Fortunately for the audience, although I was ecstatic, I remained in my seat.

Gigs

The band's February/March tour schedule finds them ensconced at their home base for three nights at Cambridge's Lizard Lounge in the Boston area, then rambling around various New England clubs until they head for the Old Settlers Music Festival in Austin, Texas, in April. They'll be back in Massachusetts for some shows in early May. Check out their website for dates near you and listen to songs from their albums as well.

Website http://www.sessionamericana.com