An ethereal blend of two voices, guided by fate to find each other, travels the wire from iTunes to earbuds and into my ear canal — so exquisite, it's almost unbearable. Hannah Hickok and Maggie Kraus, a lesbian folk-pop duo, look at all the facets of living — loving, losing, friendship — as if peering through a microscope, taking the facets apart and reassembling them with delicate, faerie fingers. The songs are presented like gossamer gifts. A case in point is the stark beauty of "Curfew" from their second album, Muscle & Bone. Hannah wrote the song and  sings the lead vocal with a call-and-response from Maggie in a passage near the end. It might simply be an unrequited love song, but it could easily describe a heartbreaking failed connection between two people, one who is gay and one who is straight or who is latently gay but not ready to accept a same-sex relationship. Intentional or not, it covers a rocky terrain young homosexuals tread daily. The poetic dissection of raw emotion is astonishing. The words float, first over a sighing harmonium-like shruti box, then a delicate guitar refrain and a keening cello:
I was in love / but you were above it / I thought that I'd won you over somehow … It was a date / it's not what we called it / you were afraid / so I carried all of it / who was to blame? / You thought you felt it / an honest mistake / that we never dealt with. / You took it all for granted / And I took it all to heart / Things that I intended / I couldn't even start / I think my head knew / but didn't tell my heart / I missed my curfew / so I could fall apart.
Like a smack addict, I play the track again and again, nodding off over and over in rushes of aching, sweet melancholy.

Hannah and Maggie's almost unearthly harmonies evoke descriptions like "Simon and Garfunkel crossed with the Indigo Girls." Indeed, they have been included in a number of Simon and Garfunkel tributes. In a perfect world, I think their articulate expression of lives so sharply felt and lived could change a listener's DNA. Because Hannah and Maggie plunge a rapier of emotional honesty into the psyche, the listener might become a better person, more empathetic. It's a high-minded flight of fancy, but who knows? This is a fast-changing world.

The duo's new album, In the Company of Strangers, is set for a Feb. 25 release. Two songs from the album, "The Final Straw" and "Morning Star," are available for listening on soundcloud.com. When I proposed a February cover article, they remarked at the serendipity of the timing.

Hannah, Child Actress and Musician

Hannah Hickok was born and raised in Dobb's Ferry, N.Y. Her parents were actors but her mother quit the theater when Hannah was born in favor of another career path. Her father continued as an actor. Hannah said the concept of performing was an inspiration from an early age. She spent many an hour waiting in her dad's dressing room.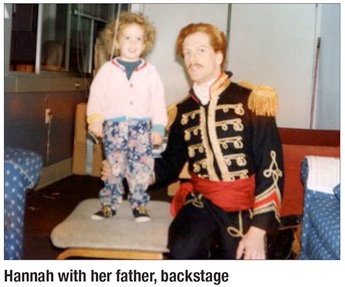 He'd come backstage to change costumes and she would witness the transformation of her father to an actor with "elaborate costumes and crazy makeup." She absorbed the idea that investing one's time into performance and the arts was a valuable thing. In addition to the exposure to Broadway musical theater tunes, folk revival classics like James Taylor and Joni Mitchell were played often.
Both parents were good singers who constantly sang around the house (and still do). Hannah sang from an early age. She performed in musical plays — her first was when she was 5 — and was in chorus all through grade school and high school. The shows included "Pippin," "The Music Man," "Mary Poppins" and "Guys and Dolls."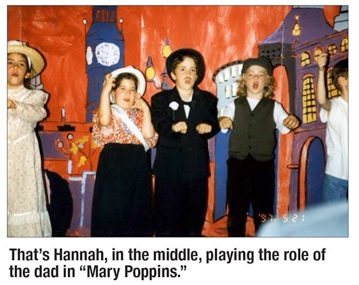 She also acted as assistant director for some plays at theater camp. She was a member of the all-female and coed a capella groups and the chorus all four years of high school. In her senior year, she was president of all three.
When Hannah was around 10, there was an electric guitar sitting in the living room, a leftover from one of her father's stage roles. Hannah picked it up and started playing it. He taught her how to play The Beatles' "Blackbird," the first song she ever learned on guitar. She also started writing her own songs. Her father bought an acoustic guitar for her when she was in middle school. She took lessons in her first year of high school and then learned more on her own by figuring out how to play covers. At this point, her songwriting output increased.

The drama club would host coffeehouses every first Friday and that was where Hannah first performed solo, singing her songs and accompanying herself on guitar. This set the stage for the next act when Maggie would make her entry.

Maggie, the Young Punk Rocker

Maggie Kraus was born and raised in Maplewood, N.J. Her father has a good voice and performed in plays throughout high school. She always liked music and, like Hannah, she was exposed to folk revivalists James Taylor and Joni Mitchell. Billy Joel and Paul Simon were also part of the mix.

Her participatory phase began with guitar instruction at summer camp when she was 10. After learning the basics, she and a small group of other campers performed for everyone in camp. There was supposed to be an "official" staged performance at the end of the camp session, but it never happened. For Maggie, it didn't matter. She was on fire to learn guitar. When she got home, she expanded on the tab method her guitar teacher had shown her. Hours were spent learning chords for songs she wanted to sing by researching guitar tabs on the Internet, figuring out how to play them. She spent years learning songs this way.

Although she had an acoustic guitar, her goal was to learn rock songs and go electric. She was into Led Zeppelin, Jimi Hendrix, Nirvana and Blink 182. The first time she learned the power chords to a Lenny Kravitz song she thought, "This is amazing!"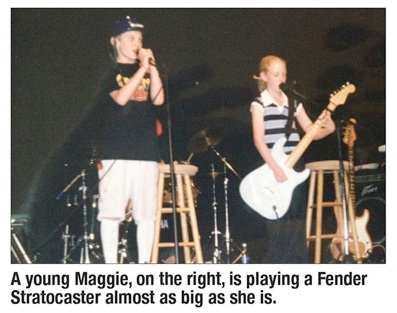 Maggie's dad was happy that she was playing acoustic, and wasn't thrilled that her goal was to play rock. He resisted the idea that his daughter might become a punk rocker. In 2001, Maggie was 11 going on 12 when, with her own allowance, she bought the Fender Stratocaster that she still occasionally plays. Initially, she'd crank the sound up on a little amp, playing "awful music" in her bedroom. Her first performance was in sixth grade in a school function called "The Extreme Concert," a faculty showcase she was allowed to enter.
Maggie was in chorus, but switched her energies to forming rock bands when she was still in middle school. She'd coax boys into being members of her bands, selecting roles for them ("OK, Brian, you're gonna play drums…"), regardless of their lack of experience. In high school, tired of wrangling other students into supporting her, she returned to acoustic guitar and performed with two friends as an acoustic trio.

While experimenting with rock, she'd gotten a friend to record her in a band setting. She hated the results and invested in an MBox, a portable computer recording interface (with mic and instrument ports) for computers. Using her acoustic guitar, she began making her own digital recordings of songs using Pro Tools software. At some point in high school, the computer crashed, taking hundreds of hours of recordings with it. Nevertheless, she continued writing and performing at a lot of fundraisers, open mics, showcases and other school events.

The College Crucible

Hannah and Maggie both attended Smith College in Northampton, Mass.

Although Hannah earned a degree in American Studies with a focus on Race and Ethnicity and Maggie in Comparative Literature with a focus on English and Spanish Literature, it would be music that defined their path going forward. Hannah was one year ahead of Maggie, but their approaches to music were nearly parallel.

The house to which Hannah was assigned was an old, Victorian-style residence (the oldest on campus) that, at 50 coeds, was smaller than most. It had a odd, funky configuration of rooms that fostered a close-knit community vibe. There was a large living room where everyone would gather together at teatime once a week on Fridays. When Hannah had settled in, she wanted to replicate the coffeehouses she'd experienced in high school, so she offered to organize a coffeehouse event at teatime one Friday per month. It was an outlet for all kinds of creative energy.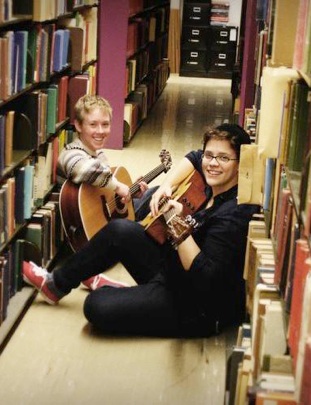 There was a broad range of types of performance, ranging from poetry and music (Hannah would sing and play guitar) to displays of visual art or even hair styling. Hannah ran the coffeehouse events each month with few exceptions, and with even more regularity when she was house president in her junior and senior years.
Hannah was a member of the a capella group, the Smith College Smiffenpoofs. Maggie joined the group in her freshman year and that's where she met Hannah.

The residence that Maggie lived in was bigger — around 100 students. She quickly became active in seeking out other musically inclined students. She'd roam the halls, listening for good voices singing, perhaps idly, that she might recruit for the a capella group. Maybe they'd be playing a guitar or ukulele and she'd invite them to jam with her. There was a large living room in this residence as well and it lent itself to performing. Maggie quickly seized the opportunity to organize her own "unplugged" coffeehouse events. She'd invite three or four others to perform with her. She held four or five of these over the course of her time at Smith. Having gotten acquainted with Hannah in the Smiffenpoofs, Maggie had watched YouTube videos of her playing acoustic guitar and singing, so she invited Hannah  to perform at her coffeehouse. Hannah's performance at Maggie's residence would be the first time either witnessed the other playing live. Hannah was impressed to see how Maggie, a freshman, could organize an event like this.

Hannah returned the favor and invited Maggie to her monthly teatime event. So Maggie visited Hannah regularly at Hannah's campus residence and found the vibe relaxed and inviting, more so than her own residence. She felt honored to be included.

At some point they harmonized on one another's songs and some friends suggested that they sing together. They agreed, but it was a while before the idea became a reality. Toward the end of Maggie's freshman year, there was an event where graduating seniors were given a send-off banquet. Maggie sang a song she'd written, "The Land & The Sea." The sentiment reached home for many: I am the land you are the sea / And I'd walk a thousand miles / To the coast so we could meet. Hannah, visibly moved, thought, "Wow, this girl knows what she's doing." The song is on their first album and Hannah stated that it has been a fan favorite and has won two songwriting awards.

The Career, Off and Running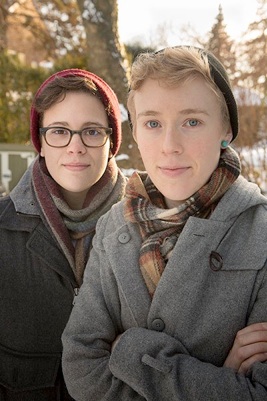 In 2010, Hannah's junior year, they sat down to play music together working on covers and originals. They entered the Lilith Fair Local Talent Search songwriting contest and wrote and recorded their first song, "Things We'll Never Know." The lyrics show a fearless eloquence:
Like a song that I used to play / I'd forgotten until today / There's no wishing this away  … And we're scared that it's gonna hurt / But I think that I know the words / And I know that I wrote them first … For you
. They won the popular vote but the judges gave the grand prize of opening the N.Y. date on the Lilith Fair Tour. They were upset but not discouraged and committed wholeheartedly to continue playing together.
The following year, after playing informally at college and around town, they recorded their debut album, Fine Being Here, which included both "The Land & The Sea" and "Things We'll Never Know."

Hannah graduated  in 2011 and moved to New York City, with Maggie still having one year left. At the end of the summer they completed a two-week Northeast tour, their first extended travel on the road. Later, in December, they opened for Dar Williams, an inspirational figure and thus, for them, their most notable performance to date.

In January of 2012, they recorded their second album, the aforementioned Muscle & Bone, and  released it in May. After Maggie graduated they embarked on their first national tour, jumping from Portland, Maine to Nashville to Salt Lake City. The next few months were spent playing locally, for the most part. They later signed a record contract with Purebred Records of New Haven, CT. The duo won the 2012 CT Folk Festival (New Haven) songwriting contest. This past summer, I attended the 2013 CT Folk Festival and saw them perform and introduce new contestants for the songwriting competition. This past year also saw them begin recording their third album,  In the Company of Strangers, their first with Purebred.

Acoustic Live is proud to feature Hannah Hickok and Maggie Kraus. We were thrilled to include them in our late-night guerrilla showcase at the 2013 Northeast Regional Folk Alliance Conference and we're eager to help them promote their new album. We hope to introduce new listeners to their earlier albums as well. We recommend a visit to their website, where their blog will provide more insight into their gentle, quirky humor as well as photographic glimpses of their adventures on tour. If they're playing close by, don't miss a chance to see them live. As stated on their website: "For all those interested in making your ears happy, look no further."

Website: www.hannahandmaggie.com

Upcoming performances include:

Feb 20   9:30pm The Bitter End, N.Y.C.

21   10pm lron Horse Music Hall, Northampton, Mass.

23   2:30pm Heights House Concerts, Jersey City, N.J.

Mar 1   8pm Union Hall, Brooklyn, N.Y.

22   6pm Seafood Shack, Rehoboth Beach, Del.

30   7:30pm The Burren, Somerville, Mass.

Apr 8  7pm John Platt's On Your Radar Series, Rockwood Music Hall, N.Y.C.