Tim O'Brien

Ambassador from Cornbread Nation

by Richard Cuccaro

In 1967, a cyclone of a film about a couple of bank robbers called "Bonnie and Clyde" blew through America, then worldwide. Its sound-track was a key element, particularly when law enforcement gave chase to the lead characters down rutted country roads. "Foggy Mountain Breakdown" by Lester Flatt and Earl Scruggs sent an electric current through the chase scenes. Most of the sleeping world at large startled awake to its firsttaste of bluegrass. Soon, every half-ass banjo picker wanted to mimic the sound of Earl Scruggs' banjo and that particular tune. It was rare that any of them got it right, but we all

understood that, like the rest of us, they were just getting with the program. One pundit described bluegrass as "folk music in overdrive."

One of today's bluegrass superstars didn't receive any sudden awakening. When a gifted player is propelled by an unrelenting drive, a virtuoso evolves. Tim O'Brien is one of that kind. His rise into the pantheon of major players began, in his pre-teen years, as a gradual immersion into a blend of country, rock and folk styles. His connection to the bedrock of American grit is also a factor. When he sings about the folks who built this country, those songs consistently achieve a majesty.

The Interview

I had just one shot to learn how this came about. The deal was this: I'd leave my 9-to-5 at quitting time and, from midtown west, get to Tim's hotel across town at 2nd Avenue and 42nd Street, to meet with Tim and his manager, Brad Hunt, then get an interview in the car on the way to that night's gig at the Rubin Museum performance space. The Rubin hosts the unamplified "Naked Soul," one of several series promoted by Music Without Borders by its presenter Steve Lurie.

I got to the hotel a few minutes late, and after a short wait, on a hunch, went outside and there they both were, in Brad's car, waiting for me to show up. I hopped in, got the brief explanation over with, and both the car and the digital recorder started rolling. A couple of rush-hour traffic bottlenecks aside, we moved across and downtown very quickly, to the Rubin, at 7th Avenue and 17th Street. A 20-minute stretch of audio file was now a Tim O'Brien musical bio roadmap.

The Juice

Just before the concert began, I would find out the kind of "juice" Tim has. We found our press reserve seats at third row left and settled in. A few minutes later, we turned when we heard the voice of banjo master (and Bela Fleck influence) Tony Trischka. He was entering the row behind us and offering his latest CD to someone, admonishing jokingly, "Don't listen to it here." Swiveling around a bit more we saw the recipient: actor/comedian/avid, long-time banjo picker Steve Martin. Yes, that Steve Martin. We turned to say hello and offer a copy of Acoustic Live, suggesting (far-fetchedly - is that a word?) that we get together for a chat about a feature article (hey, nothing ventured, nothing gained). Steve asked about our on-line availability, then raved about Tim:

"This guy is the best!" A bunch of seats over, in the same row as Tony and Steve, sat Chris Thile, formerly of Nickel Creek, now of The Punch Brothers. We'd seen Chris and the Punch Brothers the night before at the Living Room. Eye-poppingly brilliant. Chris won a national mandolin title when he was 12 years old, so it's no small deal to have him as part of your audience. We then overheard Steve ask Tony about having a visit with Tim after the show, feigning trepidation about Tim's being "really evil and bad-tempered." Its obvious silliness was a testament to Tim's very laid-back, humor-laden stage presence and generally amiable persona.

The Concert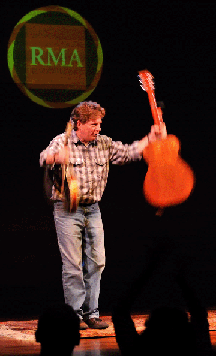 Photos: Michael Seto

Tim carried three instruments onstage: a guitar, a mandolin, and a fiddle. His banjo and bouzouki, both long-necked, remained at home. A flight to Europe would follow almost immediately after the show. All five instruments would be difficult to handle and the two longer-necked instruments would be much better (airline baggage-handling reputations duly noted) left at home.

He started the show with a taste of laid-back humor,stating, as a solo act, "I get to use the whole stage, "strolling over and leaning on a column at stage right, "Like Gene Kelly on a lampost" [perhaps a bluegrass version of "Singin' in the Rain?"] The first few numbers were on mandolin. After asking if the audience wanted a happy or sad number, he decided that the applause was "more enthusiastic," for "sad." He launched into "Buffalo Skinners" (a guitar piece on his Fiddler's Green album) a cautionary tale with enough violent imagery for a Sam Peckinpah movie. He followed that up with a fast-paced cover of Dylan's "When I Paint My Masterpiece," blistering the fretboard.

A sprightly ragtime instrumental then kept the lighthearted mood afloat. At this point, it was time for a characteristic O'Brien pun: "What did Little Miss Muffett and Saddam Hussein have in common? 

They both had Kurds in their way." Nary a single groan was heard. The audience lapped it up (the way they do everywhere).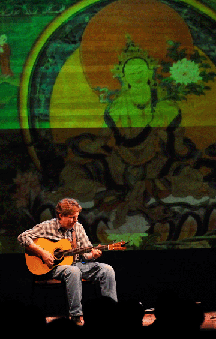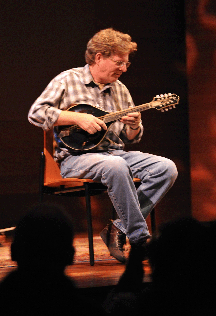 Photos: Michael Seto

Following some great songs on guitar, our favorite being "Brother Wind," he asked the audience how they liked his wardrobe, then commented from a review describing himself: "…a distracted professorial look, slightly overweight, in ill-fitting jeans." He then wryly added, "basically… I've worked on that."

He followed the guitar portion with some pieces on the fiddle, starting with the exquisite gospel number, "Working on a Building." Played with his nimble virtuosity on the instrument, the tune was in harmony with his voice, a strong, high lonesome tenor.

That instrument has won for him the Male Vocalist of the Year award in 1993 and 2006 from the International Bluegrass Music Association."Wayfaring Stranger" followed, and again, the fiddle was in harmony with the vocal. He then switched back to the guitar, and  following some shouted out requests, put on a flat-picking clinic as he sang "Pretty Fair Maid In the Garden." Tim  again switched back to the mandolin for his encore but not before reminding the audience, "I have some CDs for sale…

I lost a… I think it was a… $100 bill in one of 'em… Finishing up with a mandolin instrumental, he left the audience with a final benediction: "And remember… bluegrass is a whole lot better than it sounds." A perfect evening of virtuosity and down-to-earth communal sharing had concluded.

How it all got started Tim said that the thing that really got it going for him in the beginning, at 12 years old, was hearing The Beatles and Peter Paul and Mary. His sister, Mollie, who was almost two years older than him and knew

more about music, having played thepiano, was his first collaborator. She was the one who explained to him what Bob Dylan was about. They both took up guitar at about the same time. When Tim wanted to play and sing harmony with someone, it was Mollie, "just down the hall" that he turned to. He first learned some chords with her help. Then, he got into garage band stuff with otherkids, "crappy rock bands in the basement, playing Sears guitars… Somebody said, 'here's how you play [the heavy-twanged theme song to late 50's TVshow] 'Peter Gunn'… Everybody learned that first, and then, C-F-G, and then, go from there…"

He then took lessons to learn in a formal fashion. One was a classmate of Mollie's who knew Peter, Paul and Mary material and the finger-picking patterns. Another friend played the 5-string banjo and knew Flatt and Scruggs licks. By the time he was 15-16, he'd started to get into some bluegrass stuff. There was a crowd playing bluegrass and he started to get into that. Although he'd sit in with some rock bands, there wasn't any regular "scene." More to the point, there was no venue for an under-age kid to play for people.

While a significant number of songs in Tim's repertoire are bluegrass gospel, generally considered Protestant in origin, the Catholic Church had a great deal to do with his early experience. A big chunk of practical experience came from playing in the folk mass. He describes it this way: "Around the time I was 12-and-a -half years old, I played at Roman Catholic folk masses. At first there would be about five or more of us sitting in the front pews playing guitars. There was a new young priest who was musical and directed

us. A few years later, the other guitarists dropped out, and it was just me. I started singing and leading from the lectern. I did that through at least the first two years of high school. The same priest was into theater too, and he and one of the moms of one of the guitarists who had dropped out wrote song

lyrics for the folk mass songs, using scripture as the basis. Since I was the best guitarist, they'd have me write music to the lyrics the mom wrote. Then they later did these musical plays where they wrote the plot and songs. I don't remember writing music for those plays, but I did play in the band for some of the plays, as well as act and sing in them. All in all it was fairly easygoing and a quickly rewarding way to learn how to be on stage and how to write… Low stakes."

He'd also go to the Catholic Youth Organization (CYO) facility, which had a coffeehouse, and perform "just for the fun of it." While others played games or socialized, he'd play, essentially busking -- without the money.A primary source of inspiration and exposure to excellence came from attending the Saturday night Jamboree at the Capitol Theatre in downtown Wheeling. He started going at around 14 years of age and  got to "see real [bluegrass] pros playing." At first, characterizing it in retrospect as "weird," he'd go by himself. His mom or dad or Mollie would drop him off and then pick him up later at 11pm. For $2.50, he could get a seat in the far balcony. Then later at around 16 years old,, he'd "drag" his girlfriend along. While Tim was still in high school, he and Mollie teamed up and played gigs at a bar in a ski resort in Pennsylvania. "We were way under age," he says. She was 16 years old and he was 14. She said she was 20 and Tim said he was 16. He alluded to its sometimes lurid quality and said "we got our eyes opened a couple of different ways in that bar." It was worth it, though --  they got free lift tickets. "You got paid and you got to go skiing," he says.

College, Briefly

At Colby College, in Maine, Tim ostensibly was majoring in English, but not enjoying it. What was important was the music he got to play. There was a coffeehouse scene, and, it happened that on the floor of the dorm he was

living in there were two roommates who played guitar and bass. He and the guitarist were getting into Doc Watson. They'd get together in the stairwell and play for fun. Tim was then invited to fill a slot when the guitarist in a band,

The Northern Valley Boys, left for some reason. However, at the beginning of his sophomore year, he returned to Colby to find that the band had found someone else to play that slot. Since playing in the band had meant more

than his college [non-] education, Tim decided it was time to leave.

From Wheeling to Boulder

Back in Wheeling, still not sure about a career as a musician, he decided he'd take up instrument-making. He built a banjo using a kit from Stewart. At around this time, Tim's aunt offered him a violin that had been lying around, saying maybe he'd like to play it. He thought, OK, "maybe." The "maybe" turned into "definitely." A rock band he was sitting in with was starting to include some country-rock numbers, and he worked the fiddle in on those.

An important factor was be his desire, as he told me, "to fit in, to do something of value." He noticed that there were guitar players everywhere, so he pitched in where he could on other instruments, always looking to "expand the palette." He told me, "I'd play the bass if somebody else wasn't playing the bass. I didn't want to have to carry the drums around, so I didn't go.

"Also around this time, he  met an instrument repairman who lived and worked in Boulder, Colorado who said, "We've got a music store and a bluegrass band. You can work in the store and play in the band." Tim liked the idea, but there were a couple of other stops that intervened. He was just about 20 year old. After a couple of months, he earned enough money to buy a car and drive out to Jackson Hole in Wyoming to spend the winter "as a ski bum," playing music at ski lodges. During the winter, he spent a week in Boulder and met more people who were eager tos ee him relocate there. Then, the following summer, a friend set up some gigs in Chicago at the venues Earl of Old Town and Somebody Else's Troubles. He did well

and this convinced him that if he could play in Chicago, he could survive as a musician. He got to Boulder, Colorado in the fall and began working in the music store, giving lessons and playing in the bluegrass band, Town and County Revue. After a while, he joined another group, the Ophelia Swing Band, and quit the music store to play full time.

Hot Rize and Red Knuckles

The group Hot Rize, one of the most popular bands in the history of bluegrass, brought Tim to national prominence.

After about 3 years in Boulder, Tim had relocated to Minneapolis with his girlfriend Kim (later, his wife) where she was attending art school. In late 1977, banjoist Pete Wernick, with whom he'd collaborated on a recording, called from Boulder to ask about starting a band. Both Tim and Kim were ready to relocate back to Boulder, and this made it possible. Guitarist Charles Sawtelle had also helped both Pete and Tim and was included. Charles started out playing bass, but when Mike Scap, the original guitarist left after a couple of months, Charles switched to guitar and Nick Forster came in to play bass. Tim sang lead and harmony vocals, and played mandolin and. This

became the final lineup of the band which lasted for 12 years. Tim said it "was like going to college. A couple of those guys had done this a lot more than I had. I learned from all those guys. We kind of grew into one another." Their original intent was just to play a couple of festivals, but the gigs kept coming.

They made a record and it got airplay on NPR. This gave the group national exposure. It kept going from there. An interesting sidelight was the in which the band would swap instruments and dress up as an imaginary Western swing band and call themselves " Red Knuckles and the Trailblazers"(Tim, of course, was "Red") They combined virtuosity with zaniness and became a popular adjunct to Hot Rize.


Members of Hot Rize as "Red Knuckles and the Trailblazers"

They made 7 albums as Hot Rize and 3 as Red Knuckles.

After 12 years, the members of Hot Rize parted amicably to follow solo careers. They would reunite frequently. When Charles Sawtelle passed away in 1999, other players filled in for Charles for later reunions. Later, Tim would successfully team up and make albums with Nashville ace Darrell Scott and also with his sister Mollie. To date, there are somewhere near 30 albums between Hot Rize, Red Knuckles, Tim and Mollie and Tim, solo. In addition, there are special project albums, some for charity, which number about 6, if one were to count the Wells For Zoe: Water For Life CD on which Tim is on

2 tracks. I had a couple of Tim's CDs before I began to learn more about him. Thanks to digital downloading, I have about 8 more. It's hard to stop. They're addicting. Tim is returning from a European tour late this month. His U.S. dates don't show anything in the Northeast, but for the time being, get some of those CDs.

You won't regret it.

web site: www.timobrien.net