2008 NERFA

(Northeast Regional Folk Alliance) Conference Scrapbook  

The NERFA Conference Gets a New Home!

by Richard Cuccaro


The spectacular vista from the third floor landing window
West of New Paltz, over a mountain road with hairpin turns, sits the Hudson Valley Resort in the town of Kerhonkson. It was foggy as we made our way up the side of the mountain. In fact, I wasn't sure if it was fog, or a low lying cloud. We came through with no problem, but later I heard someone say that as they probed through the mist, they were suddenly facing the concrete wall at the first hairpin turn. Yikes! The hotel itself was a big step up for the conference. All events were within close proximity to the spacious lobby. The lobby and everything else in general was more attractive than Kutsher's. While the rooms were a little smaller and the hallways narrower, everything still worked out, and everyone we talked to seemed to have had the best time ever.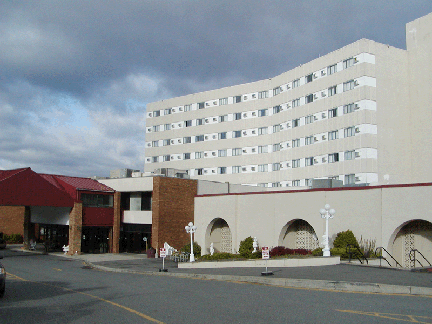 Hudson Vally Resort, Kerhonkson, New York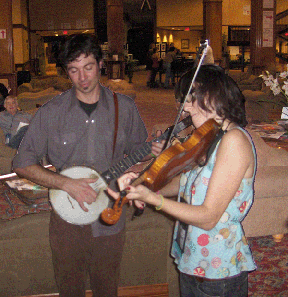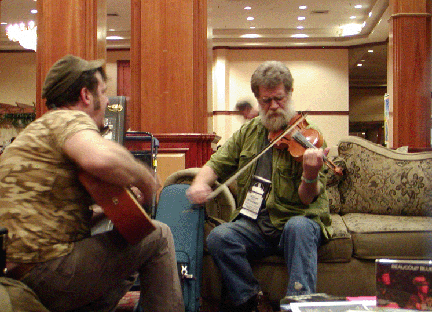 We don't know all the folks who gathered to jam in the lobby, but, above right, you can see Rick Snyder on guitar and Bill Wisnowski (My Dad's Truck) on fiddle. Below, in the print shirt leaning on the piano, waiting to find out what the words are, is Steve Kirkman (Hope Machine), singer/songwriter, sideman extraordinaire.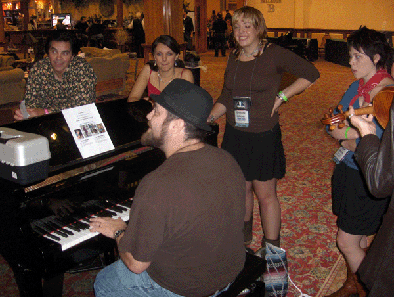 The Formal Showcases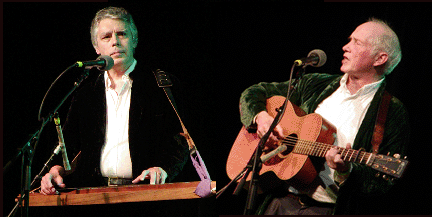 The Folk Brothers, David Massengill and Jack Hardy showed how clever

songwriting can be. We got a charge out of Jack's "I Oughta Know

(But I Don't)" as an accurate assessment of Sarah Palin.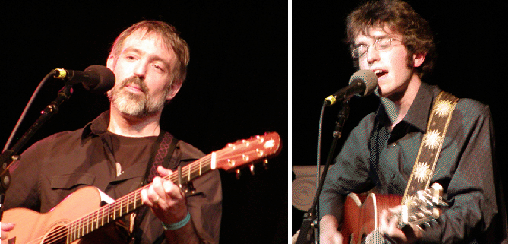 Chuck Brodsky, no stranger to political         Anthony DaCosta made his third year at NERFA

and social  content was eagerly greeted       memorable by attaining the formal showcases for

by all of us who stray to the left of                 the first time. He's just 17 and not yet out of high

center with him.                                             school, He loves a good jam, so we hope to see him

                                                                      here many more times.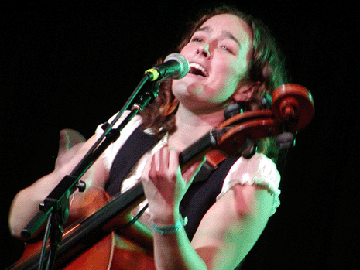 Lindsay Mac shows her signature style, playing the cello like a guitar.

As she's classically trained, it goes beyond mere gimmickry.

Lindsay blew us away and has agreed to be our feature for January.

Tricentric Showcases


The Creeking Tree was one of the big discoveries    Blue Moose and the Unbuttoned Zippers, a
of this year's NERFA. A bunch of Canadians             string band out of Boston

with monster chops. So what else is new?                 seems to have its finger on the pulse of

                                                                                    a newer generation of folkies.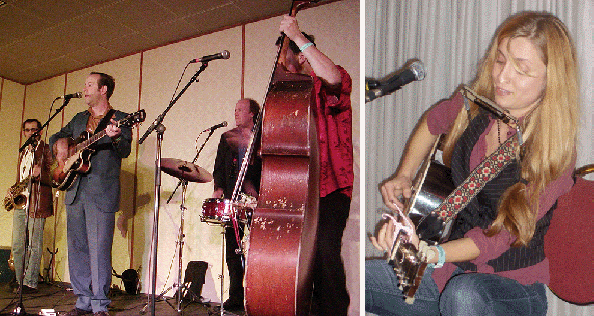 After years of seeing The Grandsons entertaining             Danielle Miraglia was dazzling in both
cenference attendees in the hallways of Kutsher's,            appearance and in talent. You might say

it was nice to see them getting more recognition.               she does "the blues, and beyond."

We applaud their ability to channel both Bill

Monroe and Bill Haley.

Our Guerilla Showcases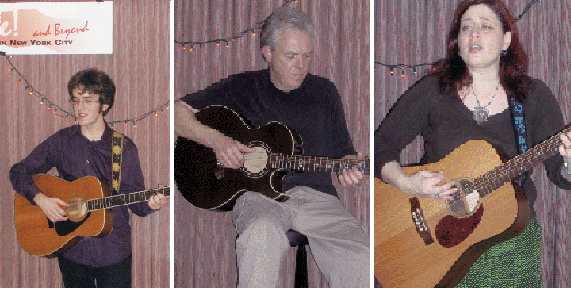 Just because Anthony DaCosta    Angelo M made our jaws    Meg Braun has been on the New York

got himself a formals showcase,   drop when he sat down       scene for a bunch  of years now, and

it didn't stop him from playing       and blistered the frets.         it's time for her to make that big move!

our guerilla showcase as well!      He did a tricentric

                                                      showcase also and

                                                      we talked him up non-stop

                                                      during the conference.

                                                      Look for a feature

                                                      on this guy soon!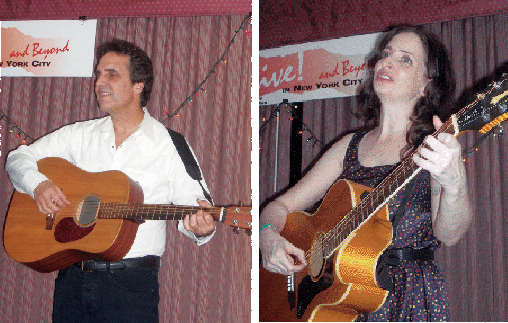 Rich Deans penned Pat Wictor's                   Lara Ewen caught our ear with her

signature song "Don't Dig My                        Myspace offerings, then backed it

Grave Too Deep." In our guerilla                   up in our showcase.

showcase he showed us that

he's got more where that came from.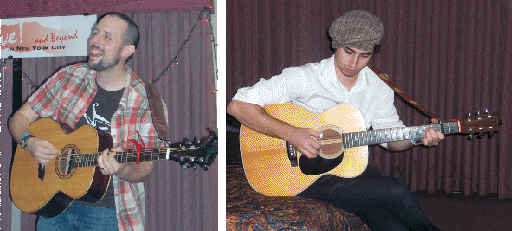 Phil Henry, one of Falcon Ridge      Long Island "Blues Boy," Phil Minissale

Folk Festival's stalwart                     played our showcase for the 2nd year in a row.

volunteers every year, was

in our booth singing when

"The Tornado" struck

the festival this year.

We didn't blame him,

though. He sang us

through it and we love

the sound of that voice!

We expect big things

from this guy!

Our "Man on the Street"

Q: How did you like the new facility…  the conference in general?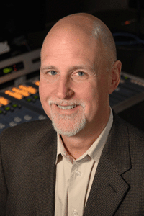 A: I found the Hudson Valley Resort both flexible and welcoming.

I liked the main showroom and the Empire Lounge as performance venues.

One of the tri-centric rooms was a little small and some of the rooms for

guerilla showcases seemed smaller, but overall seemed adequate.

The clusters of sofas in HVR's lobby - and the baby grand piano! -

lent themselves to impromptu jams. And the food was actually pretty good. 

        -- John Platt, WFUV-FM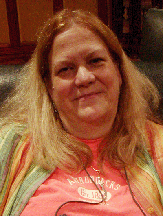 A: I've been presenting showcases regularly at Folk Alliance Memphis,

so this the first time I've been to NERFA, here…  

I found that the exhibit hall was really useful. The schedules and

the interchanges and way things worked were just a whole lot more fun,

relaxed and interesting. Programming this was a lot easier for me than s

ome of the things that I do in other situations. So, I've had a ball!

     -- Nancy Emrich, Lilfest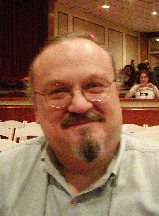 A: It met all of our expectations. The rooms were laid out nice.

The stage is perfect -- it's a nice listening room [the formal showcase

theater] I think it's really going to help keep NERFA

going for years to come. All in all, it's a perfect venue for us.

      --Ron Olesko, WFDU-FM

The Great 2008 NERFA CD Haul -- Reviews

Richard Cuccaro

Lara Ewen - Ghosts and Gasoline

Lara Ewen's voice has a delicacy, like fine china. Her way with a melody is worldly-wise.

The songs have a tendency to draw the listener in before knowing what they're about.

What they're about is, intensely personal aspects of her life. And she knows how to present

them emphatically, albeit in a low-key manner. Before I found a spot for her in our

guerilla showcases, I visited her Myspace page. Along with a few others, I listened to her

road song "Manhattan/Kansas." It was so addicting, I probably played it about five times

in succession. That sealed the deal. She was a welcome addition to our showcase line-up

and this album is a welcome addition to our collection.

Angelo M - Far from Home

It wasn't until we got home and popped the CD into the computer and saw the name

"Melasecca" pop up in iTunes that we knew what the "M" stood for. Maybe Angelo

figured the name was too ethnic to use in the "folk biz." It really isn't. The "M" could've

stood for "magic," though. What happens when he straps on the guitar transcends any name.

This blues picker is going to put a lot of fannies of the seats in a lot of coffee houses here

in the Northeast. He came into our guerilla showcase room a complete unknown in these parts.

The room was empty, and he hit the strings flying. After I picked my jaw up off the floor,

I asked him, "Does Jorma Kaukonen know about you?" I figured that Angelo could pick up

some spare change teaching at Jorma's Fur Peace Ranch. He has a two-pack-a-day voice that

goes nicely with his in-depth blues picking (if our description is more than figurative, we hope

he's kicked the habit).  His song "Thirty Years," describes how the steel mill he was working

in shut down and forced him out of what sounds like a comfortable coffin and into a life as a

guitar picker.  "I was doin' all right, doin it all wrong. I was doin' it all… thirty years too long."

He overdubs himself on this CD on mandolin, harmonica, Dobro, bass and acoustic guitar.

Quite the package, quite a discovery. The complete story of his genesis will become more

widely known when we put him on the cover of Acoustic Live. Look for it sometime in 2009.

Jenee Halstead - The River Grace

This is one gorgeous debut CD. Jenee Halstead's voice has a country/folk cutting edge that

slices into you the moment you hear it. Songs with a timeless feel like "Deep Dark Sea"

utilize her sharp tone (yet smooth delivery) to great effect. Judging by the superlatives among

the critical responses on the CD Baby web site, I'm not alone in my assessment. A consummate

writer, her song "Nick Drake," sounds directed at the famous writer and someone else as well.

"How do you put meaning into something that is not there? I'm so lonely now I just don't care."

I don't recall seeing other songs in tribute to this late, great songwriter. It's a stroke of genius to

use a style that reflects Drake and use him in the title. This one is definitely iPod bound.

Ben Sures - Field Guide to Loneliness

The title had me worried that I would be listening to a long-winded paean to self-pity. Not even close.

It took me a little while to warm up to this one, but Ben eventually got his hooks into me. The CD

is very eclectic and very creative. Out on the edge are two tracks, "Used to Have a Raygun,"

with sound effects, and "Drunk and in My Kitchen." The latter is a short track, with a sound like

a static-y reception heard from a distant station on an old car radio. "I wish I were like Jody, drunk

and in my kitchen." Sounds like a good time to me. I went looking online for lyrics but came up empty.

This is one guy who piques a desire for understanding. His voice is compared to Paul Simon, but I

heard another similarity.  His low-key, relaxed vocals had me thinking, "If Josh Rouse can make it big, then this guy has a hell of shot."

Robert Bobby - Meet Robert Bobby

This CD is a compilation of three older CDs. I kept seeing Robert's name on the NERFA listserve,

but never had the opportunity to hear him play. I was suspicious that his name was a cheesy Dylan cop.

Upon listening, those doubts faded quickly. He's fun to listen to. His voice does happen to fall somewhere (pleasantly) between early Dylan and the John Wesley Harding version.  A former regionally (Pennsylvania) known rocker, his lyric talent isn't necessarily going to blow people away. However, he's got both sensitivity and humor in abundance. Most of this has a nice, bluegrassy feel. Lots of Dobro, some banjo, nice wooden music. We like "Christmas Puppies" -- "stuffin' their tummies and peein' on the floor, that's what Christmas puppies are for…" and "Naked On The Internet"  "They say there's still some out there, but I haven't met one yet. That's a girl that ain't been naked on the internet." The smile on my face lasted quite a while. His cry of social protest from 2000, "9 Votes Counted" gets it done plain and simple… "They stole your voice and mine when only 9 votes counted." No poetry needed here. The simplicity is eloquence enough. Nice to meet you, Mr. Bobby.

Danielle Miraglia - Nothing Romantic

Danielle is a accomplished singer/songwriter with major strength in the blues. With her whiskey alto and good looks, we expected to see some time spent as a lead singer for a band. When we checked her on-line bio, but didn't find anything there. What we did see at NERFA was a solo performer -- a solid fingerpicker with a jackhammer thumb on the bass strings. She's a Mississippi John Hurt acolyte and it shows on the first track, "Snow Globe." The lyrics appear to aim some well-deserved pointed barbs at those who would live in a cocoon or "snow globe," ignoring these troubled times. In another composition, "Cry," we get more fast-rolling fingerstyle work. Here, Danielle seems to be channeling her early struggles to break free of dependency.

She empathizes with a sense of helplessness -- first, using an infant/small child "When I cry out loud, you pat my back and cradle me face down, I spit up and make those colors run, you spank me in front of everyone, and say 'if you don't like it then get out.'" Then there's a striving toward eventual self-sufficiency -- "I'll buy some land and build myself a house." She seems to be well on her way. We'll be watching for more from this strong performer.

Teresa Storch - Stream of Concrete

This is a heavily produced CD that's filled with the joyousness of life's discovery. Teresa has a big voice and it stands up well to horns, drums, organ, etc. Some it we've heard before: "Because we almost had it all, we almost had a good one…" ("Bullet Proof Vest"). The scenery is familiar, but it sounds so good, I don't mind going along for the ride.

Joe Iadanza -  Traveling Salesman

Take one part James Taylor, add some John Prine, throw in a dollop of Harry Chapin, and you have the voice of Joe Iadanza. Joe brings a fresh perspective as well, to the storytelling prowess of all three of the aforementioned singer/songwriters. "Lovers in the Park" is a fast-breaking  rush of observational cleverness, "

…taking photoraphs for when they are apart / Like flowers in the rain, keeping tightly cupped until they're free again…" The background vocals by Gathering Time (the depth of talent on Long Island can be staggering) are especially effective here. The outro has the group doing call and response with "Lovers in the park, I love…"

It's all absolutely delightful. I missed Joe at NERFA and hope I get a chance to see him in a live performance soon.

Loretta Hagen - Sundown Till Dawn

2008 has been good to Loretta Hagen. Twelve self-penned songs for that big, Nashville-style voice to ride on. Many songs are inspirational and seem directed inward for the singer as well as for the listener. Some, like "Mirror, Mirror," are so brilliantly conceived lyrically, they seemed destined for one of the Nashville biggies to pick up and have a monster hit. "Mirror, mirror, can you bring love back, mirror, mirror, try / Layered teardrops blur my reflection, mirror, mirror, lie." Of course, if justice prevails, and the buying public will take to a li'l ol' gal from New Jersey, Loretta will have the big hit (or two) herself.

Jenny Goodspeed - Under the Ash Tree

Once I looked at the credits on the CD liner, I was no longer surprised at the aural excellence surrounding Jenny Goodspeed's perfectly shaped, passionate vocals. Signature Records -- Always quality. There's Jim Henry and Duke Levine on guitars. Beth Amsel on backup vocal, Seth Glier on keyboards. There's a solidity to Goodspeed's lyrical poetry and more than a little bit of Joni Mitchell in her voice as she sings: "And the tide rolls in / Whether or not I see you again / And the salt green gray / Comes right to my doorstep then / follows the moon back to the sea / With or without me." What a pleasure. What a great find.

Gathering Time - Songs of Hope and Freedom

Gathering Time is a trio of singer/songwriters comprised of Glen Roethel, Hilary Foxsong and Stuart Markus whose paths crossed in a serendipitous fashion when each found out how well their voices blended with the others. The comparison that jumps out at this listener is their sonic resemblance to Peter, Paul and Mary. The selection of songs and the way they sing them fuels this impression. The cover of "Light a Candle" by Peter Yarrow is one example.

"Crazy Horse," by Fast Folk stalwart Josh Joffen has a 60's feel in its remembrance of a lost heroic figure. Each of the three singers has a solid, smooth delivery so necessary for songs that seek to buoy the spirit. However, when Hilary takes the lead and Glen and Stuart sing backup, there's an exceptional power in the presentation. Although there's a similarity to Mary Travers, Hilary's voice is more rounded in tone. While all songs are keepers, some favorites would have to include "Crusader" by Foxsong, the album title track by Markus and "I Must Go" by Roethel.

The future looks bright for Gathering Time.

Seth Glier - The Trouble with People

While there is some resistance for this guitar-centric reviewer to songwriters whose main instrument is the piano, there have to be exceptions. (hello-o… Randy Newman?). Seth Glier easily makes the exceptions list. With a light, feather-like vocal delivery, sharp observational lyricism and hooks that would grab Moby Dick, he's a formidable talent. In the title track, he sings, "The trouble with people is they drive me nuts / Their feet on the gas and their hands on the clutch / Nobody knows how to take the wheel / It seems the mind has forgotten how the heart can feel." Amen, brother. In

"Kiss & Kill," his voice begins in a barely audible whisper, then shows its power in a crescendo, "Is this what you stay here for / to reassess the score? / The bitterness you held too long / Show me, where did I go wrong?" My eyes getting misty, he's got me and I thank him for it. OK, Seth. You win. But I'm still not buying a piano.

Nathan Rogers - True Stories

Nathan comes to us with an obvious pedigree. His father, Stan was a legend and his uncle Garnet is a staple on the folk circuit. Both are heroes in Canada. So, we wonder if it was at all scary, deciding to go into the family business? No matter. Listen closely and you can hear some of his father's power in his voice and it's apparent that he's inherited the family gene for writing and storytelling.  There's plenty of variety. "Mary's Child" is an immigrant's tragedy. "The Packhorse Blues" is a good-timey shuffle about the vagaries of romance. "Hibbing" is a tale of a life lost to the mines. The album begins with the traditional "Duncan and Brady." It's a great beginning and we know there's going to be a lot more where this came from.

Shannon Lambert-Ryan - Across the Pond

When we first saw Shannon as lead singer for the Guy Mendilow Band, we were unaware of her full capabilities. This CD, with its mostly traditional  songs allows her the full clear soprano range as a singer of historical Irish folk music. We'll put this album alongside our batch of prized Susan McKeown CDs.

Meg Braun - Tomboy Princess

We've heard plenty of disillusionment from singer/songwriters over the years, but there are certain people who make it go down easier. When Meg Braun wraps her big, buttery alto around  the bittersweet lines, "Remember how we used to drive in your daddy's car / for miles and miles, though we never got very far / We'd park and lie outside under the stars / believing, believing, in our dreams…" and "When it's over, you'll know, 'cause you won't miss his voice in the hallway…" we believe everything she says. While the CD ends on a positive note with "After 'Ever After,'" we like the sad, dramatic stuff better.  Her writing keeps getting better and better. Definitely someone to watch.

Markley & Balmer - Markley & Balmer

Somewhere, wherever the musical gods hang out, there is rejoicing. Lisa Markley and Bruce Balmer met each other, fell in love and got married. Lisa is one of the three amazing Malvinas, currently on hiatus (one of them is a new mom, we hear). We knew Bruce as a habitue of the Fast Folk scene, a singer/songwriter and monster guitar player. This was before he moved to Texas and met Lisa. Their self-titled CD is sophisticated and chock full of depth. Most of the songs are by Bruce -- we only noticed two by Lisa. No matter.Their voices blend together like two strains of rich honey. There

are wicked, jazzy guitar riffs by Bruce over their rich harmonies. Bruce's songs tend to be hard-charging, propelled by fast-fretted patterns and jaunty strumming. The witticisms are still there, like we remembered: "My mom and dad were 20th Century / Somehow got by without serious injury…Who's gonna stop you from pretending it's all a carousel? / Tell 'em all 'Go to Hell or high water' / Just do it … kindly." Lisa's are playfully relaxed. She's almost languid as she sings in "Overhand Knot," "Wrap your arms around me / lace your arms around me / tie your arms around me / let your love be an overhead knot."  They have each other. We have the songs and we'll wrap them around us. Often.

The Creeking Tree String Quartet - The Soundtrack (2007), Side Two (2005), The Creeking Tree String Quartet (2002) A short while ago, I read a book called The Bear Comes Home by Rafi Zabor about a talking , sax-playing bear. The poetry in the narrative was so evocative of jazz itself that it awoke in me the desire to once again lose myself in the complexities of my old favorite tracks by Miles Davis, John Coltrane and Cannonball Adderley. Now, thanks to The Creeking Tree, bebop is not necessarily my first alternative when I want to listen to something a bit more complex than my usual singer/songwriter choices. The quartet is comprised of Andrew Collins on mandolin and mandola, Brad Keller on guitar, Brian Kobayakawa on bass and John Showman on violin.These guys have such prodigious chops, they can jump from folk, to bluegrass, to classical, to jazz, sometimes on the same number. One example would be "Phthalo Blue," from their first CD, with its title borrowed from a painter's palette (tres hip, no?) It would not be out of place on any jazz CD.

That's followed by "Zig Zag," a treat for any bluegrass fan. After they appeared in a Friday night tricentric showcase, they were the word(s) on almost everybody's lips. They'll be on our lips and in our ears for some time to come.