Introducing…

Liz Longley

by Richard Cuccaro

The voice soared overhead like a gull caught in an updraft. At times it seemed to hover, held aloft by an unseen fast air current. Then, with breathtaking suddenness it darted upward, taking the hollow in my chest along with it. We were caught off-guard, mesmerized and caught in a thrill. The thrill's name … Liz Longley.

We had rolled into New Bedford, Mass., for the annual Summerfest on Saturday morning, July 2nd, spit out of a twister. Wednesday night, finish the July issue, then get two hours of sleep; Thursday, pedal-to-the-metal from NYC to Fall River, Mass. to check into the hotel, nap, drive halfway up Cape Cod for sightseeing and dinner, back to Fall River; Friday, visit friends in R.I., get dinner in Massachusetts, then head back to the hotel.

By Saturday, I should've been caught up on sleep, but struggled to find the energy for the game of musical chairs at Summerfest. Newly appointed chair police at the main Custom House stage prevented attendees from saving seats for hours at a time.

"Introducing Liz Longley"

Over the weekend, each of seven stages off the cobbled streets of the Whaling Museum district grew packed to overflowing. Seats opened up after each act and the first attendees to dash to freshly vacated chairs near the front became winners.

There was no mad dash for us for the first performance at the small canopied area at the National Park Garden Stage. As usual, we arrived at the festival at about 9:00 am and the first show didn't begin until 11. The chairs were empty and there were no chair police to prevent us from saving a couple of seats for the first act. We got our press badges and scoped the local eateries while we waited. 

That first act was "Introducing Liz Longley." This proved to be a priority-changing event. Liz was scheduled to perform 10 days later on July 12 at the Living Room in New York City's East Village. We'd see her then, of course, since we never miss WFUV DJ John Platt's monthly "On Your Radar" series. Liz happened to be one of the three acts he'd picked for the July show. But we didn't know her, so we figured it would be a good idea to get acquainted before seeing her at the Living Room.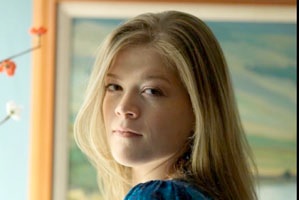 The photograph we found online for our "Radar" July ad showed a drop-dead beautiful face, and we wondered if there was matching talent to back it up.
We didn't wonder long. From the very first notes, it was obvious that we were going to want to see and hear a lot more from this brilliant 23-year-old. Her voice was clear and bell-like and the air shivered with electricity at the sound. Her writing dealt intelligently with stories of romantic collisions. She approached her song introductions with humor, describing one recent bad relationship: "I got five songs out of that guy." Her use of metaphor was razor-sharp. "Bad Habit," a newer composition dealing with that five-song human car wreck, provided a perfect example: I couldn't stand the smell of smoke till he lit that cigarette / I never felt the temptation until I smelled it on his breath / And the night we first kissed on the balcony alone / Well, he tasted like trouble, but he felt like my own / bad habit that I can't be without / Oh, a bad habit, bittersweet on my mouth / We got a long drawn out story I don't want to explain / I picked up a bad habit, and I'll never be the same… [I made a video of the song and uploaded it to YouTube. Given the muffling acoustics of the canopy, the sound wasn't as sharp as I would have liked, but the lyrics grow clearer with each listen and, with every listen, the sound of her voice gives me the same thrill as when I first heard her.]

I had suddenly found the feature for our August issue. I would not be jumping from tent to tent, looking for the best seats, hoping to find something near the front at the big Custom House tent. Instead, I followed Liz from one stage to the next, seeking the best photos and videos of her that I could get (below).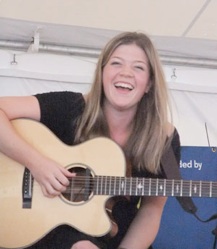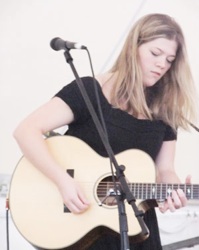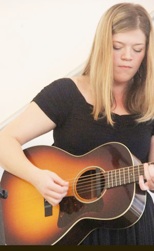 I also managed to squeeze in an on-the-spot interview at a surprisingly subdued side room at the nearby, bustling Celtic Coffeehouse.

We tend to use the term "mind-blowing" a lot on these pages, maybe too much. It's difficult to avoid it when one encounters certain gifted people. Liz's story offers a glimpse into how a set of gifts can blossom in one person.

Beginnings

Liz grew up on the outskirts of Philadelphia. For her first eight years her family lived in West Chester, Pa., then they moved a little further west, to Downingtown. Her earliest memories involve driving around with her father in the family VW convertible with the top down and music blasting from the car stereo. As she states on her Facebook page: "I grew up listening to Joni Mitchell and Karla Bonoff. My dad would drive me around in our noisy pea green Volkswagen buggy with the top rolled down and the music turned up so Joni Mitchell's 'Circle Game' was heard above the hum of the engine."

Her father was a "really good" jazz musician who played saxophone and had his own band. Her mother was an aspiring singer, but lacked the time and opportunity to pursue it as a career. Her parents' taste ran toward singer/songwriter fare, and that's what influenced her most. James Taylor, Karla Bonoff, Joni Mitchell and Sarah McLachlan were among the names she cited.

At age 8, she was given an ultimatum: to choose between softball or piano lessons. After throwing a tantrum, she chose piano. Liz looks strong and moves with grace and probably would've made an excellent athlete. Supremely gifted, she makes an even better musician. She took piano lessons from age 8 to 14 and then started writing her own material. She said, "That's when I got hooked." When she showed a creative musical interest, both parents were "extremely supportive."

The Voice

Blessed with an amazing vocal instrument, her development has been a natural evolution. Although singer/songwriters would influence her style the most, it was jazz that would provide the portal when it came to singing.

Exposure to chorus was minimal in grade school, but when she reached her early teens, she started singing with her dad's jazz group and continued until she was 18. Through her dad, she'd gotten exposure to Ella Fitzgerald and Sarah Vaughan and they were her favorites, the ones she focused on. This might've been the best foundation for a gifted singer.

High School Hurricane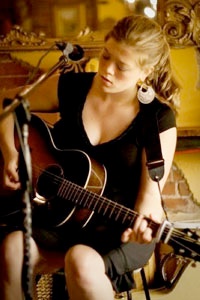 High school proved to be the seeding ground for this musical maelstrom, this force of nature. Music provided a bedrock, but looking at Liz today, you wouldn't guess exactly how. While it did come up in our interview, her Facebook page states it more succinctly: "In high school, I was a marching band nerd. I played clarinet and in my senior year, I was a drum major. When I wasn't on the field, I was writing music (on piano & guitar) and playing shows. I was hooked on music."
Having begun writing on piano, Liz began performing with a friend, Sarah Zimmermann, who provided guitar backup. They performed steadily all through high school on weekends and at various events. Liz's first gig was at her ninth-grade school Spanish teacher's wedding. When she auditioned for chorus in high school, she used an original song. This drew the attention of teachers who began giving support and encouragement. This included a "concert night," wherein the school invited students and parents to come to a performance solely by Liz and Sarah.

Additionally, Liz and Sarah performed at fundraisers, in particular "Relay for Life," held every year to raise money for cancer research. Other events included the high school's talent show and the senior prom, with both girls performing in their prom dresses.

They also played professionally at local Pennsylvania folk landmarks Steel City (Phoenixville) and The Tin Angel (Philadelphia).

Polishing Effect

After high school, Berklee College of Music in Boston was the only college Liz applied to because it offered songwriting as a major. Berklee specifies that an instrument must be designated for study. Liz's instrument was her voice [and how]. This meant that she would receive four semesters of private lessons in voice. Now playing both guitar and piano, her main focus was songwriting and performing. Songwriting classes were like workshops. They'd bring in a song and other students would dissect it, asking questions like why a word was used in a particular place. There were classes where songs by famous writers were analyzed, and Liz loved it all, soaking up every learning opportunity that came her way.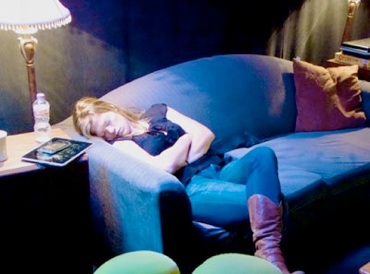 Liz graduated from Berklee in 2010 and went straight out on the road. Her dad told her, "If you're going to learn to have a career as a musician, you'd better start now." Actually, performing after college was a continuation of what she'd been doing since high school and during her four years at Berklee. "Almost every weekend I was on the road. I was flying back home to do shows … I never stopped."
The Recordings

All three albums to date were recorded in MorningStar Studio in Spring City, Pa. Liz said that she entrusted major decisions in the studio to producer Glen Barrett and enlisted feedback from her parents to help her decide what, in the end, would be the right sound for her on each track.

Her first album, done in high school, was called Take Me Down. It's the only one I haven't listened to. Her second album, completed while she was at Berklee, is called Somewhere in the Middle. I was surprised that she hadn't sought feedback from anyone at Berklee, but kept to the formula stated above. The first two use a full studio band, complete with drums, bass, lead guitar backup, pedal steel — the works. In contrast, her third album, the latest, Hot Loose Wire, completed right after graduation, is stripped down — just her, solo, with either guitar or piano — pretty much what we see in concert.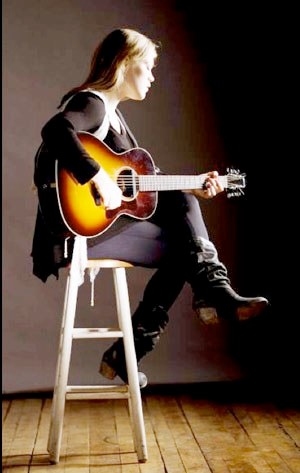 Somewhere in the Middle
provides a glimpse of her maturing process. The songs seem radio-ready, showing a savvy with both lyrics and melody. The lone cover, "People Get Ready," demonstrates a command that allows her to take ownership of the song.
On the first track on Hot Loose Wire, "When You've Got Trouble," we're treated to a ballad with Liz singing over some nifty fingerstyle guitar: Oh my heart is tangled all around you / When you've got trouble I've got trouble too… It would be good fortune to have her as a friend.

She still performs on piano when the opportunity presents itself, and that's illustrated by two slow ballads on this CD where she uses her keyboard skills. These include "Little White House," seemingly a farewell to her childhood, and "Unraveling," another farewell of sorts to her grandmother, suffering from Alzheimer's. There are a couple of covers. One is a version of Joni Mitchell's "River" in which Liz hits some high notes that Joni herself might not be able to handle anymore. The second is Van Morrison's "Moondance," which gives Liz a chance to show off her jazz vocal skills. A bonus track provides a bit of fun — a rap number, "Dough 4 Dough," with Liz as a Girl-Scout-cookie-selling gangsta she calls "Double L from hell." Lately everyone be doubting me and hating on my name / They say I ain't a thug but hell I made up the game / I be reppin' my hood since I was just a child / Selling girl scout cookies like they going outta style … I'm sellin' dough for dough, yo.

I missed my one chance to video this song, but there are other postings on YouTube.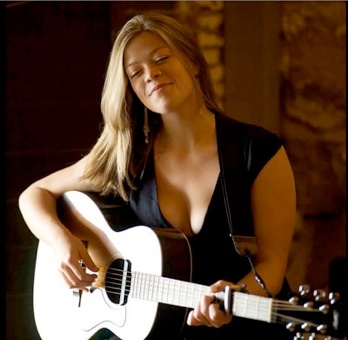 Liz is setting a blistering pace as she grows as a writer. Her live sets have outstripped her recorded work. As accomplished as Hot Loose Wire is, her newer songs heard in concert carry ever more power and bite, as witnessed in the aforementioned "Bad Habit." Another example is "Camaro," in which she likens herself to a vintage car that her boyfriend has dropped for someone else — a "shiny new thing." Once again, her voice drops and soars, flipping into falsetto with ease, her guitar strum churning urgently as she sings:
I'm like his red-hot vintage Camaro / For years I was the only thing he had / We've got two hundred thousand miles of memories / Kissing at stoplights and making love in the back … His fingerprints are all over me … He's holding onto you but he can't let go of me / You're just his shiny new thing  … He jingles his keys and he lets himself in / He turns me on and he revs me up / gets me goin' faster but it ain't fast enough / So he floors the gas and he pops the clutch / and we start spinning out just to feel that rush…
Lucinda Williams, are you listening? Better ramp up the nasty or start covering Liz Longley.

Her upcoming shows don't include anything in the New York metro area, but we're hoping this article will change that. Go, Liz!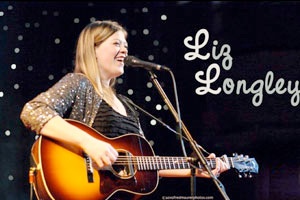 Upcoming Performances include:

Sep 2  8pm Lowell Summer Music Series; Lowell, MA;

           opening for Richard Thompson

9     8pm Palace Theater, Manchester, NH; with Livingston Taylor

10   8pm Driftwood Folk Cafe; Plymouth, MA with Seth Glier

11   Narrows Festival of the ArtsFall River, MA

13   TBA; House Concert; Wayne, PA

14   8pm Burlap and Bean; Newtown Square, PA; Co-bill with Robby Hecht

16   House Concert; Downingtown, PA

17   8pm Concerts at the Crossing; Titusville, NJ with Rebecca Pidgeon

18   Green Fest; Dover, DE

22   8pm College Night @ The Museum of Fine Arts, Boston, MA;

       Free for College Students

23   7pm Show of Hope; Lowell, MA; Benefit Concert for

       Mitochondrial Disease

24   House Concert; North Andover, MA

Website: lizlongley.com