Susan Werner

Oh, Yes, I Can be New

by Richard Cuccaro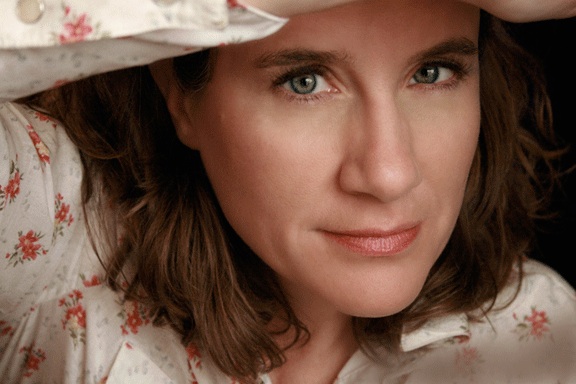 I was driving home from the 2010 Falcon Ridge Folk Festival, the two-lane blacktop of Route 22 South stretching out in front of me. On either side, the stately procession of Queen Anne's lace swayed as I rushed past. I was passing through farmland, marvelling at the quiet beauty of corn rows, of the silos that peeked out from beyond them, and the stately, weathered white of the homes and barns. Aside from varying road traffic, there was a solitude, an isolation in the landscape. Under the cerulean blue of the sky, with clouds like cotton pulled apart, floating in tufts, there were no people in evidence. In all that quiet beauty, I could not help pondering the delicate, sometimes brutal, sometimes violent contract made between the farmer and nature.

The effect on those who live with that contract can be profound. There may be a stronger sense of purpose, a drive to overcome any obstacle, an unshakeable emotional center. Case in point: A musically gifted girl raised on an isolated hog farm in Manchester, Iowa, surrounded by a loving, supportive family. The girl blossoms as a musician whose talent usually dwarfs those around her and leaves audiences enthralled. We present here… Susan Werner.

Beginnings

As with most prodigies, Susan's musical life began early. As she recalls, "My older brother learned guitar from Sister Marie Claire of the Franciscan nuns of Saint Mary's Chapel School in Manchester, Iowa. He brought a guitar home. I was 5. I said, 'How do you do that?' He showed me three chords, and that was it. That's all I wanted him to do." Her brother played in the folk mass and then, Susan followed suit.

While I tend to invest a lot in the psychology of the farm lifestyle, Susan sees things in more practical terms. She stated: "It makes you a practical person, an unfussy person. You're far from town. You make your own entertainment. We were 5 miles away from the nearest town. You wouldn't even bicycle into town, it's so far. When you make your own entertainment, if you have music around the house… You might wind up playing your instrument longer, you might wind up actually practicing, you might wind up experimenting with it. Socialized isolation that pays dividends, I guess… you could call it. I have one brother who it a performing stand-up comic. I have another brother who's a performing drag queen. Everybody can sing and harmonize. Part of that is genetic and part of it is habit. My parents bought us whatever instruments we wanted to play. This was one of the things they really supported."

"For many performers, their first audience is their parents. If you have parents who enjoy what you do, you will never stop doing it for your entire life. You will always feel and hear your parents laughing at your jokes. Hopefully they give you enough room, so it's yours and not theirs. My parents did not expect any ownership over what I did, what their kids did. That's a great gift, because they didn't need to express themselves through our success in the arts. If you have a talented kid, let the talent be the kid's talent. That's one thing my parents really did right. They were not little league parents, they were not hovering, helicopter Suzuki parents. They didn't do any of that. It was all our thing. That's the greatest triumph of any family, that the kids get to be the kids.

I couldn't let go of the image of the farm as a character builder. When pressed further, she distilled the varying elements of a rural personality for me this way: "Other people who grew up in the countryside, people I've met who grew up on farms or ranches… there's a practicality to those people, a straightforwardness, a plainspokenness that I find really wonderful. There's a humility about how they live their lives. When you grow up and there's your corn out in the field and here comes the hail storm and there goes your season… there's an acceptance of things beyond your control that in a healthy way counteracts neuroses. [laughs] …that is an instant cure for most neuroses, You learn what you can worry about and what you can't worry about."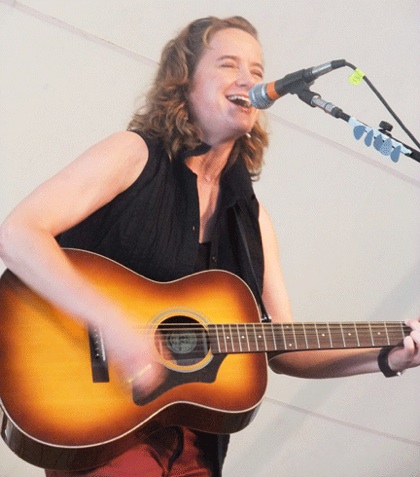 Susan at the 2010 New Bedford (MA) Summerfest

Photo: Richard Cuccaro

The Teachers

Susan counts her blessings when it come to the education she got in her small-town high school. There were two in particular. Alan Jacobsen was a Buddy Rich-type drummer working as a music teacher at the Manchester High School. She told me, "He and I are still good friends. This was really important. A small town in rural Iowa, that you would have a high school band teacher who had a phenomenal amount of jazz talent. Pretty rare, because most music teachers, most band directors at the high school level, are all about the marching band. That's what they're supposed to do… keep those kids marching, keep them organized, doing something as a group. Well, Alan had this individual talent as a drummer. He sent me home with some Count Basie records, some Ella Fitzgerald, Joe Williams, Carmen McRae, some Sarah Vaughn. Something about that music really worked for me. It was so engaging, so complex. It was like eating caramels or something. I couldn't get enough of it. This really tilted my head - 'What is THIS?" I worked on jazz chords that I heard on the records, from, like, Freddy Green Style Guitar Comping [a book on swing rhythm strumming]. At age 15-16, I would sit there and figure them out. Of course this all showed up later in the songs from, I Can't Be New.

But what good fortune to have this unusual talent in the middle of the cornfields that my teacher and friend Alan Jacobsen was able to provide this unusual kind of encouragement and understanding. Just fantastic. I had such good fortune. I felt very invested in, as a kid. Very loved and encouraged. I think that's a testimony to the small town I came from.

Susan also recalled: "My high school piano teacher would record all the Marion McPartland shows and give me cassettes of them. I was 17, driving around with a cassette player and listening to Marian McPartland shows. I'd hear Marian McPartland talking to this one, or that one — Oscar Peterson — and listen to how they did it. [McPartland is a British jazz pianist who conducts radio interviews with jazz musicians, who play selections and duet with her. Her shows are syndicated on jazz stations around the country. Later, while promoting her album of self-penned "standards," I Can't Be New, released in 2004, Susan appeared on Marian's show.] She continued, "That played a role and, years later, there I am, on the Marian McPartland show! That show made me a lot of friends all around the country. It's kind of an endorsement of, 'You're a real musician. You did something exceptional in this field'"

After College, the Big Switch

Susan went to college at the University of Iowa and received a bachelor's degree in voice. Afterward, she moved to Philadelphia and earned a master's degree in voice at Temple University.

While she was at Temple, she played jazz piano in nightclubs and restaurants to make ends meet. She had a gig every Friday night at the Pen & Pencil club (an after-hours Journalist's club) The man who ran it, Ron Patel, wanted to have a "Chantoosie" in the corner. He said to her, "I have this picture of a rummy bar, so go over in the corner and sing something and play something." Susan bought Gershwin and Cole Porter songbooks and enlarged her repertoire of standards.

Later, during auditions to become an opera singer, she discovered that the other singers were "louder and braver," and thought that "an introverted person might not do well as an opera singer."

After seeing Nancy Griffith in concert at a club in Philadelphia, she came to the realization that writing and singing songs based on personal experience was a perfectly valid way to expend her musical talent. "Who's to say this isn't just as noble, just as dignified and just as moving as anything you would hear in the classical world? There was something very direct and heartfelt about it that seemed like maybe there was a place for me in this world."

She began composing songs of her own on acoustic guitar. She'd written songs when she was young, so going back to it was not anxiety-laden. She was going back to something that felt natural and familiar.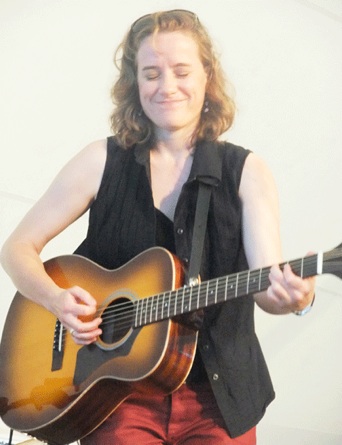 Photo: Richard Cuccaro

The Career

She began performing around Philadelphia, Boston and New York City. Her first two albums were Midwestern Saturday Night in 1992 and Live At Tin Angel in 1993. Somewhere around the time that her third album, Last of the Good Straight Girls was released (1995), maybe a little before, I saw her play live, at the now-defunct Bottom Line nightclub in NYC. I was extremely impressed with her voice and musicianship. One of the songs, "Much at All," really resonated. I'm staring out the window in the kitchen / I'm leaning on the railing in the hall / I'm trying for the life of me to do some living / It's good how I don't miss you much at all.

She surfaced again and again through the '90s, always giving a dynamic, thrilling performance. Alan Pepper, owner of the Bottom Line saw as much as I did, and more, and created the Bottom Line record label, of which Susan was the first to be signed. The next album, on that label Time Between Trains might contain the most of my favorites in her repertoire. Her version of the title track, performed live these days, with Trina Hamlin on harmonica and percussion (Natalia Zuckerman on slide at certain shows) is one of the most thrilling concert experiences I can recall in years.

I always love the heart-wrenchers and can't avoid getting a bit misty when I hear Your Old Mistake." cause, I blew my chances / Yeah I froze up like a lake / And you just skate on by now / 'cause I'm just your old / I'm just your old mistake. A wrencher of a different sort, "Like Bonsai" is a women's manifesto wrapped up in a song: That some trees were meant to reach, you said / Reach up for the sky / Some trees we trim to keep them pretty / Like bonsai, like bonsai / Some trees we trim back / Some hands we tie / Some wings we clip / Some feet we bind. When she cradles that song in her big voice, it becomes a call to find every woman who has ever been mistreated and do battle for her.

Her next album, New Non-Fiction (2001), contained the life-affirming mantra, "May I Suggest,"covered to date by a number of artists, including Red Molly and The Chenille Sisters: There is a world / That's been addressed to you / Addressed to you, intended only for your eyes / A secret world / Like a treasure chest to you… A lover's trusting smile / A tiny baby's hands / The million stars that fill the turning sky at night / Oh I suggest / Oh I suggest to you / Oh I suggest this is the best part of your life.

In 2004, she released the first of her "themed" projects, I Can't Be New, which drew on her experience with pop standards. She wrote an entire album of her own Cole Porter-like songs, utilizing her considerable chops as a pianist and guitarist, her razor-sharp lyrics and her muscular vocals. For example, "Let's Regret This in Advance; AKA The Affair:" We both know, we know full well / That true hearts will be broken…  So let's feel sorry at the start / And save all the hours later / If we're about to do / What we set out to do / When we began this little dance / Let's not wait until it's over / Let's just regret this in advance.

This got her the aforementioned appearance on the Marian McPartland show and also, brings us to the issue of her ingrained sense of humor.

At one point, McPartland, overtaken by the good-natured badinage during the program said to Susan, discovering it for herself for the first time, "You're funny!" At another point, she said that Susan reminded her of "being English." Susan  reflected on that and said, "Wit and rhyme, these are things that not a lot of singer/songwriters are making use of anymore." She said, "I really like the songwriting of Randy Newman and Tom Waits. I like somebody who can turn a phrase, who can put words together in a way you can't see coming. I think humor is underrated. An awful lot of people take themselves real seriously. Humor is seen by some people as a cheap way to create a relationship with an audience. I think, to do humor well is its own kind of art and its own kind of gift. You can be as serious about that as you can anything else."

When I write a funny song, I take time to get that thing right. It's amazing that the songs of Cole Porter can make us laugh, even today. A well-written ballad can hang around for a long time. A well-written comedy song can hang around for a long time, but it takes more effort and it takes more brains. I think humor is under-appreciated. Make me laugh! I'm with you forever if you make me laugh."

A while back, I visited my brother Dwayne who lives near Atlanta, GA. I searched Eddie's Attic online and found that Susan was playing during my visit, so I bought two tickets. Although Dwayne is not a person who generally seeks out sing/songwriter fare for entertainment, he appeared enthralled with Susan's musicianship and sense of humor. I don't think any other singer/songwriter would have been as entertaining for him. Demographically, she cuts a wide swath. When I told her of this, she responded, "Give me a room of 200 people or less, and we're gonna have a good time. Guaranteed. Every night. Here's the thing about humor. If you do humor well, it lets you set up a ballad and it has twice the power."

Susan has a strong connection to her audience  and looks forward to interaction with them. Of the audiences at Eddie's Attic, she said, "I love that audience! They talk right back to you! I love that. I think that's what a show should be."

In 2007, Susan released  her second "themed" project album, The Gospel Truth. She became became interested in the project after attending the Chicago Gospel Music Festival. For me, there has always been a discrepancy between what religion professes to be and what its practitioners actually are. Susan addressed this issue succinctly. Singing of the intolerant nature of the religious right: in "(Why is Your Heaven) So Small?" Well, I know you'd damn me if you could, but, my friend, that's simply not your call / If God is great and God is good, why is your heaven so small?

In "Our Father (The New, Revised Edition)," we hear: Thy kingdom come to every nation / Thy will be done in everything we do / Lord, lead us not into temptation / And deliver us / from those who think they're You" and Lord deliver us from politicians / Who drop Your name in every speech / As if they're Your best friend from high school / As if they practice what they preach.

Susan must've been reading my mail or my mind, or both. There are some songs where she's a lot more generously hopeful about religious practices that many of us disillusioned lapsed practitioners would be. In another interview, she states: "There is a religious left that is stepping up and into the fore and has a real case to make in making this country a better place. There are thousands of lines that Jesus says about being of service to the poor. That was his number one message. Be of service. Everything else dwindles in comparison." If religion has something to offer society outside of individual comfort in our darkest hours, that would be it.

The most recent of Susan's projects, Classics, takes pop songs and weds them to classical themes.

Susan states: "It seemed to me a chamber music approach to pop songs could reveal the poetry and impact of some of these lyrics in ways that groove-driven arrangements completely overlook." My favorites include, "Mercy, Mercy Me" and "Maybe I'm Amazed."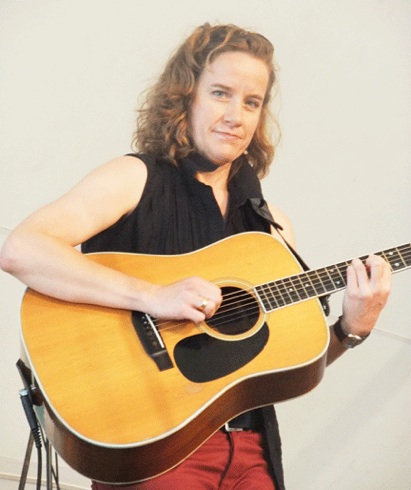 Photo: Richard Cuccaro

The Songwriter, the Performer

I asked Susan about the qualities inherent in people who put together words and music. She responded, "Songwriters see things and then don't talk about them. And then they come out through a song. I think we're somewhat indirect people. I also think that the best songs contain things that people don't say, people can't say, people are afraid to say. Things that put the heart at risk. Songwriting requires a commitment to doing it and not getting it right for a long time… expecting it all to work right away is a mistake in any endeavor. You have to give yourself a long runway to take off…like a big plane," she said, laughing.  "Learning anything creative, you have to give yourself a long runway before you start to lift off.  I think songwriters are a special breed and in one way, limited in terms of how we interact with people, but in one way, gifted, in that we can put words in order… feeling and words together."

When I remarked about the impressive diversity in her songwriting "projects," and not playing it safe, she expressed appreciation. Then, with mock seriousness, she said, laughing, "I really feel bad…  they'll throw me in the grave, saying, 'Well she took that all too far. If she had played it safe, she'd be rich… well… maybe not."

When I made comparisons to the diverse approaches I've used as a visual artist (drawing, painting), her emotional core showed its strength.

Working outside of her musical prowess, she's tried drawing. "A lot of us appreciate the thing they can't do. I've tried to draw. I wish I had a visual gift. I do not. Some musicians do. I don't have it, so much, but I like it and I like trying it. It's OK with me that I'm not good at it. It's good to do something that you're not good at. That's where all discovery is at." She has also tried ballet and a few other disciplines outside her comfort zone.

She also stated: "If you have mastered something, stop doing it immediately. Just walk away from that. There's nothing more to be gained from that— unless you feel the need to show of and have people clap for you, which is kind of pathetic. "I really think that it's important to bring something new  to your audience every time you see them. Some people want a nostalgia trip. It's low hanging fruit to just go for a nostalgia trip. Audiences respond better than artists give them credit for. They really want to be surprised, engaged, a little scared or uncomfortable… or deeply moved… or surprised at how deeply moved they are. A retread of a previous experience is not an authentic experience. Something has to be at risk, every show, every project."

We talked about her dedication as a performer and her influences. She said, ""When you see someone over the course of a career and they always have something to bring to an audience, you've got to respect that. They choose wisely, the prioritize wisely and they're giving people something very, very real. Those are the people I emulate. "I really admire people like Chris Smither who always brings his A game, who's true to himself every night. People like Greg Brown and Richard Thompson, who stay true to it, who always find something new to say, and new ways to do it. "

In parting, I mentioned that it seemed as if her audiences were bigger and more appreciative these days. She responded, "Things in general are really good. I have an enthusiastic nationwide audience. That's what I always wanted. Every show is a real interaction, real people. I won't let the audience get bored. It's just not gonna happen. Somebody once said, 'You have ADHD,' I said, 'Maybe I do have ADHD. Good! Then you won't be bored.' [laughs] That's the first obligation of a show that it not be boring!  If I want boring, I can stay at home and put on background music and vacuum! Who needs it?"

So, there it is, from maybe the best damn performer you're likely to see anywhere. A huge talent, an active conscience and a big heart. You cannot see her without coming away changed.

website: www.susanwerner.com

Upcoming performances include:

Aug 6   7:30pm Tower Hill Botanic Garden, Boylston, MA, 508-869-6111

7          8:30pm Huntington Summer Arts Festival (Heckscher Park), 

            Huntington, NY, 631-271-8423

8          Wachusett Valley Folk Festival, Westminster, MA, 978-365-2043

21, 22   Philadelphia Folk Festival, Schwenksville, PA, 215-242-0150

28        2 & 6pm Stillpoint Farm's Women's Festival, Veneta, OR

            541-968-1999

29        7pm Yoshi's Oakland, Oakland, CA, 510-238-4555

Sep 11  Connecticut Folk Festival & Green Expo, New Haven, CT,

            203-641-4589