Pete Seeger

All Together Now…

by Richard Cuccaro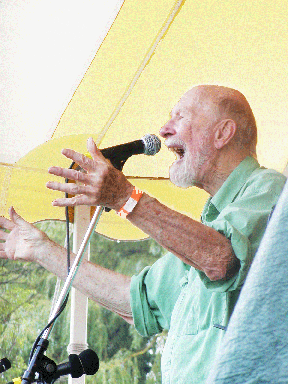 Pete Seeger is a dangerous man.

Any man who will not be corralled by conventional thought and provokes others to think outside the box is dangerous to established power. Anyone who challenges great numbers of people to fight against the shallow mind control of pop culture is a dangerous man.

The United States government is afraid of him. Big business is afraid of him

(Pete would place the government's fear in the past tense and only "some"

big business, he says). They will always fear the honesty he represents.

Those who dislike being challenged on their notions about power and history fear him..

Whoever attends a Seeger concert will come away with a challenge to the blind acceptance of faith in both government and its whitewashed, selective version of history. Pete's knowledge of the historical role of music and its power is vast and he is generous in sprinkling enlightenment between the songs he sings. Many episodes of our nation's mistreatment of Afro-Americans and Native Americans have been swept under the rug. His  ability to bring these facts to light makes some people nervous.

Along with the sound of his ringing banjo, he will invite the audience to

partake in its own power by singing together. It is a voice grown ragged with age. But before the night is over, he will teach them songs of defiance and protest. There are a number of possible alternatives to the title chosen for this article. One of them might be: "The Essence of a True Patriot." Those who fear Pete would like to paint him as a Communist traitor, given his few years of Communist Party membership and his left-leaning populism. The facts speak otherwise. His actions have always been directed toward the fulfilment of this nation's promise. He has held our government accountable to these words found in the Declaration of Independence:

"We hold these truths to be self-evident, that all men are created equal, that they are endowed by their Creator with certain unalienable rights, that among these are life, liberty and the pursuit of happiness. That to secure these rights, governments are instituted among men, deriving their just powers from the consent of the governed. That whenever any form of government becomes destructive to these ends, it is the right of the people to alter or to abolish it, and to institute new government, laying its foundation on such principles and organizing its powers in such form, as to them shall seem most likely to effect their safety and happiness."

Those who lack the courage to demand that our leadership live up to these principles need to question their own patriotism. Whatever associations Pete chose, they were always directed at social justice, and later, environmental preservation. For the title of this article, we chose "All Together Now" because it epitomizes the core of Pete's ambition: To get people singing together. To feel their power as a collective mass. To uplift their spirit. How did this come to be? What were the elements that forged this man with such a fierce, unyielding backbone?

Most of our readers already know the facts but let's recount.

Beginnings

Pete was born in 1919 to Charles and Constance Seeger. They were music teachers at the prestigious Julliard school in New York City. From his book, The Incompleat Folk Singer, we learn that he got a ukelele at age eight and, with a friend, performed sea chanteys for the rest of his school. He'd harmonize with his brother on Christmas carols, school and camp songs, and he learned the pop songs of the day. Pete attended the Avon Old Farms Boarding School in Connecticut.

He played the tenor banjo from age of 13 to 16. In 1936, at age 16, he heard the five-string banjo for the first time at the Mountain Dance and Folk Festival in Asheville, North Carolina.

Learning the 5-string Appalachian-style went slowly at first, but later would become his trademark. He then attended Harvard University but left in 1938 during his sophomore year.

He wanted to be a journalist but work was scarce and he couldn't find a job. In 1939 he took a job in Washington, D.C., at the Archives of American Folk Music at the Library of Congress, cataloguing old recordings and interviewing old performers, working with Alan Lomax.

Meeting Woody Guthrie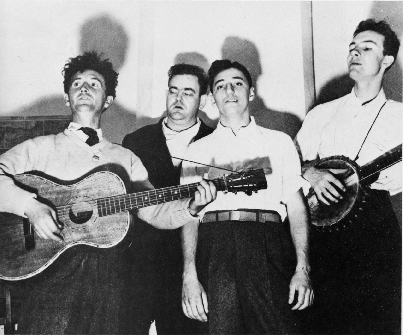 The Almanac Singers, L-R: Woody Guthrie, Lee Hays, Mill Lampell, Pete

Pete met Woody Guthrie in 1940, when they both performed at a "Grapes of Wrath" benefit for migrant farm workers. Alan Lomax later said, "Go back to that night when Pete first met Woody Guthrie. You can date the renaissance of the American folk song from that night."

They found that they shared similar musical and philosophical tastes. Pete could back Woody up and wound up hitting the road with him, hitch-hiking and riding trains. He learned a lot more about the 5-string banjo during this time. Later, back in New York, Pete met Lee Hays, who, like Pete, was planning to write a book of union songs. They started singing together and, with Lee's

roomate, Mill Lampell, formed a folk group called the Almanac Singers. Pete got the word to Woody that they'd sung for the striking transport workers union at Madison Square Garden and Woody came east and joined the group.  Later, Bess Lomax (Alan's sister) and Sis Cunningham also joined the group. They performed in shantytowns, earning little or no money singing anti-authoritarian folk songs. Woody was famous for the slogan scripted on his guitar: "this machine kills fascists," but Pete was more into forging peace, and wrote on his banjo,"this machine surrounds hate and forces it to surrender." The Almanac Singers recorded songs about politically touchy topics like workers' rights, social justice, and peace as preferable to war. The group faded away when Pete was drafted in 1942. He spent his tour of duty singing folk songs for other soldiers.

Toshi

Pete met the love of his life, Toshi-Aline Ohta at Margot Mayo's Square Dance Club on 13th St.  On that particular date, the club was having a work party and only Pete and Toshi showed up. In 1943, during his first leave from the Army, he married Toshi, whom he credits with being the support that helped make the rest of his life possible. After his discharge as a corporal, Seeger co-founded Sing Out! Magazine, still considered the bible of folk music.

The Weavers

In 1947, Seeger formed a new band called the Weavers, with Lee Hays, Ronnie Gilbert and Fred Hellerman. They had minor hits with recordings of a Jewish folksong "Tzena Tzena Tzena", and Huddie Ledbetter (aka Leadbelly)'s "Goodnight Irene". They also hit the charts with "Wimoweh",

better known now as "The Lion Sleeps Tonight".

Communism and Beyond

Definition of a left extremist: Someone who stands up to defend the Bill of rights, the Declaration of Independence, and the Sixth commandment (Thou Shalt Not Kill)

    — from The Incompleat Folksinger

In the crucible of the depression of the 1930's, the poverty was so deep, that many people looked at the concept of Communism for answers to questions of social justice. Pete was one of those. He was not one to knuckle under to any form of dogma, however, and, after about eight years, walked away from the party in 1950, a profoundly anti-Stalinist left winger. He made trips to Russia to see how socialism worked. First, in 1964 as part of a world-wide trip, then in 1967 and finally in 1983. He has said, though, that he regretted that he'd not paid attention to the gulags and admitted that he was wrong about Stalin, "a cruel misleader."

HUAC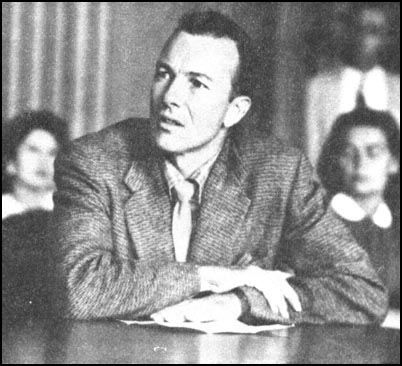 He was done with it by the time the House Unamerican Activities Committee (HUAC) called him before them in 1955 to answer questions about the nature of his associations. It didn't matter to them that he was mainly a singer and a truth-seeker. They simply wanted to establish that he had belonged to an entity that dared challenge their governance. The arrogance of the committee and their purpose was not lost on Pete. He refused to identify suspect

organizations he'd sung for stating, "I am not going to answer any questions as to my association, my philosophical or religious beliefs or my political beliefs, or how I voted in any election, or any of these private affairs. I think these are very improper questions for any American to be asked,

especially under such compulsion as this." Under withering questioning, the record shows that he steadfastly refused to answer or be entrapped somewhere around 80 times, often stating "I have already answered that question. My answer is the same as before."

Jim Musselman (founder of Appleseed Recordings), longtime friend and record producer for Pete Seeger states:"I was actually in law school when I read the case of Seeger v. United States, and it really changed my life, because I saw the courage of what he had done and what some other

people had done by invoking the First Amendment, saying, "We're all Americans. We can associate with whoever we want to, and it doesn't matter who we associate with." That's what the founding fathers set up democracy to be. So I just really feel it's an important part of history that people need to remember."

A year later Pete was cited for contempt of Congress. In 1961, he was sentenced to ten years (for 10 charges) but the years could be served concurrently - so the sentence was actually for one year and a day. However, he was set free on bail so he actually spent only a few hours in jail. Pete appealed his case and a year afterward, the U.S. Court of Appeals reversed the decision.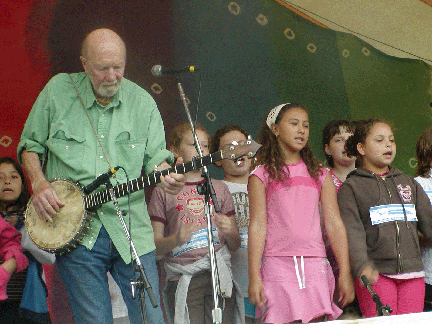 Singing with local schoolchildren at the 2008 Clearwater Festival.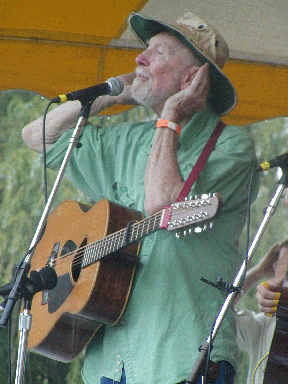 "Let me hear you!"

The Blacklist

"Sometimes 'the majority' means that all the fools are on the same side."  — Anonymous

Pete was technically exonerated, but was still guilty in the eyes of folks who agreed with HUAC. Although he was blacklisted from radio and TV and many concert venues, he had so many sources of income that the detractors were unable to ruin his career the way they had other performers'. He sang at scores of schools and universities. College students became an important constituency. In an answer to a man who wanted to know what his views on communism and religious preferences were, he stated: "I'm about as communist as my songs are. I'm about as anti-communist as my songs are.

I am as right as my songs are. And as wrong. I'm an ordinary person who has made many mistakes and will probably make more. But they have all been my own mistakes. Nobody has ever ordered me what I should think, or speak, or sing. But I have learned from all of you."

A Performer's Philosophy

The Folkways recording Pete Seeger Sings and Answers Questions (1968), which took place at the Ford Hall Forum in Boston, Mass., combines singing and speech with a Q & A session at the end. It's a treasure. This  session took place at the height of the Vietnam War and, of course, so much of it is relevant today. It contains a great number of quotes from Pete that describe the core of his philosophical beliefs and some wonderful sing-a-longs. The crux of his stance on social justice can be found in a statement near the beginning: "Are the light-skinned people of the world going to treat the dark skinned people of the world as human beings or as something less than human beings? …something I call the 'White Problem.'"

He shares a great many stories about  the history of songs and how they are used by different ethnic groups and movements within the United States. He talks about writing "The Big Muddy" and performs the song to rousing audience enthusiasm. He then relates the story of how censors initially kept it off the Smothers Brothers show. One of the censors actually said that viewers "might think it refers to Johnson (LBJ)." [!] Tommy Smothers' retort: "Oh, don't be ridiculous!"

During the final question and answer session, the big question gets asked: What do you do in the face of a corrupt all-powerful government? (I paraphrase here). Pete responds: "Don't bury your head in the sand. Don't get discouraged. When I was 16 years old, I loved the outdoors as I still do. But I felt that the world was so messed up that the only honest thing to do was to be a hermit. And some good people jumped on me like a ton of bricks. They said 'What kind of morality do you call that? You're going to be pure yourself and let the rest of the world go to hell?' Whatever you decide to do, don't sit back and say 'Nothing can be done.' The people who will tell you that the human race is going to be 'all over' in a few generations… throw their cocksureness right back in their face! …the world has at least a 50-50

chance and maybe your little grain of sand as much as mine might help tip the scale and might be the grain of sand which would mean the human race will keep on going."

Many years later, his positive outlook found what might be its ultimate expression. In the recent Seeger composition, "Take it from Doctor King," the chorus reads:

    Don't say it can't be done

    The battle's just begun

    Take it from Doctor King

    You too can learn to sing

    So drop the gun!

These Days

In Pete's latest life chapter, he has helped to galvanize an army of supporters to help clean up the Hudson River and perform on the Sloop Clearwater, a 106-foot wooden sailing vessel patterned after the 19th century commercial

Hudson River sloops. It sails mostly on the Hudson River between New York City and Albany, New York, primarily to offer environmental and biological education programs to school groups, touching on river biology, environmental protection of waterways and related topics, Every year The Great Hudson River revival and Clearwater Festival takes place in mid-June at the incomparably lovely Croton State Park.

He is also an avid participant in a peace vigil, held every Saturday in Wappinger's Falls, in upstate New York at the corner of Routes 9 and 9D from 12 noon to 2pm. Counter protestors across the highway demonstrate for

"troop strength" and "no surrender." They sometimes shout insults at the peace demonstrators, but no response is given. Provocation from the right wing is almost a given everywhere and they rarely disappoint.

At the end of each vigil, the peace protesters hold a song circle.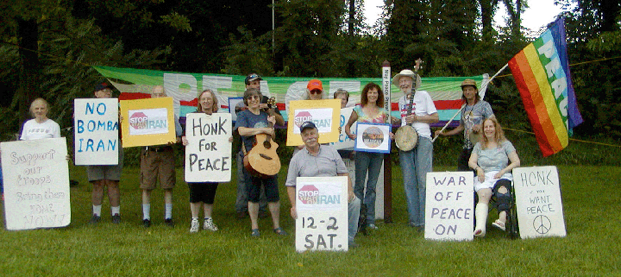 The peace vigil participants gather for a group photo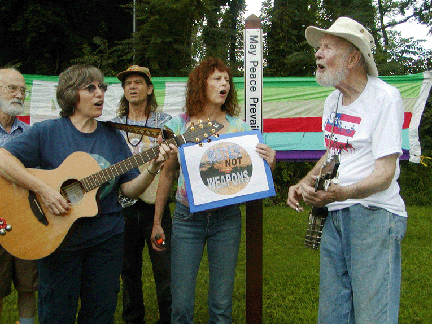 Part of the song circle after the peace vigil

It is our fervent hope that enough of us will rise up to justify Pete's optimism and prove ourselves worthy of his efforts to imbue us with courage and spirit.

He's 89 years young now, still going strong and we wish him a bunch more. We love you Pete.

Addendum: Pete Seeger passed away on Monday, January 27, 2014. He was 94 years old. It will take many of us to carry the torch he lit.

    — Richard Cuccaro, January 29, 2014