Little Toby Walker

Pursuing Dreams Along the Blues Highway

By Richard Cuccaro

Matthew Arnold wrote, "Life is not a having and a getting, but a being and a becoming." The tallest men among us reach for their dreams, undaunted by life's trials. They keep fighting, win or lose. By these philosophical standards, Little Toby Walker isn't so little. He's a giant.

Physically, from the author's viewpoint, about five-and-a-half feet off the ground, he's standard size. However, he's built like a fireplug. His shoulders are massive, his forearms are big and his hands are powerful. They look

like they could crush beer cans effortlessly -- the long way. Probably have, too, many times. Under the wrong circumstances Toby could appear menacing, but, as anyone who's met him will tell you, he's the nicest guy

(mixed metaphor alert) -- a sweetheart, a pussycat, a teddy bear.

What really gets crushed are delusions. Many times, listeners will hear a guitar player and dreamily picture themselves playing just like that. We think, "I just need to practice harder!" For those of you who persist in this

habit when Toby's playing… there are jackets with long arms, and they tie around the back.

When he straps the guitar on, the notes fly at a rate that is dizzying. On top of a rock-solid bass pattern, the treble melody lines dance with speed, grace and precision. The effect is one of steel-like strength. One word that comes to mind is… muscular.

For the average listener, in one lifetime, there is not enough time to practice to get to this level. Maybe two lifetimes… Maybe… we should just forget about it.

What happened in Toby Walker's lifetime was that innate skill and intellectual curiosity collided with an obsession in one person. This is how that happened…

A Rock n' Roll Childhood

Toby was born in 1956 and grew up on Long Island (NY). He states: "When I was a kid, I listened to rock 'n roll, like anybody. Elvis Presley was an influence. 'Jailhouse Rock' was a big one. That was the first Elvis 45 that I

ever played. It just had a certain beat to it. Later, I bought a 45 of the Rolling Stones, 'Ruby Tuesday.' What really turned me on was the flip side, which was 'Let's Spend the Night Together.' I had no idea what those lyrics meant,

but the music was just great. I got a call home to my parents about that when I shared it in school. I really enjoyed the Beatles, but mainly the rougher vocals and their soulful lyrics. When I was 9, my parents bought me a cheap

nylon string guitar from Sears, or someplace like that. It was a classical, with the wide frets. I only played that thing for maybe a few weeks. It kind of hurt my fingers. It was springtime and baseball season was beginning. The guitar

went into the closet. It didn't come out until six years later. When I was 15, a friend's mother bought him an electric guitar, an amplifier and a set of drums for Christmas. He said, 'Which one would you like to play?' I always had a

great sense of rhythm, so I got on the drums and he got on the guitar. Then he got tired of playing the guitar. I loved playing the drums, but he said,'Look, I don't want to play the guitar any more. I want to play the drums, so why don't

you take the guitar?' So I got on the guitar and I started really enjoying myself. Then I took the nylon string out of the closet at home and I started to teach myself.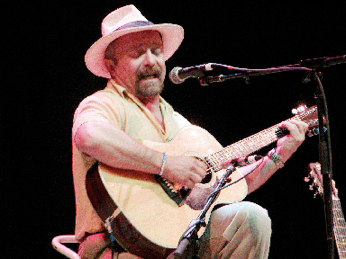 The only thing I had was the standard Alfred's Book #1, but I didn't bother reading any of the notes. I went to the back of the book and I saw the chords and started learning them. Then I would get little song books and try to play

Rolling Stones songs with the chords I was learning. With each chord I learned, I would also write my own songs. I liked the way this chord fit with that chord, plus I had a sense of rhythm and I enjoyed listening to the chords I was learning, so I just wrote my own songs. They were just experimental. I was just learning the instrument at the time.

Teen Rockers

A few friends and I formed a band. We had 10 or 12 songs. Some kid would hold a party in the backyard and invite us over to play. I had a homemade amplifier made from an old stereo with some old speakers and a cheap electric guitar. At 15 years old, it was pretty hot stuff to be able to play in a band. At that time and we played Rolling Stones covers -- a lot of the Get Your Ya-Ya's Out album (Live at Madison Square Garden). It lasted around 5-6 months.

I had a friend who lived across the street who was in the band as well and his older brother had turned him on to BB King. When I heard BB King, I thought that was too much. That got me interested in listening to more blues. I tried

playing some of his stuff and I had a couple of his licks down and I learned how to move them around in different keys. That was starting to open the door to playing lead guitar."

The Blues Comes Calling

Within the same year, the seminal moment arrived where 15-year old Toby, carrying his guitar, passed by the house where Robbie Bravo, in his 20's, was working on his car, and when Robbie asked what he played, Toby said 'the blues.' Robbie then asked, 'Like who?' Robbie thought that BB King was too slick, and introduced him to his basement record collection. It was there that Toby learned about Chicago players like early Buddy Guy, Magic Sam, Otis Rush, Magic Slim, Herbert Sumlin, Howlin' Wolf and Muddy Waters. Toby borrowed heavily from Robbie's collection to study from and occasionally scraped together enough cash to buy something by Buddy Guy or the like. Then, Toby stated,

"I put up an advertisement that I wanted to play the blues. I got a response from a guy who was in his mid-20's His name was Mike Zuklich. He answered the ad and he called me. He had no idea that I was 16 years old. I had no idea he was in his 20's. He invited me over to his house, but I had no way of getting there. He came by and picked me up in his car. I went over there. He started playing the guitar in a completely different way. Using his bare fingers and thumb, he played acoustic guitar in a country blues style. Like a Big Bill Broonzy style. He also played some David Bromberg. At that point, I was strictly flatpicking with a little fingerpicking. Not much. Very rudimentary. It was a little pattern that I played, thumb-finger, thumb-finger. That was about it. He was combining a little bit of lead guitar and a little bit of bass — two guitars coming out of one instrument. I never heard anything like that. At that point I stumbled onto a book that I still own today. It really opened up everything for me. It was called, Fingerpicking Styles for Guitar by Happy Traum (1964). It had stuff by Mississippi John Hurt, Etta Baker, Merle Travis and Doc Watson. I started learning those songs. I had no idea what a lot of the songs sounded like but I looked at the music and started teaching myself how to play them. Boy, that was it. I went out and picked up some Mississippi John Hurt records. That started getting me into acoustic blues even more."

Toby was still in high school, in his junior year, about 16 years old. He continues: "In my senior year, I had gotten the finger picking down very well. I was still playing a lot of electric. I also played in two different bands. They were out playing in some clubs. I got a fake ID so I could get into the clubs. I was playing fairly regularly and was still doing a little bit of finger picking, but still playing a lot of electric. One was a funk band. I was the only white guy in the band. We were doing a lot of Ray Charles and Stevie Wonder. I was adding a lot of Albert Hammond and B.B. King licks to the stuff and it worked. I was also in a country-type band. We were doing a lot of Commander Cody. Two or three nights a week. In school, I was asleep a lot of the time, but I did graduate. In the  beginning of my junior year, my counselor wanted me to go on to college, and asked me what my plans were. I said I wanted to hitchhike around the country and play music. He didn't like that answer. He said, 'That's OK for the summer, but then what are you going to do?' I said, 'I want to keep doing it.' He said, 'What about a career?' I said, That's what I wanted to do. He didn't like that answer either, but that's what I wound up doing."

The Call of the Open Road

   'I remember in Albuquerque, one time, selling blood.

    You'd get $8 the first time,

    then go back a few hours later in the

    afternoon and get $7 for the second time.'

"Three days after I graduated, I started hitchhiking around the country with my guitar. I had a couple of hundred dollars saved at that point. The first trip was up to Canada and back. When I came back, I got picked up by a band about two days later and I went out on the road with them for about three months or so. When I came back, I got a little part-time job in a factory for about a month-and-a-half and made some more money and went hitch-hiking across the country again. I busked a lot. And I played a lot in bars in the afternoon, for tips. I didn't have a sound system, or anything, but I did know enough to know that, when you go into bars at one o'clock in the afternoon, that's when all the hard-core drinkers are in there. They have nothing else to do. I went in there and I played guitar for tips. I made enough for about an hour or so,

then I went down the block to another bar. Usually in the smaller cities. And then I'd have enough money to last me for four or five days. I had a sleeping bag and slept a lot of times off the side of the highway, in small wooded areas. People that I would take rides from usually had friends who would put me up. You meet a lot of people that way. When I was in Albuquerque, I almost got arrested for vagrancy, but the police gave me a ride out of town.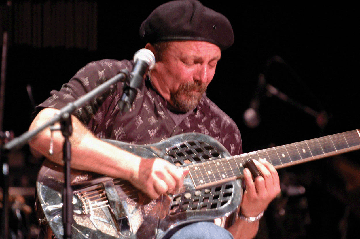 I would stay a lot of times at missions. Missions would put you up. Any good, small city or even a lot of large towns have missions. They were basically
for people who were homeless. You had to stay there and eat supper, but first you'd have to listen to a sermon. Then you'd get to sleep there that night You'd get to sleep that night, and the next morning, you'd get to shower and you'd get another sermon while you were eating breakfast. They'd usually close the place up at 9am, then open it again at about 5pm.

There was this underground network around all these missions. The people who stayed there knew about other missions and people that travelled a lot would tell you about missions in other cities. Other places you could stay were youth hostels.

I remember in Albuquerque, one time, selling blood. You'd get $8 the first time, then go back a few hours later in the afternoon and get $7 for the second time. So you'd have $15 that you made in an afternoon, just by giving a little blood. A lot of the people that stayed at these missions knew about the local blood banks! You could do a little bit of that going around the country. I met a whole lot of people by camping with people who enjoyed that. That's kind of how I made my way across the country. I remember one trip, I needed to get back in a hurry. You could go to any college, and they had ride-aways -- cars that needed to be driven across the country. They would post these on bulletin boards. You can always go to any college or university and find ride-aways and you can transport a car, and they would pay you for the gas. Over a period of about two years, I had criss-crossed the country three times.

Two big influences back then were Woody Guthrie and Pete Seeger. I had taken it to heart what they were doing. Woody did it, I think, pretty much out of necessity, like a lot of the people in the 30's. Pete had a book out called The Unlimited Folksinger. In one of the chapters, he wrote, 'What are you doing this summer? Why don't you travel around the country?' I took that to heart. I thought, 'OK, That sounds good to me' Also, during that period, I was with two bands, and I travelled on the road with those two bands. So, for two years, I didn't have a mailing address. After the two years, I came back to Long Island

and got a job working at a friend's store. I lived in the back of the store. and paid my rent by working there. I was also doing some volunteer work for the community, teaching the guitar. Then I got a job teaching guitar at a music store. I played guitar at a lot of these 'wine and cheese' cafes. This was in the mid-to-late 70's. A lot of people would come with their dates, drink wine,

eat cheese and fruit, and there'd always be somebody in the background playing guitar. That was me, for a while. This probably went on for a few years. I was in my late 20's, early 30's. I was really knuckling down and studying the instrument and doing a lot of research into blues music at this point, as well."

The Mississippi "Masters Class"

"It was during this time that I made my first trip down into Mississippi. I made numerous trips down there. It all came from reading all these books about the blues and listening intensely to all the music. I thought, 'I've got to see this first-hand. 'One of the first two people I met on that first trip was Wade Walton, in Clarksdale. Another person that I met, in Leland, was James 'Son' Thomas. Wade Walton was a barber by trade. He had the distinction of cutting all kinds of people's hair. He knew Ike Turner, Sonny Boy Williamson… B.B. King would stop in his shop. He played a mean harmonica and pretty good guitar, too. I had no trouble going down there and meeting them. There were some looks from some of the locals because some of the places I was going were way off the beaten path. Wade Walton's barber shop was a pretty popular place, though, and he had a lot of visitors from all over the world. Blues aficionados from Japan would come in and pay him homage."

Judging from the instrumental "Wade's Barber Shop" on Toby's album Back in the Groove, it was a pretty laid-back place.

"I had a book called Conversations with the Blues by Paul Oliver. He mentioned Wade Walton. There was a local musician who knew Wade, so we both went down together, and he introduced me to Wade. The initial visit was two weeks. We stayedin local motels. I drove the first leg of the trip, twenty straight hours, to Memphis. Then we got up the next morning and drove down

to Clarksdale. On the first trip down, I didn't learn anything on guitar from Wade -- he only played harmonica -- but James 'Son' Thomas played guitar, and I learned quite a bit from him. I brought my guitar and I also brought a tape recorder. I taped James playing and singing and I interviewed him on that tape. I still have that stuff. After I interviewed him for an hour, I took out my guitar and played along with him, copying and mimicking what he was playing. He had a very roughstyle. He learned the chords from his neighbors and friends, not from any book. It was fun to play chords in a different way

and get a completely different sound out of it. I also met Jim O'Neal, the publisher and co-founder of Living Blues Magazine (called America's oldest and most authoritative blues periodical). I met him at Stackhouse Records, a record store, where he worked. He was essential in my establishing future contacts. On a subsequent trip to Clarksdale, Jim told me, 'Eugene Powell

lives in Greenville, and Jack Owens lives in Bentonia, and R.L. Burnside lives over in Harlan Springs…' R.L. taught me how to slap the guitar, to get a percussive sound which I use a lot to this day. In the 60's he recorded an album called Mississippi Blues Today. I heard him play this song called 'Poor Black Maddie.' I thought, 'Wow, what is he doing on the guitar?'

I asked him, 'How do you get that percussive slap?' He started doing it while I was watching. I took out my guitar and said, 'Can I try that?' He said, 'Sure.' I sat there and I learned it from him. I also have a tape recording of him playing a lot.

The field trips also came from being inspired by people like the Lomaxes. And Sam Charter and people like that who went down and learned about it. So I figured I had to do this. And when I heard that there were still people alive who were playing it, people that I had read about in books!… Eugene Powell, Wade Walton, and James 'Son' Thomas… they were all in these books!

These people, unlike people like Skip James… I had missed that part of it… these people were still alive! Jack Owen in Bentonia was still alive, and he was Skip James's neighbor. He played in the exact same style as Skip James. so I got to learn Skip James's music through his neighbor, Jack."

"One of the guys on the liner notes of a Eugene Powell album had it all wrong, the way Eugene was playing the guitar. He listened to the record and tried to analyze what Eugene was playing, but what he didn't know was, Eugene tuned his guitar two-and-a-half steps below pitch! It gave it a completely different sound. When I went down and learned from Eugene how he

did it, that's how I knew the liner notes were all wrong. I also felt that it would legitimize my presentation of this stuff, in the educational sense, because I was looking to put together a show that I would take into libraries, because libraries paid some pretty good money. And they actually PAID you… unlike clubs. I figured, if I was going to go in and start talking about this stuff,

I wanted to learn about it first-hand." During this period, Toby was in his early 30's and was playing at night and teaching guitar. "The first trip, I went with my friend. The second trip, three of my guitar students wanted to come along and would pay for all the gas and the hotel. They were just excited to be doing something like this. so I took them. Another trip, I took a harmonica player

that I played with, and a bunch of other trips I just went by myself, because I knew everywhere that I had to go."

Looking for steady financial support, Toby got a job at the post office as a mail carrier. While working there, he combined his vacation and sick days and kept going down south. The mind/soul-numbing aspects of post office work are legendary (thereare 3,190,000 entries for "going postal" in Google). Toby put in a lot of years at the post office, but knew he'd have to get out to save his sanity. That meant ramping up the musical career. There were many trips to the supervisor's office regarding hours/days missed as a result of playing late-night gigs. He was finally able to quit for good in 2004.

Teaching at the Fur Peace Ranch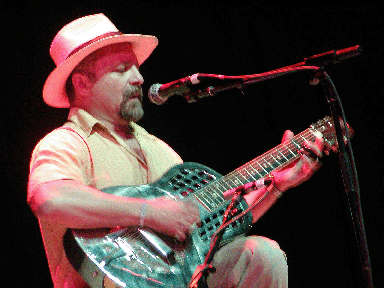 Jorma Kaukonen is constantly approached by guitarists wanting him to listen to their CDs. Too many. He's learned to fend them off. One of the notable exceptions was with Toby. As he tells it:
"Normally it's impossible to get a CD into his hands. A friend of mine is friendly with him and his wife Vanessa. He told Jorma, 'Look, you're approached by a lot of people but this is somebody you need to hear,' and gave him one of my CDs.

I didn't know about it. I went to see Jorma play at a tribute to [Reverend] Gary Davis at Merkin Hall in New York City. While I was in the lobby, a woman came up to me and said, 'You're  Toby Walker!' I got up and said 'Yes I am.' she said, 'My name's Vanessa.' Right behind her was Jorma. He stuck his hand out and said, 'I am more than pleased to meet you.' Vanessa said, 'We've been listening to your stuff and we heard that you've been teaching for a number of years, and we want to know if you would teach at our camp.' Of course Toby accepted and began teaching right away. He's been invited out for his fourth year in a row. The upcoming April 2008 course will be titled "Turbo Tuna." It's for all the Hot Tuna fans who've learned the band's material and want to turn it up a notch. Who better suited than Toby Walker?!

A Wealth of Diversity

The blues is a major part of Toby's repertoire, but there have been other sources of inspiration that result in a variety of styles within what he does. He states: "As much as I've done a lot of blues, another huge influence was Doc Watson and Merle Travis; that whole rootsy flavor. In just one song, I can combine influences from Doc Watson and Robert Johnson, with The

Allman Brothers sneaking in there. I like to think of myself as a "sythesist." Taking all these styles and melding them into the acoustic guitar, trying to create something new and exciting, but at the same time retaining a lot of the traditional roots."

On his live CD, Just Rolled In, released in 2007, we get a taste of Toby's sense of humor. The intro to "I'm Gonna Try Some  of That," is a textbook lesson on how to deal with an elderly person who finds that a song about "cookies" is not to her taste.

The instrumental "Ain't Bisbehavin'" has its roots in Toby's love of jazz. Over the years, using books and records, he's studied jazz on his own and has taken a couple of lessons to learn a few things. Then, on "Saint James Infirmary," there are more jazz influences and even some Klezmer, as well as some hard blues. Accompanied by "Steady Rollin'" Bob Margolin, among others, Toby Walker Plays Well With Others, released in 2006, is also very diverse. "Lookin' at Life Through a Windshield" seems to borrow some Chet Atkins flavor. "Somewhere Over the Rainbow," given a simple, beautifully restrained fingerstyle treatment is absolutely poetic. It's a tightrope walk between bass and melody with gorgeous harmonics, perfectly

placed. As he explains: "I enjoy playing lead guitar and I also enjoy improvisation. In order to get a full sound as a solo artist, I had to figure out a

way of putting in the bass notes. and having the freedom to improvise as well. While I'm playing lead guitar, I'm also fingerpicking the bass."

Our readers owe it to themselves to get out to a Toby Walker performance to soak it all in. Just remember to exercise caution at home, if you emulate him. Practice safely — Remember about the jacket with the long arms!

Web site: www.littletobywalker.com