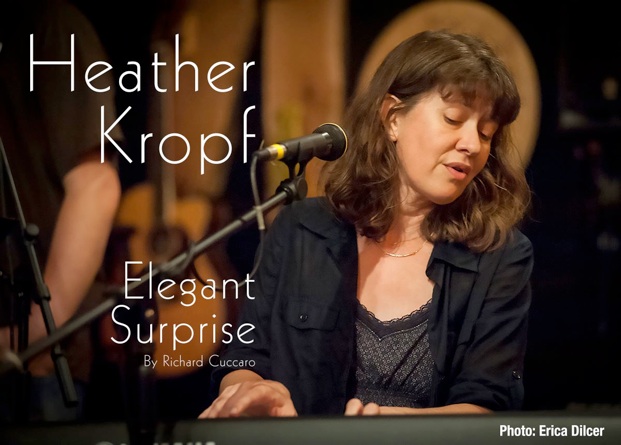 When asked if turning out a daily column wasn't a chore, the late, renowned sportswriter Red Smith answered, "Why, no … You simply sit down at the typewriter, open your veins, and bleed."
For this listener, something  of this sort happens every time I hear Heather Kropf sing one of her original songs. Her soul seems to rise from her center and, riding her voice, reaches open air, bleeds forth and lays itself bare. A classically trained pianist, Heather will, nevertheless, most often lay down a simple chord progression and uncomplicated arpeggios in 4/4 time and let her voice scorch a sinuous melodic trail over uncharted territory, each twist and turn an elegant surprise. Her songs contain elements of jazz, allowing her to express subtle nuances of life, love and loss. Her lyrics are sublime poetry. Your gaze is like a tiger lily / I can feel your petals trace my shoulder blades / Feels like youth, like warmer weather / Like all the colors could run together, she sings in "Mile Marker," from her newest release, Chrysalis (2014). On "Rain Quilt," from the same album, her ruminations on the vagaries of love (or the lack thereof) illustrate her uniqueness: I'll sew in the sound of mourning doves / and scraps of stories where we have fallen / and weave in mercy for all our longing / so you won't doubt that we are something.

We explored the source of her craft in a recent phone conversation.

Roots

Heather was born in Portland, Ore., in 1972. Her Mennonite family moved to Kingston, Jamaica, when she was 2. The earliest music to reach her ears was reggae and gospel singing in the church they attended. They moved back to Portland when she was 4. The family listened almost exclusively to public radio and the variety of NPR was suffused into her experience. She also watched public television, especially Sesame Street, absorbing every facet of pop culture through the prism of children's songs. Not long ago she unearthed her earliest nursery rhyme record and discovered it was a jazz record. Her parents were devotees of classical music. Her mother liked baroque and her father liked Vivaldi and Mendelsohn. They insisted that she and her older brother read music and play an instrument, starting at an early age and continuing until they were 12 or 13.

Birth of a Musician

Heather started piano lessons at 7 and began "writing little songs on the side" when she was about 10. During junior high, she played her songs, accompanying herself on piano and recording her own harmony with two tape recorders. The family moved to Indiana when she was 12. She found a new piano teacher and studied until age 17. Heather also sang in choir from junior high school through college. During high school, she listened to pop/rock, like the Police, Sting and Led Zeppelin. Somewhere in the middle of high school, she heard a Joni Mitchell song from Court and Spark. Obtaining a cassette of the album introduced her to the world of the singer/songwriter. Other influences followed, such as Suzanne Vega, Edie Brickell and Kate Bush.

Emergence

After a year of college in Virginia, she moved back to Indiana and finished at Goshen College in Goshen, Ind. While at Goshen, she heard about a project for student singer/songwriters called "Rooftop Songs," a promotional taped collection of original music and coffeehouse performances by students. A friend pushed her to audition and she landed a space on the recording. Heather considers this her official beginning as a singer/songwriter. She later participated in a cover band and in a duo that spoofed pop songs, similar to Saturday Night Live's Nora Dunne-Jan Hooks "Sweeney Sisters" act.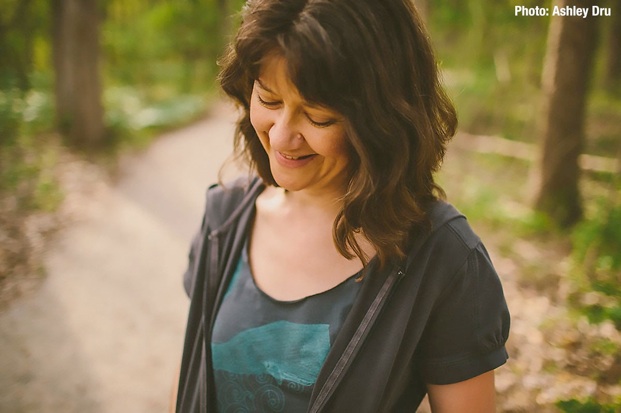 Radio to Recording

After graduating with a major in art and a minor in radio in 1995, Heather moved to Pittsburgh and interned at independent public radio station WYEP, where she had the opportunity to observe singer/songwriters such as Patty Larkin, Joan Baez and Dar Williams during recordings, interviews and performances. Recognizing her own skills as a musician and songwriter, she thought, "Hey, I write songs … I can do this!" She began performing and released her first album, Sky, in 2000. Her second album, What Else is Love, followed in 2005. After releasing her third album, Hestia, in 2009, she suffered from Epstein-Barr Syndrome and chronic fatigue. Although unable to perform, she was able to write songs for and finally record and release Chrysalis in 2014.

Although there were some initial issues with health and logistics in vocal tracking during the making of Chrysalis, a one-on-one setup, with an engineer in the third-floor studio of his house, did the trick. The final result, with all of its exquisite emotive qualities, rose past all her difficulties.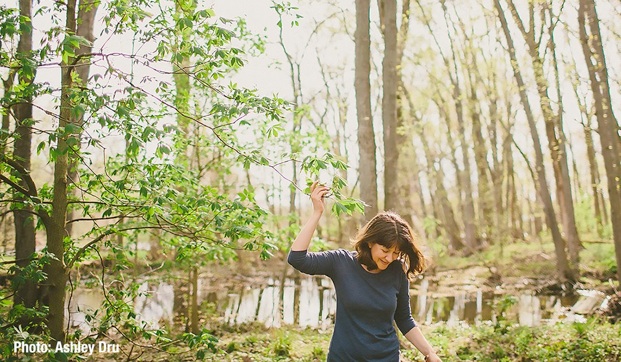 One of the more intriguing tracks on Chrysalis, "Poison for Water," came about when a friend asked her to write an activist song. She was reluctant at first, never before inclined in that direction. However, Allegheny County, where Pittsburgh is located, is overwhelmed by fracking wells, something Heather is deeply concerned about. The compelling words and melody embody an infinite sorrow: If a stranger gave you a vial of poison / Told you drink it down / Would you do it? / If a neighbor told you to poison the water / To kill off your sons and your daughters / Would you do it? / Would you do it for money?

Although she considers Chrysalis to be her most accomplished album, this listener believes her extraordinary gifts have been on display throughout her recording career. Tracks from her earlier albums can be heard on her website.

We encourage our readers to see this brilliant artist at every opportunity. Her repertoire goes beyond her latest release and her live performances are captivating. Heather will be appearing at Rockwood Music Hall in Manhattan on April April 6 at 6 p.m. We plan to make it and hope you will, too.

Find out more about her at heatherkropf.com.