Terence Martin

Some Poets Sing

By Richard Cuccaro

The singer's voice is like an intimate whisper, edgy, and urgent, singing about his own life, but with tone and color  and mood, he beckons me toward a journey into my own past…

   My father lived on Division Street when he moved away

   and he closed the door behind him he had little left  to say

   but in my dreams I see him from behind

   retreating down the driveway on his own fault lines

   he spent his life making earthquakes go away

   and every time he moved he called it Independence Day."

— "Independence Day" © 1997  Terence Martin /Gregory Hicks

The meteor shower of metaphors lights up a cavern in my chest  and I'm glowing with joy. This is how a poet/singer/songwriter works his magic.

Every now and then a performer comes along, new to us, and their work resonates so strongly, we feel compelled to feature them ahead of some of those familiar performers we had chosen earlier. One such performer is Terence Martin.

We first caught up with Terence at the Postcrypt Cafe, during a solo gig. We were impressed with the raw power in his lyrics, and mentioned to his agent, Barbara Roehrer, sitting in the audience that we were very interested in him.  We next saw him at Sun Music, and this time his friend, Dan Bonis backed him up on mandolin, dobro and lap steel guitar. The presentation was so powerful that we couldn't wait any longer.

I made the trip to the wilds of Westchester to conduct an interview at Terence's apartment. Once there, I noticed that among the serious tomes on his bookshelf were Beowulf, The Divine Comedy, Thomas Hardy's The Dynasts, The Greek Myths, and the Norton Anthology of English Literature. Uh-oh…I have not read one of them.

When I got to his CD collection, I saw more familiar names in the clusters of CDs by Bob Dylan, Bruce Cockburn, The Beatles, Bruce Springsteen, Richard Shindell, James Taylor. Ahhh… I started to feel better. We talked a while and I gleaned all that I could about his background.

Terence was born in London and raised in Los Angeles. His mom had been a performer in England and listened to classical music and show tunes at home. His dad listened to Miles Davis and read poetry to him. When Terence would ask what the poems meant, his dad would reply, "Don't worry about it." Terence reflected, "It just sounded great."

As a kid he listed to doo-wop and surf rock. "The Challengers, Dick Dale and The Rhythm Rockers played at the Deauville Club in Santa Monica, ironically, right next to a Synanon drug rehab center," he says.

He started accordion lessons at age 8 and that went on for 5 or 6 years. He picked up the hamonica at age 10 and started writing short stories in the 7th grade, "War stories, typical stuff that a boy would write." In the 80's he wrote a lot of poetry. One critic, describing his work, wrote: 'It's on edge. A nice probing edge …The springiness — the febrile kick — in Martin's lines comes from his trying to freeze what's not there, in still-lives, he finds mental landscapes."

But poetry was not to be his chosen path. During poetry readings, his stage fright became unbearable. Today he says, "It's easier for me to sing in front of people than it is to read poems." When I asked what pivotal points he would include in his songwriting development, one early influence was the album The  Freewheelin' Bob Dylan ("It changed my life," he says) and another was later on  when he heard Bruce Cockburn, "…around the time of Nothin But a Burnin' Light. Someone said I reminded them of him, so naturally, out of curiosity, I bought an album. Then I kept buying them. I especially like the last five. I know he's had an influence on me at some level."

The biggest turning point came in the late 80's when his best friend Gregory Hicks was doing a lot of writing and they got involved in a band together. "His songs were primitive and unstructured but brilliant and original. I started arranging and writing with him. Because they were his songs, there was no risk for me. It freed me up to start writing my own songs." Although Gregory lives on the west coast, they keep in touch and see one another once or twice a year; "We still co-write about 30 to 40 percent of my songs," says Terence. "Gregory will be visiting here and will be at my performance at the Common Sense Cafe on Saturday, April 15th.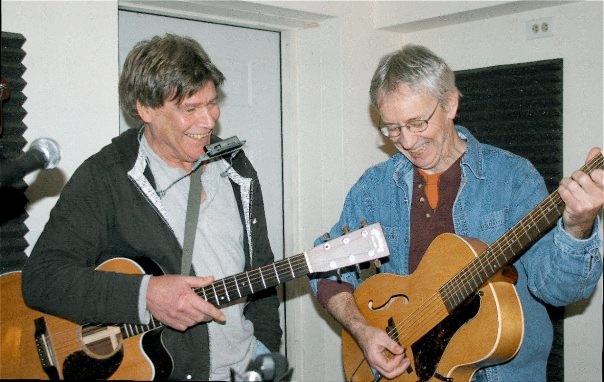 Terence's musical background includes playing double bass for the Burbank Symphony for two years. During the late 80's and early 90's he fronted bands, playing original rock music in clubs in L.A. He says that the act became more and more acoustic over time, with dissenting members dropping out one by one. Finally it was just Terence and his guitar.

In 1994, Terence moved east, where the scene is friendlier to acoustic singer/songwriters. "L.A. is a rock 'n roll town," he says. As an example, he says an interview he had with Jerry Treacey of WFDU on Jerry's "Crash on the Levee" show was "supportive and nurturing."

Terence supports himself working as a teacher of English, Writing and Humanities at a private school. When I asked him who his favorite authors are, he says they're too numerous to list but then cites Yeats and an Irish writer named Patrick Kavanaugh. After we finished talking about his background, Terence walked over to the recording console and played the closing song on Waterproof, his next CD. The song, "Familiar Mysteries." is a stunningly beautiful, haunting piece of work. 

    "Familiar Mysteries " ©Terence Martin

   There's the guilty and the blameless

    And the ones who stand around

    And the silent and the nameless

    Who simply stand their ground

    Faces in this smoke filled room

    Each one could be me

    I won't pretend I understand

    These familiar mysteries

    For those without a compass

    Drifting far from shore

    Out on some lost highway

    Or locked behind  a door

    The prison of a restless room

    Or the road you cannot see

    I won't pretend I understand

    These familiar mysteries

    For those who cry for no one

    And those who dress in black

    Gone by fire and gone by ice

    Or else just gone off track

    Those of us who leave too soon

    Or the ones left in between

    I won't pretend I understand

    These familiar mysteries

    To those done well or ill by me

    Or wrongs I can't recall

    The violence of a careless word

    The faithful kiss turned false

    I wrote this song and drank the ink

    Of the words I didn't need

    To make amends for love's loose ends

    And familiar mysteries

He states, "Both CDs were recorded here in this room."

I'm amazed, since I recall that the sound on his first CD, Division Street, was so clean and pure. I tell him how much I liked the sound on "Invisible Man." The guitar and his voice are so beautifully intertwined, that, not just his voice, but the entire cut sings. We then walk into the next room where he shows me two lithographs of boats that were done by his father."These will both be used as the art for the next CD."

Website: martinsongs.com

Wedding and Duetting: An Interview with Jane Babits & Toby Fagenson  by Barbara Horowitz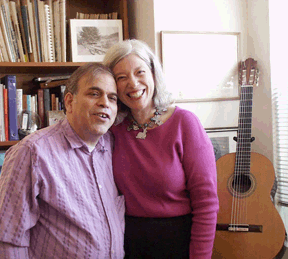 Toby Fagenson started playing banjo at the age of 14.  Jane Babits started piano lessons when she was 5,  and by the time she was 7, she was also schlepping around a guitar.  In junior high school, Toby became  a member of a folk music club.  Jane was in her high school's band and orchestra, playing clarinet and oboe.  Both of them remember that as youngsters they loved listening to music on the radio…and that they still do.

Two people with an early love of listening to and playing music eventually met and fell in love with each other. Toby recalls excitedly their first meeting in 1982 at a winter music weekend sponsored by The New York Folk Music Society, aka Pinewoods.

Toby first experimented with composing when he was a teenager.  His early composing was an attempt at imitating popular rock music. In his 20's, he took tunes written by others and put words to them.  An early love of parody then led him to compose parodies of his own.  Today he's often called upon to run parody workshops. Jane finds composing fulfilling because "writing a song gives me a musical memory." Writing songs about her mother and sister, for instance, has been gratifying. What happens, though, when two musicians marry?  How does one affect the other musically?  Jane says she tried to learn the banjo because of Toby and that she'd love to write humorously, "which Toby is a master at." 

"Well, she is very funny," chimes in Toby, who adds that he greatly admires Jane's precision and discipline and tries to apply it himself.  "Jane," he sums up, "is in the way I approach things."  They even write songs occasionally that work as duets, and it helps that they can try them out together to see if they sound right. But there is far more to the commonality this husband and wife share than that of their both being avid listeners, performers, and composers, or even in how they influence each other. It is their view of what music is, means, and does.  Although my interview with them was over the phone, I could envision them nodding their heads in agreement when we talked about the power of music in people's individual lives and in the world.  Toby said at one point that music and song were at once personal and universal.  He would sometimes listen to music, he told me, and feel as though the musicians must have been reading his mail.  He believes that in a detached world where people sit at their computers much of the time, music becomes all the more important for the sense of immediacy that it offers.  Even when he's been depressed, Toby has continued to be able to play and sing.  During those moments when all other means of expression were difficult for him, music was the one way in which he could continue to communicate.

Jane also sees music as a form of communication.  A word she used several times to describe that what music can do is to connect people.  At the age of 16, Jane began teaching guitar at the Henry Street Settlement.  And it was there that she discovered how the teaching of music enhanced this sense of connection.  "Music is wholesome," says Jane, "in the sense of the word 'whole.'"  Jane recalls that at one time, after a number of years of teaching and performing, she took a 9-to-5 job. And for awhile, she remembers feeling relieved.  "But then I became hungry for the nourishment of music in my life, and I returned to music full-time."  Toby admits that if he could make a living from his music, he would leave his stockbroker position "in a New York minute."  As he succinctly explains it, music is his "head job," whereas stock brokerage is his "bread job."

Although Jane and Toby are talented musicians, they agree on one more vital issue:  Music shouldn't be made just by musicians. According to Toby, you may start by coming out to hear the music.  But the next step is to take it further by joining in and singing, learning to play an instrument, whatever. "Folk music is not a spectator sport."  Jane heartily concurs. "Music," she adds, "keeps your heart alive."

So what's ahead musically for Jane and Toby? Jane would like to put out a CD that would include both classical and folk music. Toby would like to do some additional recordings, perhaps a CD of parodies.  "But, of course," Jane adds, "I would love to do a duet with Yo-yo Ma at Carnegie Hall."  Not to be outdone, Toby counters with his own longing:  "I want a whole group of musicians accompanying my stellar performance either on Saturday Night Live or the Letterman show!"

Toby's three recordings, One More Day and Friendly Company (both on cassette) and Tides and Fortunes (available on CD or cassette)-can be purchased by calling 212-861-7019.